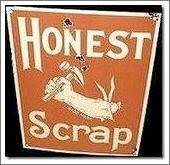 I am so honored to have received this award from my friend LeQuan @ Luv to Eat.  Congratulations to her for receiving this award and thank you so very much for passing it on to me.  LeQuan has a wonderful blog where she shares plenty of thoughts and tips regarding motherhood.  Her blog brings a smile to my face everyday and I'm so glad to have met such a wonderful friend in the blogging world. Please stop by her blog to say hello!  I must now share 8 things about myself and pass it on to 8 other lovely bloggers!
Honest Tidbits About Me:
Like LeQuan, I'm a total sucker for infomercials too!  I can't tell you how many things I've bought off of those things!
I'm an eBay and Craigslist QUEEN!  I've sold SO many things on those sites that it's unreal!  They are the homes of the modern-day garage sale!
I love camping, fishing and all things outdoors!
I was quite the tomboy growing up and deep down, I hope my daughter will follow in my footsteps as well and not be too much of a "girly girl".
I can rock the saxophone!  I played for over 12 years and am very good at playing both the alto and soprano saxes.
I love listening to all kinds of music including classic rock, heavy metal, rap, R&B, jazz, classical, swing, reggae, etc.
The thing I wish we could afford more than anything else right now is a MAID!  :)
I am a die-hard animal lover and have to fast forward through those ASPCA commercials with Sarah McLachlan or I WILL CRY!
Now, here's my list of blogs that I think tell it straight too!
Still On the Verge
Awful Beautiful Life
Boobies, Babies and a Blog
Thank you to these bloggers for always being straightforward and honest, whether it be on their own blogs or commenting on mine. Please do not feel obliged to participate. I just wanted you to know that I appreciate your blogs and your honest opinions. Have a great day everyone!
I'm a former 7th grade Science teacher turned stay-at-home mom that lives in Houston, Texas. I am married to my college sweetheart and have a beautiful daughter named Riley, who definitely keeps me on my toes! I am also involved in starting a small business which would both manufacture and sell an invention that I've patented, called Toothpaste 2 Go. I love interacting with my readers and hope to learn as much about you as you learn about me!
Melissa @ Mommy Living the Life of Riley!