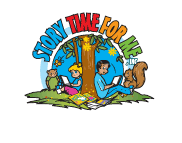 Story Time For Me, founded in 2009, is a unique literary website designed specifically for toddlers and children ages 1 to 8 encouraging them to read and listen to enjoyable, online, multimedia picture books.
The Story Time For Me e-library offers compelling storytelling with inspiring and memorable characters designed to stimulate any child's imagination. The content improves the student's cognitive development and reading skills. The interactive language prompts provide children with their own personal reading coach.
Story Time For Me offers teacher, parents and children valuable literary resources that teach wholesome values through socially relevant themes, while promoting healthy parental interactions that inspire and foster a child's passion for reading.
Story Time For Me has released a library of FREE interactive multimedia storybooks for homes, schools, daycares and libraries. Our program will encourage children to read entertaining, animated stories with socially relevant themes such as 'Not to bully', 'Sharing', 'Being responsible for the environment', 'Helping your neighbor', etc.
Access to books is essential to reading development. The only variable that directly correlates with reading scores is the number of books in the home. According to A.C. Nielsen & Co the average child watches over four hours of television per day and before finishing elementary school, that same child will have seen 8,000 murders on TV.
Story Time for Me wants to give free access to 100's of quality children's books. But that's only part of our mission. All books published by Story Time For Me teach good morals and values with socially relevant themes. Books with uplifting story lines can make a positive impression on the minds of new readers. Our wholesome, entertaining, animated books feature easily identifiable animal characters learning to make positive decisions in everyday life situations. Parents can be sure Story Time For Me books will entertain their children while teaching them good moral values.

I'm a former 7th grade Science teacher turned stay-at-home mom that lives in Houston, Texas. I am married to my college sweetheart and have a beautiful daughter named Riley, who definitely keeps me on my toes! I am also involved in starting a small business which would both manufacture and sell an invention that I've patented, called Toothpaste 2 Go. I love interacting with my readers and hope to learn as much about you as you learn about me!
Melissa @ Mommy Living the Life of Riley!