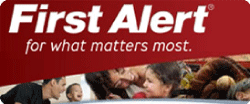 GET ALARMED! Survey Shows a Majority of American Homes Are Under-protected from Fire, Carbon Monoxide

(Aurora, Ill.) Sept. 21, 2010 – Just when you think you're safe, a recent nationwide survey* has uncovered that a majority of American homes are dangerously under-protected when it comes to fire and carbon monoxide (CO) poisoning.

Even those equipped with smoke and CO alarms are at risk according to the study, which revealed that two thirds (66%) of U.S. households are not in compliance with the national recommendation for the number of smoke alarms set by the National Fire Protection Association (NFPA).
Even more alarming is the 90% of homes that do not meet the recommendation for number of carbon monoxide detectors, including 40% that report having zero working carbon monoxide detectors.
"These statistics confirm what we've feared for years – that far too many homes in this country are not as well protected as they should be against the dangers of fire and CO," said Deborah Hanson, director of external affairs for First Alert, a leader in residential fire and CO detection devices. "What's more troubling is that many people don't realize that their families are at risk."

It's true. Despite the low number of NFPA -compliant homes, nine out of 10 respondents to the survey (91%) reported feeling "certain" their homes are adequately equipped with smoke alarms, and 62% reported the same for CO alarms.

"There is a clear and concerning lack of awareness among homeowners regarding the number of alarms required to fully protect a home and its residents," added Hanson.

The current recommendation by the NFPA (www.nfpa.org) is to have at least one CO alarm on each level and one in or near every bedroom or sleeping area. For smoke alarms, homes should have one installed at the top of each staircase and one in every bedroom or sleeping area. To put this into perspective, the average-sized home in America - a two-story, three bedroom house** - would need a minimum of four smoke alarms and five carbon monoxide alarms to comply with NFPA guidelines.

In honor of Fire Prevention Week (Oct. 3 – 9) and throughout the month of October, First Alert is urging Americans to "Get Alarmed!" in a nationwide public education campaign focused on elevating awareness of the NFPA guidelines and encouraging consumers to assess and update, as needed, their own levels of protection at home.

In addition to installing the recommended number of alarms, The Home Safety Council (www.homesafetycouncil.org) suggests implementing the following precautions at home to help protect against fire and CO poisoning:
Regularly test smoke and CO alarms – These devices are the first line of defense against two potentially deadly dangers. Regular maintenance is just as important as having the correct number of alarms. Be sure to test alarms monthly and replace batteries twice a year. Smoke alarm units should be replaced every 10 years and CO alarms every five years. These are simple tasks, but vitally important when it comes to home safety.
Plan and practice a fire safety drill – In case of a fire, people need to know the closest and fastest escape routes. Identify exits and if necessary, equip second-floor rooms with escape ladders. Practice actually going through the motions, and finally, identify a meeting place outside so everyone is accounted.
Add a "network" of smoke alarms – Many homeowners may not realize that there are alarm networks available for home use, which are wirelessly connected and "talk" to one another to alert to a fire in a different room.   First Alert ONELINK® alarms are connected, and if one alarm goes off, all alarms sound and can "tell" homeowners the location of the fire.
"Each year nearly 3,000 Americans die from home fires*** and CO poisoning claims another 450 lives," added Hanson. "Our goal is to bring these numbers down by continually educating consumers about the dangers of fire and CO and teaching them how to protect themselves, their families and their homes."

For those in need of new smoke and CO alarms, a wide variety of innovative products are available with an assortment of features to meet different needs. First Alert products range from combination smoke and CO units to smoke alarms with escape lights, along with basic battery-powered products. First Alert® smoke and CO alarms are available at national retailers or for purchase through the First Alert online store at http://www.firstalertstore.com.

For more information and a complete home safety checklist, visit http://www.firstalert.com/safety_checklist.php.

*First Alert "Get Alarmed" Survey, July 2010 – Findings are based on the responses of 1,000 adults in the United States who answered a telephone survey between July 15 and July 18, 2010. Results are accurate to +/-3 percent points with a 95 percent confidence level and can be generalized to the entire U.S. adult population. For more information or a copy of the complete survey and results, contact Tim Young at LCWA: 312/565-4628 or [email protected]

**National Association of Home Builders, June 14, 2010

***National Fire Protection Association (www.nfpa.org)
I'm a former 7th grade Science teacher turned stay-at-home mom that lives in Houston, Texas. I am married to my college sweetheart and have a beautiful daughter named Riley, who definitely keeps me on my toes! I am also involved in starting a small business which would both manufacture and sell an invention that I've patented, called Toothpaste 2 Go. I love interacting with my readers and hope to learn as much about you as you learn about me!
Melissa @ Mommy Living the Life of Riley!