ONE reader will win products from three fabulous companies, starting with a sexy gift set from Honeycat Cosmetics, Soulgasm fragrance by Sasha Varon and the brand new Ferrum Styler.  Keep reading to learn more about the products guaranteed to make your summer sultry!
Sex and the Kitty Gift Set by Honeycat Cosmetics:

Hey there kats and kittens for whatever occasion you know your girl Honeycat has got just the thing for your favorite girl! Check out the new, "Sex and the Kitty" gift set. I know she's gonna love this one. "Calypso Kitty" tropical salt scrub, "Frisky kitty bath Fizzy" rose & lemongrass (forget boring old flowers. Toss one of these baby's into the tub, and she will have her own, private, bath bouquet). "Rub My Tummy" milk & honey body cream, and "On The Prowl" peach brandy shower gel...mmm, smells sooo good! After receiving this gift set, she'll be one purring kitty!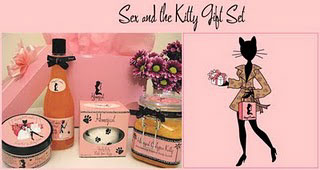 Price:  $40.00

What is it with women and cats? In ancient times it was believed that a parasite living on cats could infect their female owners, rendering them sexy, desirable, fun-loving, and, ahem..., unfaithful. Welcome to the world of Honeycat Cosmetics, we put a fresh, sexy spin on bath and body products which appeal to the sexy, feline/cat woman in all us gals!
There is an emphasis on the cat as a symbol of female sexuality, and sensuality. All of our products relate figuratively, colloquially, or literally to the cat. Just check out our "I'm In Heat" warming foot scrub.

Honeycat products are created and developed by owner Theresa Spruill. A veritable feast for your skin that we know you're gonna love! Honeycat makes grooming time an event. Our products promise pleasure for your entire body. They are sexy, sensual, safe and chock full of what's-good-for-your-skin-stuff. Honeycat products are natural, and never tested on animals, especially sexy felines. Honeycat offers products ranging from emollient rich bath bombs, sassy lip balm, delicious edible body powder, body lotions, creams, bath salts, bubble bath, milk bath, (Whew! I'm out of breath!).
These are just a few of the outrageous products that we offer. Your skin is safe in our paws..um, I mean hands. Preservatives in our food, dyes in our clothes, BHT, MSG, YUCK! You won't find any junk in Honeycat products. We offer women of all ages, skin indulging treats.

Sexy, fun, clean and hip...that's Honeycat!

Soulgasm by Sasha Varon - Get Ready to Cheat on Your Fragrance
Feel funky and vintage glam at the same time. What could be better than a perfume that has a distinct scent, but also leads to seduction? Nothing.  Soulgasm, a new perfume by Sasha Varon, is deep, sheer, and definitely intense. The base of the perfume is clean musk, warm amber, and a sweet french vanilla. jasmine, lily, and woodberry comprise the heart of the perfume, with some black currant, freesia, peach, and pear notes in it, as well. The perfume smells very sweet, kind of like a candy store or a fresh bowl of fruit.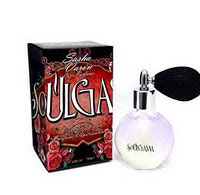 Soulgasm 2.4 oz. Vintage Atomizer Price: $65.00

Simple, Sexy, Glam: A sexy & bold fragrace for those women who aren't afraid to be the center of attention. Drawing on the glamorous Hollywood days gone by with today's woman, sexier, bolder and more daring, Soulgasm is sure to please even the most glamorous girls who want to get noticed! Arrives in a Beautiful vintage atomizer in bad-kitty-black netting.
POTENCY:
Soulgasm is true perfume not an EDP.  Soulgasm contains 33% fragrance oils to diluent ration giving its wearer a subtly brash, playfully lusty statement that won't change you, just everyone around you.
NOTES:
Top notes: succulent Peach, Anjou pear, fragrant South African Freesia and warm, exotic Black Currant are instantly intoxicating
Heart notes: Salacious notes of wild, night blooming Jasmine, delicate Eurasian Lily and multi-faceted Woodberry blossom forth
Base notes: Flushed, lusty notes of clean Musk, Amber, and sweet, warm Vanilla punctuate this sensually provocative, luxe parfum.
Ferrum Professional Styler ~ Finally a Flat Iron That Won't Fry and Dry
The concept behind a styling tool is to make hair look smooth and sleek. Most flat irons do exactly what the name says: They make your hair flat! Just because women want to tame their frizzies or make curly hair straight does not mean they want hair that is limp and lacking fullness. What's more, many who already have straight hair want the option of curls or soft waves. Traditional flat irons can't do that. Some women find themselves going through a three step process of drying their hair with a traditional blower, using a flat iron to straighten and then a curling iron to achieve body. Who has that kind of time to spend on their hair? The inventors behind Ferrum understand these hair woes and provide a state-of-the art styling tool that delivers PHAT hair.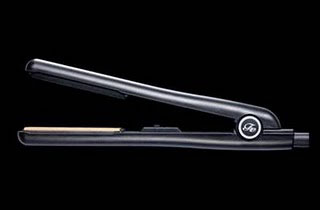 What Makes Ferrum Different? The answer lies in the technology of the VSS System which is a combination of a non-heated padded fabric element and a tourmaline coated ceramic plate. The real distinction of this tool is the fabric padded side. The fabric is a combination of lightweight, anti-static polymers that allows the hair to "breathe" while straightening. In combination with the pad, the styling result most closely resembles blow-drying; which tends to give hair exponentially more volume than flat-ironing.
Since the fabric padded side is non-heated, the Ferrum styler doesn't burn all the moisture out of the root of the hair giving it a much more vibrant, "bouncy" look. A flat iron will fry and dry out your hair between two solid hot plates. The Ferrum styler will allow your hair to rest on glide on a soft surface, allowing hair to breathe and retain more of its natural moisture, shine and volume.Think of a flatiron as "frying" and drying out your hair between two solid hot plates. Allowing your hair to breathe and rest on a softer surface allows for a much healthier styling experience.
When flat irons were first created they were clearly an inferior alternative to going to a salon for a professional blow out. Women turned to flat irons to try to mimic the sleek look provided by a professional stylist. Most who have used them would say that their hair lacks the same "oomph" as a blow out. In the quest to simply get their hair straight, the consumer has come to accept flat and damaged hair as an inevitable part of using a flatiron.
With the Ferrum Professional Styler, women do not have to merely make the choice between frizzy and flat. Although Ferrum is not to be used to make wet hair dry, once hair is dry the tool can be used to achieve a pin straight look without losing volume. It can also curl the hair or give it gentle waves. For those who want or need to use a heated styling tool daily, the best news is that the Ferrum will not break the hair. 

Each Ferrum is designed with:
Tourmaline coated ceramic plate
Heats up to 450 degrees
Swivel cord
Universal voltage
Retail Price: $160.00

To Maximize Ferrum's results hair stylist and inventor Barbara Abbasi has some styling tips:
Make sure your hair is completely dry. Two things change the composition of hair- heat and moisture. If your hair is wet it will be much less manageable.
Always start straightening with the pad facing out (i.e. the pad should be "under" your hair)
Begin styling from the root. The benefit of our product is that you can get very close to the root without burning your scalp.
When styling use a slow and steady motion from root to tip
Volume can be controlled with the angle at which you style. For increased volume turn rotate your hand so your wrist is closer to your head.
If you want a sleeker, less voluminous look, finish by doing an extra stroke with the pad facing inwards.
The Ferrum styler is composed of unique materials. Allow ample time for the styler to heat up. The results will be worth it.
To keep your hair styled perfectly for the whole day or night, use a lightweight finishing spray to keep your hair in place.
Take good care of your flat iron! It's a great piece of equipment and not exactly cheap to replace, so simply storing it in a heat proof pouch - or using one for safe travel - will help you protect your iron and keep using it for a long, long time. You can also set your iron down on this heat proof surface during styling to protect counters from possible heat damage.
Clean your flat iron from time to time - frequently if you use leave in conditioners or heat serums, every week or so if not. Build-up on the plates can cause your hair to snag and shorten the life of the plates themselves. Heat your iron and then wipe it down with a non-abrasive cloth - use a flat iron cleaner if you use leave-in treatments frequently, but avoid chemical solvents not meant for cleaning your iron.
Disclosure:  No compensation was received to host this giveaway. The information posted was taken directly from the products' press release.
*******************************************************************
I want to sincerely thank Ferrum, Sasha Varon and Honeycat Cosmetics for providing one of my readers with a chance to win ALL THREE of the products listed above!
*******************************************************************
GIVEAWAY!
DETAILED INSTRUCTIONS FOR ENTERING A BLOG GIVEAWAY
(Open to all U.S. readers)
WIN IT!
ONE lucky reader will win the three products listed above from Ferrum, Sasha Varon and Honeycat Cosmetics! (ARV $265)
MANDATORY ENTRY!
Please tell me which of the three products in this giveaway you would most like to win!
Also, you MUST be following this blog via Google Friend Connect!
***When entering a giveaway, you MUST complete the mandatory entry requirements FIRST before completing your optional entries. If you do not successfully complete the mandatory entry or leave a valid email address, then you will be disqualified from the contest.***
OPTIONAL ENTRIES...BECAUSE YOU REALLY WANT TO WIN THIS!
Please leave a separate comment for each extra entry you qualify for. GOOD LUCK!
Earns 1 Entry:
Follow me on Twitter.

(Please leave your Twitter name in the comment)
Become a Facebook Fan or "Like" Mommy Living the Life of Riley!

(Please leave your Facebook name in the comment)
Write the following on YOUR Facebook wall: I've just entered to win a trio of sexy, summer products ($265 value) at Mommy Living the Life of Riley! and you can too! http://tinyurl.com/3rm3v5b

(Please leave your direct link to the Facebook comment for this entry)
Follow my blog via

Networked Blogs

.

(Please leave your Networked Blogs name in the comment)
Enter any of my other giveaways. Leave one comment for each giveaway you entered.
Tweet this giveaway by copying and pasting the following:
RT #Win a #Trio of #Sexy #Summer Products ($265) #skin #hair #women #perfume #contest #giveaway @melissaaggie98 http://tinyurl.com/3rm3v5b
Make sure you leave the direct link to your tweet in a comment. (This can be done 3 times per day with at least an hour between posts)
Earns 2 Entries:

(Please leave 2 comments for each entry)
Follow me on

Google Buzz

.

(Please leave your Google profile name in the comment)
Stumble this giveaway.

(Please leave your Stumble name in the comment)
Subscribe to my newsletter via e-mail.

(Please leave the email address you used in the comment)
Earns 3 Entries: (Please leave 3 comments for each entry)
Post my button on your sidebar and leave me the address where it is displayed.

Click on the "SocialSpark" banner below, and sign up for an account, using me as a referral.

I check EVERY entry! Please only leave valid comments for valid entries!
You have until 11:59 PM CST on June 13, 2011 to enter. One lucky winner will be randomly selected using True Random Number Generator. I will email the winner and they will then have 48 hours to respond to the notification email, or a new winner will be chosen. Open to all U.S. readers. Good luck!

I'm a former 7th grade Science teacher turned stay-at-home mom that lives in Houston, Texas. I am married to my college sweetheart and have a beautiful daughter named Riley, who definitely keeps me on my toes! I am also involved in starting a small business which would both manufacture and sell an invention that I've patented, called Toothpaste 2 Go. I love interacting with my readers and hope to learn as much about you as you learn about me!
Melissa @ Mommy Living the Life of Riley!