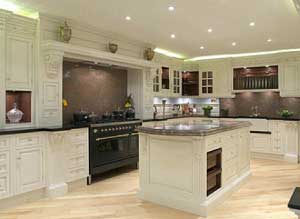 To hire a contractor to remodel your kitchen, you must follow these five tips: consider some important details before you hire, solicit referrals from other people, discuss all necessary issues with your prospect remodeler, request an estimate, and be watchful of certain supplier behaviors.
A kitchen renovation project is a pretty big deal. It entails a considerable amount of money to fund such home improvement. Usually, it is recommended that you hire kitchen contractors to work complete remodeling project. Believe it or not, hiring a professional will ultimately save you money, time and energy. However, you should choose the right contractor. Otherwise, you might end up paying more money without getting the best value. Here is a list of simple, yet helpful tips which you might want to follow to make the task of hiring a contractor easier and more effective:
Consider some important details before you hire
Primarily, you need to determine your budget. Come to a decision as to how much you plan to spend based on your availability of funds. This will make it easier for your possible contractor to distinguish the viable things to work on and the extent of the improvements to make.
Next, you must figure out what you want your new kitchen to look and feel like. You can refer to online sites, home decorating magazines, and to home improvement shops for some wise and useful advice. It will be a whole lot easier for you to go about the entire project if you know exactly what you want.
You should bear in mind that your contractor should be someone who recognizes and respects your needs and who is willing to complete the project within your specified budget. Your prospective remodeler must be able to give you a wide selection of alternatives on materials, services, and products. It is a plus if he can assist you in selecting the most reasonably priced choice.
Solicit referrals from other people
The best way to look for a remodeler is to ask your close friends, neighbors and coworkers for some referrals. A good way to measure a contractor's qualifications is to know his reputation in his field of work. In fact, going out to see his former work accomplishments personally is a good way to rate his performance.
Discuss all necessary issues with your prospective remodeler
Schedule a meeting with several contractors. Having three or more choices will make your selection process easier for you. Here are a few points you should ask:
Ask for length of time he has been in the business.
Ask if you can make a site visit to his current work site.
Get to know his assigned contact person should you hire their services.
Inquire about the payment schemes required.
Find out if your contractor is covered by commercial insurance.
Request an estimate
Make a request for written estimates from your prospective contractors. Make sure the estimates are free of charge. Don't even consider working with those who charge you for estimates which should include the following information:
Detailed estimate
Materials specifications
Time frame
Contract price
Scope of work
Be watchful of certain supplier behaviors
Avoid dealing with a contractor who requires cash payments only. If he compels you to make a decision right away, you must refrain from closing a deal with that person. Also, stay away from working with contractors who do not have proof of insurance and other related permits or licenses.
I'm a former 7th grade Science teacher turned stay-at-home mom that lives in Houston, Texas. I am married to my college sweetheart and have a beautiful daughter named Riley, who definitely keeps me on my toes! I am also involved in starting a small business which would both manufacture and sell an invention that I've patented, called Toothpaste 2 Go. I love interacting with my readers and hope to learn as much about you as you learn about me!
Melissa @ Mommy Living the Life of Riley!