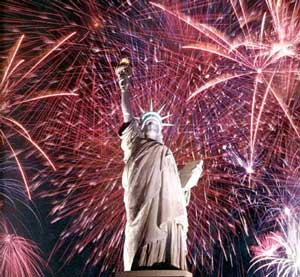 Today is the day that our fair country was born and the day that I am reminded of just how proud I am to be an American.  Sometimes nothing can convey a particular feeling or message better than a song, so I present to you the top 10 rock songs (taken from UltimateClassicRock.com) which will get your patriotic heart pumping and your toes to tapping.  Happy Independence Day, everyone!
10.  Red White & Blue by Lynyrd Skynyrd
From 'Vicious Cycle' (2003)
Johnny Van Zant, who has now fronted Lynyrd Skynyrd almost twice as long as his departed brother Ronnie, dryly notes in this ode to the American way that his hair's going white with age. Together with his blue-collar work ethic and (self-described) redneck ways, he's got all the colors of the flag sewn up!
9.  Living in the U.S.A. by Steve Miller Band
From 'Sailor' (1968)
This highly groovy little patriotic song finds Miller and his band "doot-do-do-do doot"-ing their way past dieticians, televisons, politicians and morticians, and making sure we all do our part to help our fellow countrymen, no matter what our differences.
8.  Born in the U.S.A. by Bruce Springsteen
From 'Born in the U.S.A.' (1984)
Patriotic songs don't always have to be uplifting. Although politicians such as Ronald Reagan took flak for over-simplifying this track's lyrics as a jingoistic pro-USA screed, even in the darkest interpretation, the fighting spirit of America is present. Springsteen reminds us how important it is to support our war veterans, and warns of the dangers of a government losing site of the common man's dreams.
7.  Philadelphia Freedom by Elton John
From 'Single' (1975)
Elton John's longtime lyricist, Bernie Taupin, didn't intend to write a patriotic song when asked to help write a tribute to Billie Jean King's Philadelphia Freedoms tennis team. But the uplifting message of the track's chorus got simplified during the countdown to America's 200th birthday celebration in 1976, and that's exactly the takeaway that remains cemented in music lovers' minds to this day. Which, if you think about it, is democracy in action.
6.  Rockin' in the U.S.A. by Kiss
From 'Alive II' (1977)
If you're looking for heavy, nuanced political discussion, well… you're in the wrong place. Instead, Kiss pay proper and polite respects to all the countries they've visited on their world tours — "Germany was really neat / Japan had lots to eat" — while never losing site of the fact that they consider the good old U.S. of A the best place on earth to live.
5. Remember the Heroes by Sammy Hagar
From 'Three Lock Box' (1982)
The red rocker, who's been known to both defend and critique the politics of those in charge of our country over the years, delivers a strong, anti-partisan show of support for our troops on this political song: "Remember the heroes / Who fight for the right to choose / We've all got a lot to lose."
4.  America by Simon & Garfunkel
From 'Bookends' (1968)
This song finds two lovers traveling across the country, in what many listeners believe to be a quest to find the true meaning of America. Now, what they discover may not all be peaches and cream, but what's more patriotic than seeking truth and enlightenment?
3.  We're an American Band by Grand Funk
From 'We're An American Band' (1973)
If you ever find yourself trapped in one of those endless, bumper sticker slogan-level political debates at your next company-mandated corporate dinner, just call Grand Funk. They'll come to your town, they'll help you party down, and show you and those blowhards what real freedom is all about!
2.  Star Spangled Banner by Jimi Hendrix
From 'Live at Woodstock' (1969)
At first, some thought Hendrix's famously unconventional solo guitar reading of our National Anthem was disrespectful or misguided. But over time, the former military man's rendition has become recognized as one of the most patriotic moments in rock history. It's also been duplicated by other guitarists countless times since.
1.  R.O.C.K. in the U.S.A. by John Cougar Mellencamp
From 'Scarecrow' (1985)
This rousing anthem is Mellencamp's tribute to all the struggling rockers maintaining the musical heartbeat of America. As he tells it, the spirit of Martha Reeves and James Brown is being kept alive by these young dreamers, who "Said goodbye to their families / Said goodbye to their friends"and are willing to sleep on strangers' floors for the chance to play at small clubs and hopefully, fulfill their own dreams.
http://www.youtube.com/watch?v=LMhq1L0cJf0
What's your favorite rock 'n' roll patriotic song?
Amazing Patriotic Albums:
I'm a former 7th grade Science teacher turned stay-at-home mom that lives in Houston, Texas. I am married to my college sweetheart and have a beautiful daughter named Riley, who definitely keeps me on my toes! I am also involved in starting a small business which would both manufacture and sell an invention that I've patented, called Toothpaste 2 Go. I love interacting with my readers and hope to learn as much about you as you learn about me!
Melissa @ Mommy Living the Life of Riley!