So fortunately I have no disasters to report or discuss this week.  Well, besides the "biting incident", all was well and good.  Today I feel the need, however to discuss the absolute ridiculous ability that Facebook has over me to fire me up when it comes to parenting topics.  I truly believe I have a sickness of some sort.  Masochist anyone?
So I know that there are certain sites I need to just stay the heck away from.  In fact, they have been unliked or hidden long, long ago.  Do you know what I'm talking about?  Those sites that basically tell you everything you thought you were doing right is now wrong and you're pretty lucky your kid is alive even if chances are that now they're going to turn out to be serial killers?  Yeah...those sites.  Anything that goes on the co-sleeping/breast feeding tirade, I try to ignore by principal.  I know better than to let some total strangers get the better of me...or so I thought.
Most recently, I managed to read a few things that have really put a bee in the ol' bonnet...on a facebook site that I do not subscribe to, but happened upon by accident.  I found it the night of the "biting incident" when it was probably the last thing on earth I should have been reading.  It was a place that discusses this utopia of all things parenting.  Such a place exists apparently, and the people who live there all have perfect, glorious children who have never even hinted at the fact that they might, indeed be a toddler capable of awful things.  So yeah, this was not something I needed to be reading after Brody bit the heck out of Linc's back.  The fact that the moderator of the board answered my honest statement as convoluted and obscure as she did, really caused me to believe that the patchouli she has been sniffing since college has finally caught up with her.
To end this bitterness on a high note, I did want to share something positive that I found on Pinterest. If you're not already an addict...go there.  Once.  You'll see...  But back to my point, I found this picture and I love it because I do not have a perfect kitchen, clean house, etc.  But I do have what is most important: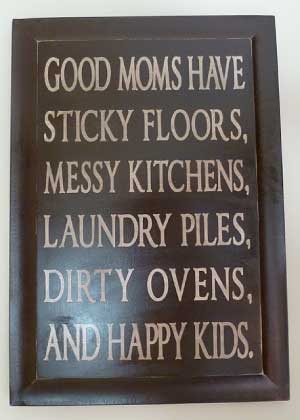 I'm a former 7th grade Science teacher turned stay-at-home mom that lives in Houston, Texas. I am married to my college sweetheart and have a beautiful daughter named Riley, who definitely keeps me on my toes! I am also involved in starting a small business which would both manufacture and sell an invention that I've patented, called Toothpaste 2 Go. I love interacting with my readers and hope to learn as much about you as you learn about me!
Melissa @ Mommy Living the Life of Riley!