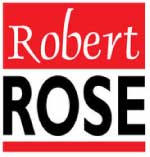 With our daily exposure to a constant stream of conflicting information about nutrition and health, it can be a challenge to discern which foods really do form a healthy diet, let alone how to turn them into delicious dishes that can be prepared without too much time, fuss and expense.
5 Easy Steps to Healthy Cooking offers a solution.  Vastly different from a diet book, this simplified, five-step approach to health is holistic and flexible.  It begins and ends with easy and enticing recipes.  Keep reading to learn more!
I reviewed
5 Easy Steps to Healthy Cooking
: 500 Recipes for Lifelong Wellness by Camilla Saulsbury, which retails for $24.95, but is currently on sale for $16.41 with FREE SHIPPING.
The five steps are:
Choose fresh, whole foods
Eat mostly vegetable and fruit-based foods
Opt for healthy fats and proteins
Select superfoods (nutrient-dense foods)
Eat more whole grains
The choices we make at the market, in our kitchens and around the dining table, can affect our health for better or for worse.  This book offers simple, delicious recipes that use ingredients with a proven track record in enhancing health or offering protection from diseases.
The positive health benefits of the foods used in these recipes have been well established and confirmed in trials across the world over a period of years. Here's an example of the yummy, scrumptious and healthy recipes awaiting you in 5 Easy Steps to Healthy Cooking by Camilla Saulsbury:
Makes 4 servings

Ingredients:
Salsa
1 cup chopped fresh or thawed frozen 250 mL
mango
1⁄2 cup chopped red bell pepper 125 mL
1⁄2 cup packed fresh cilantro leaves, 125 mL
chopped
1⁄4 cup finely chopped red onion 60 mL
1⁄4 tsp fine sea salt 1 mL
1 tbsp freshly squeezed lime juice 15 mL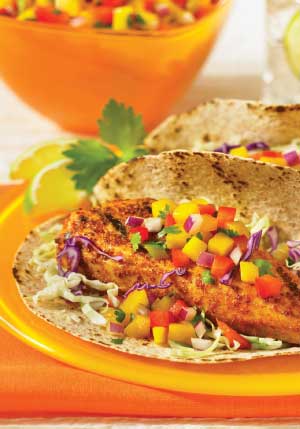 Tacos
1 tsp ground cumin 5 mL
1⁄2 tsp chili powder 2 mL
1⁄4 tsp fine sea salt 1 mL
1 tbsp freshly squeezed lime juice 15 mL
2 tsp vegetable oil 10 mL
4 skinless farmed tilapia fillets (each 4
about 6 oz/175 g)
4 8-inch (20 cm) whole wheat tortillas, 4
warmed
2 cups shredded purple or green cabbage 500 mL
Directions:
1. Salsa: In a small bowl, combine mango, red pepper, cilantro, red onion, salt and lime juice.
2. Tacos: In a small cup, whisk together cumin, chili powder, salt, lime juice and oil. Brush on both sides of fish, coating evenly.
3. Grill fish on preheated barbecue, turning once, for 2 to 3 minutes per side or until fish is opaque and flakes easily when tested with a fork. Flake fish into small pieces.
4. Fill warmed tortillas with fish, cabbage and salsa.

Tip: According to the Monterey Bay Aquarium Seafood Watch, U.S.- and Canadian-farmed tilapia are the best choices because the supplies are abundant, well managed and farmed in an environmentally friendly way. A good alternative is tilapia farmed in Brazil, Costa Rica, Honduras or Ecuador.

Nutrients per serving:
Calories 370
Total fat 9 g
Saturated fat 2 g
Cholesterol 88 mg
Sodium 579 mg
Carbohydrate 34 g
Fiber 5 g
Protein 41 g
Calcium 52 mg
Iron 1.7 mg
Even a book with 500 recipes cannot be definitive, and there are many foods not featured in this collection that are healthy and nutritious in their own right.  If you favorite vegetable, fruit, grain or other healthy food is not found in these pages, that doesn't mean it won't add positive nutrition to your overall diet.
Remember, no one food can make you healthy on its own.  Aim instead for a varied and balanced diet.  The diversity of recipes in this collection offers ways to enjoy a wide variety of nutritious foods throughout the day - from breakfast to dessert, and everywhere in between.  5 Easy Steps to Healthy Cooking by Camilla Saulsbury will help you build your own perfect diet while you learn more about the wonderful world of healthy, natural foods!
About the Author: Camilla Saulsbury is a freelance food writer, recipe developer and cooking instructor.  Her culinary focus is translating food and flavor trends into fresh, innovative and delicious recipes for the home kitchen.  Camilla has been involved in the world of food for more than 16 years, including catering specialty desserts in the San Francisco Bay Area, writing cookbooks and freelance food articles, and developing recipes for national food companies.
Furthermore, she has won several of the country's top cooking competitions, including the $100,000 National Chicken Cook-Off, the $50,000 Build a Better Burger Contest and the Food Network's $25,000 Ultimate Recipe Showdown (Cookies Episode).
Disclosure: I received 5 Easy Steps to Healthy Cooking by Camilla Saulsbury from Robert Rose, Inc. in order to facilitate my review. No other compensation was received. This product review is based on my own personal experiences with this item and is completely honest and objective.
I'm a former 7th grade Science teacher turned stay-at-home mom that lives in Houston, Texas. I am married to my college sweetheart and have a beautiful daughter named Riley, who definitely keeps me on my toes! I am also involved in starting a small business which would both manufacture and sell an invention that I've patented, called Toothpaste 2 Go. I love interacting with my readers and hope to learn as much about you as you learn about me!
Melissa @ Mommy Living the Life of Riley!