Honestly, I can't remember the last time I had a landline phone in my house.  I just couldn't see paying almost $30 a month for a phone which RARELY got used, though at times, I still miss having one.  For instance, what do you do in the middle of the night if there's an emergency, yet your cell phone is sitting on the charger downstairs, very much out of reach?
What about if your child wants a phone line of their own, yet you do NOT want them to have a cell phone yet?  Or how about having a second way to make or receive calls if you're like me and get poor cell phone reception in your home?  Thankfully, netTALK has invented a cost-effective solution for all of these everyday problems with the netTALK DUO WiFi.
I reviewed the
netTALK DUO WiFi
 which retails for $64.95, but is currently on sale for $59.08 with FREE SHIPPING.
Receive a FREE $10 International Credit with the purchase of
ANY DUO device
 ~ Use promo code "INTL2012".
Save on the Cost of a Landline Phone Without Losing the Convenience
The netTALK DUO WiFi device allows you to basically hook into your own home's internet signal so that you can make phone calls from a typical landline phone of your choice.  Setup is fairly basic and the service costs just $29.95 for an entire YEAR.  That breaks down to less than $2.50 per month!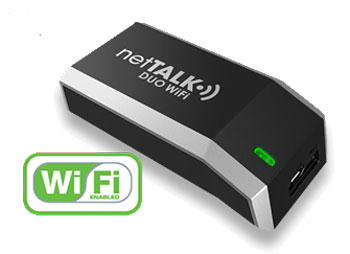 Cut the cord and experience the ultimate in communication freedom with the netTALK DUO WiFi. Make free calls to the U.S. and Canada and ultra low-cost international calls, from anywhere in the world, with no contracts or monthly bills. One year of service is included with the DUO WiFi purchase, a savings of $29.95.
The netTALK DUO WiFi is a sleek and versatile VoIP telephone device that connects via wireless or traditional Internet connection (through router or computer). Enjoy free calling features such as call waiting, conference calling, Enhanced 911, 411 directory assistance, visual voicemail, and a videophone application. Choose a phone number or keep your own. Flat-rate, low cost international call plans are available and the netTALK DUO WiFi is supported by live U.S-based, technical support, seven days a week.
Since I have a landline phone which has a main unit plus two additional handsets, I decided to install the netTALK DUO WiFi using the router method.  First, you must activate the netTALK DUO WiFi online using the information provided to you inside the packaging.  During this step, you can select a brand new phone number to use or hook it into the one you already own.
Personally, I selected a new number for just our home which can be used for emergencies during the middle of the night or as a way to try and contact us if no one is answering their cell.  Of course, years later, I'm sure Riley will commandeer it so that she can talk to all of her friends.
Next, you're asked to install both the DUO USB Driver and the netTALK DUO WiFi Management Tool to your computer, though because I was connecting the device directly to the router itself, I found that this step wasn't necessary.
Finally, just connect your phone line and the included LAN cable to the netTALK Device and then connect the power cord to the device and the netTALK DUO WiFi to your router.  If done correctly, you will see the light on the device turn solid green...a few seconds later, you'll also hear your landline phone ring once.  Once that occurs, you're ready to make and receive calls!
What's more, netTALK even offers a snappy iPhone or Android app which will allow you to make FREE calls from your cell phone!  How handy is that?  :call me:  I constantly get dropped calls and bad reception from my mobile carrier while I'm at home and now with the cool netTALK app, I can not only use my cell phone without issue at home, I can even save more of my precious minutes too!
Although there is a little bit of static during our calls, I love how quick and easy the netTALK DUO WiFi was to install and set up.  I'm also thrilled to have a way to make and receive calls when our cell phones are busy charging downstairs for the night.  Of course, the best part is that the netTALK DUO WiFi service costs less than $2.50 per month...that's cheaper than one latte at Starbucks!
Disclosure:  I received the netTALK DUO WiFi in order to facilitate my review. No other compensation was received. This feature is based on my own personal experiences with this item and is completely honest and objective.
I'm a former 7th grade Science teacher turned stay-at-home mom that lives in Houston, Texas. I am married to my college sweetheart and have a beautiful daughter named Riley, who definitely keeps me on my toes! I am also involved in starting a small business which would both manufacture and sell an invention that I've patented, called Toothpaste 2 Go. I love interacting with my readers and hope to learn as much about you as you learn about me!
Melissa @ Mommy Living the Life of Riley!