In an effort to slow down the hands of time and keep myself fit, I've taken up running.  My favorite place to run is along the many sidewalks and trails surrounding my neighborhood.  I have to admit that I don't necessarily enjoy running, but I haven't found anything else quite like it which whips my cardio level and endurance into shape so quickly.
In order to achieve my personal best while running around the neighborhood, I must zone out.  That's why the clothing I choose to wear is of utter importance to my overall performance.  If a garment is uncomfortable, rubs me wrong or hurts in any way, I'm not able to hit "my zone" and I end up calling it quits long before I should.
adidas has always been my favorite brand of athletic clothing, so naturally I was intrigued to learn of their new adidas Outdoor collection of performance gear.  They were generous enough to send me two pieces from this collection so that I could hit the trails in both comfort and style.  Keep reading to learn more!
I reviewed the Women's Outdoor Terrex 3/4 Tights and Swift ActiveTop Running Tank Top in Core Energy from adidas, which retail for $60.00 and $45.00, respectively.
The new adidas Women's Outdoor Terrex collection has been specially designed specifically for the female athlete to provide the ultimate in performance, comfort and style.  For over 50 years, female athletes have been relying on adidas to meet their training needs and the new Terrex collection has to be one of the most innovative I've seen.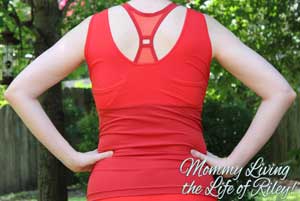 The hallmark of the Terrex line of performance clothing is the new cut and three-dimensional engineering which creates sculpted garments that optimize fit and comfort while boosting the freedom of movement for active athletes.  adidas calls this new design of athletic clothing, FORMOTION.  Of course, in order to keep you cool and comfortable no matter the weather conditions, each piece in this collection also offers CLIMALITE technology which sweeps sweat away from the skin.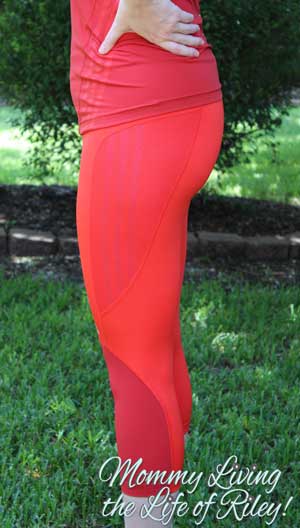 The mesh inserts you see strategically placed throughout also offer increased breathability in the areas you need them most, such as the cleavage area and inner arms.
If that wasn't cool enough, adidas even thought to go the extra mile and design this line of clothing with Cocona fabric technology that uses activated carbon for moisture-releasing cooling, odor resistance and 50+ SPF UV PROTECTION.  Now you can skip the sunscreen in the areas covered by your workout wear and know that you will receive superior sun protection while you train.
I have to admit that I immediately fell in love with the overall style and design of the Women's Outdoor Terrex line of performance gear from adidas.  I felt like I was ready to train for the Olympics as soon as I donned these clothes and actually looked forward to taking them for a run.  The Terrex 3/4 Tights couldn't have fit any better or been any more comfortable to wear.  It literally felt like I was running around the neighborhood with nothing on!  (Not that I necessarily know what that feels like!)  :blush: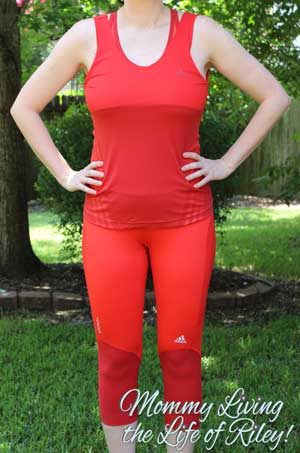 I wasn't as big a fan of the Terrex Swift ActiveTop Running Tank mainly because the fit wasn't ideal under the arms (it kept bunching a little there) and I didn't see the need of having the attached sports bra insert.
At first, I thought this was a wonderful idea until I noticed that the sports bra didn't offer much in the way of support.  When I run, it doesn't feel too good for "the girls" to be bouncing about and I like wearing a maximum compression sports bra to prevent that from happening.
While the included sports bra of the Terrex Swift ActiveTop Running Tank was super cool to look at and gave the overall design of the tank a unique, edgy look, which I loved, it didn't offer any sort of support.  As a matter of fact, the sports bra and tank were so sheer that, more often than not, my nipples could be seen, which I don't like.  If adidas changed the sewn-in sports bra to a thicker version that offers maximum compression, this running tank would have been ideal, in my opinion.
The Core Energy red/orange color was fabulous too!  Since our Texas summer heat is something to be avoided at all costs, I do a lot of my running at dusk or at night.  I love the added safety benefit of the Core Energy color which definitely gets me noticed as I streak by the green background of our neighborhood.  If you'd like to take your workout to the next level of performance, then I highly recommend giving any of the adidas Outdoor Terrex collection pieces a try!
Additional adidas Outdoor Terrex Performance Gear:
Disclosure:  I received the Women's Outdoor Terrex 3/4 Tights and Swift ActiveTop Running Tank Top from adidas in order to facilitate my review. No other compensation was received. This product review is based on my own personal experiences with this item and is completely honest and objective.
I'm a former 7th grade Science teacher turned stay-at-home mom that lives in Houston, Texas. I am married to my college sweetheart and have a beautiful daughter named Riley, who definitely keeps me on my toes! I am also involved in starting a small business which would both manufacture and sell an invention that I've patented, called Toothpaste 2 Go. I love interacting with my readers and hope to learn as much about you as you learn about me!
Melissa @ Mommy Living the Life of Riley!