There's definitely something cute and cuddly about carrying around your brand new baby and all of their gear when you're a new mommy.  I guess that's what led me to pick out the pastel green diaper bag with a large yellow duck on the front.  Either that, or the pregnancy hormones were talking!  :)
But now that Riley has grown from a wee baby to a full-fledged toddler, I realize that my original baby bag choice wasn't a good one.  I used to feel pretty foolish carrying around this childish green bag with the duck on the front, once I became a "seasoned" mom.  I quickly saw that it was time to get back to carrying a handbag with some style, which can still function as a terrific diaper bag for when my family is on the go.  Thank goodness, Amy Michelle came to my rescue with the new go bebe Zebra Bag!  Keep reading to learn more!
UP TO 5% OF THE PROFIT OF EACH SALE GOES TO THE RONALD MCDONALD HOUSE CHARITIES OF DENVER.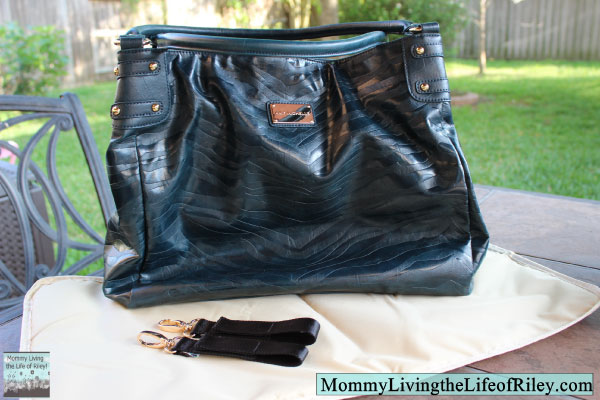 I couldn't have been more elated to receive the go bebe Zebra Bag from Amy Michelle, for this is EXACTLY the type of purse I used to carry before becoming a mommy!  This is one of the most sophisticated and stylish diaper bags I've ever seen and unless you open it up, no one will ever know that this bag is really containing a host of baby or toddler goodies.  Carrying pacifiers and Cheerios has never looked better!
The things that originally drew me to this particular Amy Michelle diaper bag were the gorgeous turquoise color as well as the sleek outer styling of the embossed zebra print.  Because there aren't any outer pockets on the go bebe Zebra Bag, you can easily pass this diaper bag off as a large purse, overnight bag or even camera bag and for it will truly compliment almost any outfit.
But, as with all Amy Michelle diaper bags, I knew that the best was yet to come.  I love how well-designed their bags are for the modern mom and the go bebe Zebra Bag was no exception.  Inside this super spacious bag was a myriad of pockets, both large and small.  There were two elastic side pockets, perfect for housing a baby bottle, sippy cup or water bottle, as well as easy access clips for both your car keys and baby's pacifier.  I also loved how the inside of this bag contained a "mom side" and a "baby side", with pockets matching the functions of each person.
On the mom side, there were several smaller pockets, perfect for credit cards or identification cards, as well as one larger zippered pocket which could hold a lipstick, cash and/or cell phone.  On the baby side, there were two open pockets which are the perfect size for carrying diapers and baby wipes.
On this side, there was also a large zippered pocket which contained a matching champagne-colored changing pad.  The neat thing about this changing pad is that the cover could easily be removed for cleaning, when necessary, and the champagne liner of both the changing pad and the interior of the go bebe Zebra Bag is antimicrobial.
Of course, Amy Michelle also thought to include a pair of removable stroller straps, so that the Zebra Bag doesn't always have to be carried, as well as four metal posts on the bottom, for maximum protection from dirt, dust and scuffing.  This chic baby bag even has snaps on each side which transform it from a handbag into an ultra large tote.  This super roomy inner compartment could easily house a baby blanket, toys, snacks or any other essentials for on the go.
I am truly in love with the Amy Michelle go bebe Zebra Bag and will continue to carry this for MANY years to come!  It is the epitome of function and style, and keeps all of the many things I carry when my family leaves the house super organized.  Now that I've traded in my big green diaper bag with the large yellow duck on the front for the go bebe Zebra Bag, I feel a little less like "awkward" mom and more like "fashion runway" mom!  Now that's one amazing baby bag!
What are the features that you absolutely MUST have in a diaper bag?
Disclosure:  I received the go bebe Zebra Bag in Turquoise from Amy Michelle in order to facilitate my review. No other compensation was received. This product review is based on my own personal experiences with this item and is completely honest and objective.
I'm a former 7th grade Science teacher turned stay-at-home mom that lives in Houston, Texas. I am married to my college sweetheart and have a beautiful daughter named Riley, who definitely keeps me on my toes! I am also involved in starting a small business which would both manufacture and sell an invention that I've patented, called Toothpaste 2 Go. I love interacting with my readers and hope to learn as much about you as you learn about me!
Melissa @ Mommy Living the Life of Riley!