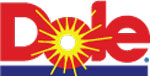 Are you a busy mom with a family that's always on the move?  These days, a hectic lifestyle definitely seems to be the norm and not the exception, which can make healthy eating next to impossible.  I love finding delicious grab-and-go options that are both healthful and portable.  That's why I was all ears when I learned of the new DOLE Fruit Crisps.
These pocket-size snacks contain all natural fruit, are made with whole grain oats and come in three yummy varieties: peach, apple cinnamon and apple pear.  Not only did I have the chance to sample these new fruity concoctions, several of my friends and family did too.  DOLE allowed me to throw a small get-together where we all feasted on the new DOLE Fruit Crisps while painting Easter eggs for the holiday.  Keep reading to learn more!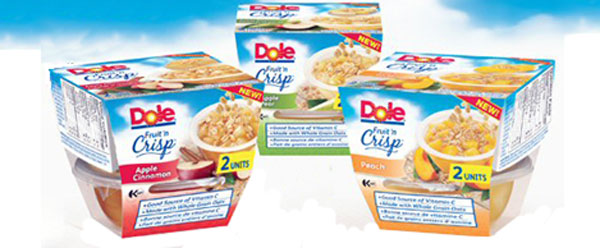 DOLE Fruit Crisps are a great way to satisfy an in-between meal craving without the guilt.  They're perfect for curbing your hunger after breakfast, lunch or dinner and can even serve as a healthy option for dessert.  The best part is, these little fruit cups can be eaten either warm or cold.  Just pop them in the microwave for a bit and you'll soon be dining on a warm, gooey snack.
A few of Riley's classmates and their parents came over to try out the three new flavors of DOLE Fruit Crisps as well as to decorate eggs for the Easter bunny himself.  Everyone loved the whole grain oats that were included in a separate foil-sealed pouch with the fruit cups.  I also enjoyed that the oats were lightly flavored with cinnamon for an extra special topping.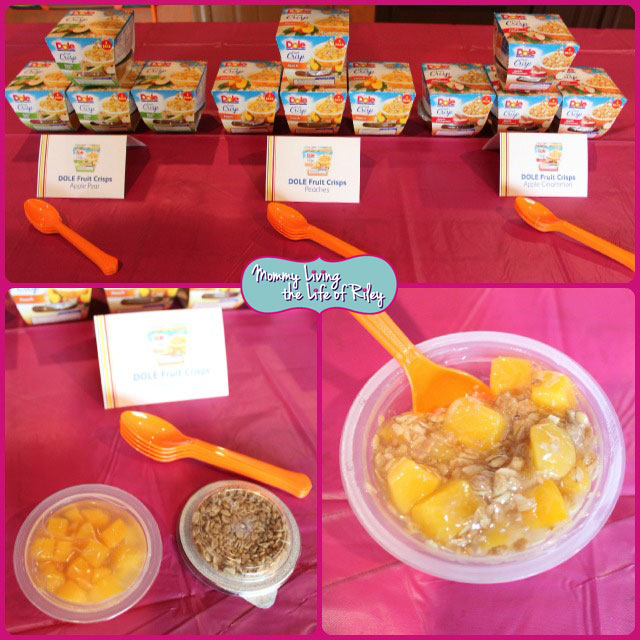 All of the guests tried each variety both cold and warmed up in the microwave and the overall consensus was that the DOLE Fruit Crisps were definitely better served warm.  The Fruit Crisps seemed like more of a dessert then, though each variety only contains around 160 calories per serving (with 2 servings per cup).  After tasting each, everyone unanimously chose the Apple Cinnamon variety to wear the crown of best tasting!  The guests also decided that there were a few things about the DOLE Fruit Crisps that could be improved upon.
First, the cup needs to be made a bit larger to avoid any messes when stirring in the oats.  Almost everyone sloshed a bit out of their cups when stirring in the topping and for this snack to truly be portable, it also needs to be mess-free.  Second, no one seemed to understand why DOLE chose to add sugar to their Fruit Crisps.  In my opinion, fruit is deliciously sweet enough as-is and the addition of more sugar made this product taste too sweet, not to mention more unhealthy.  Most everyone at the party seemed to like the concept of this snack, but admitted that the added sugar harmed the overall flavor and was something they wished DOLE would have left out.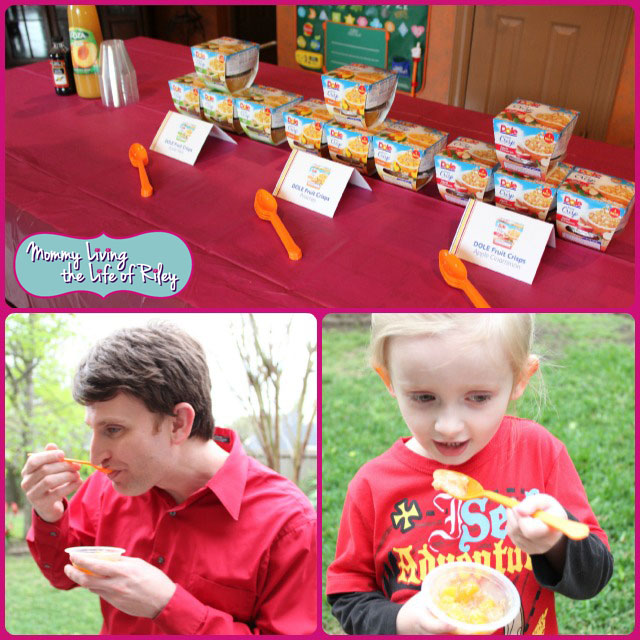 DOLE Fruit Crisps are the perfect solution for when we don't have time to prepare a mid-day snack or a bite to eat while on the go.  It's a great "quick fix" that every busy mom should have in her arsenal.  DOLE also provided a list of some other "quick fixes" that all busy moms could appreciate.  Here's a few that my guests particularly enjoyed:
1.  Greasy hair?  Try dry shampoo, or for a cheaper option, baby powder is the way to go.
2.  When your girlfriends stop by unexpectedly, make sure to have a few simple ingredients on hand to whip up a delicious mocktail  Try a Peach Crisptini made with peach juice and a little vanilla extract for the perfect sweet concoction.
3.  Hate chipped nails?  When you get a manicure, make sure to invest in a similar color marker to quickly fill in the chip without having to run back to the salon.  Want to make it easier?  Choose 4-5 colors you love and invest in those nail colors/markers for easy at-home fixes between salon trips.
4.  Shirt is wrinkled with no time to iron?  Keep a spray bottle filled with water and a couple drops of fabric softener in your closet.  Lightly mist your shirt and throw it in the dryer for 5 minutes.  Now you're good to go!
Disclosure: I wrote this review while participating in a campaign for Mom Central Consulting on behalf of Dole. I received product samples to facilitate my party and review, and a promotional item to thank me for participating.
I'm a former 7th grade Science teacher turned stay-at-home mom that lives in Houston, Texas. I am married to my college sweetheart and have a beautiful daughter named Riley, who definitely keeps me on my toes! I am also involved in starting a small business which would both manufacture and sell an invention that I've patented, called Toothpaste 2 Go. I love interacting with my readers and hope to learn as much about you as you learn about me!
Melissa @ Mommy Living the Life of Riley!