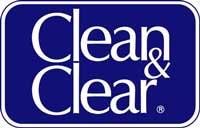 A new school year has just begun and you're probably breathing a sigh of relief after tackling that long laundry list of supplies.  But if you're the parent of a teen, you know that back to school shopping isn't complete until you find the perfect items to have them both looking and feeling their best too.

That's why Teen Vogue and Walmart have partnered with Clean & Clear and Neutrogena to bring you a list of products which will help your teen put their best face forward this year.  Check out the following items, make one last trip to the store and finally wrap up your back to school shopping.  You'll have one happy teen with a renewed sense of confidence!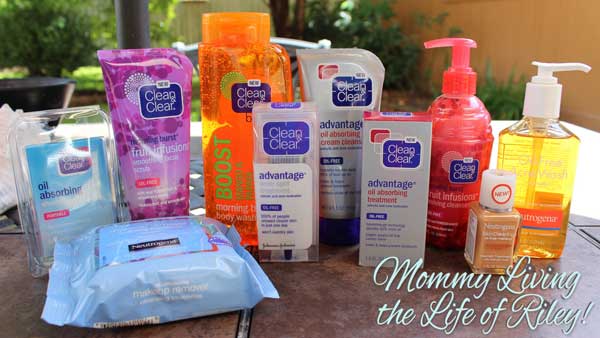 Back to School Shopping Essentials from Neutrogena and Clean & Clear
Clean & Clear, the teen experiential skincare expert, introduces its first ever body wash to get clean, get energized and get going! Clean & Clear Morning Burst Body Wash is designed to stimulate the senses and energize teens from head to toe. With soft BURSTING BEADS suspended with exotic fruit extracts, Clean & Clear Morning Burst Body Wash delivers the "most power for your shower" and leaves skin feeling clean, refreshed, and smelling great.
Clean & Clear Advantage Acne Spot Treatment, a breakthrough formula with the proven acne fighting ingredient of 2% salicylic acid and a proprietary synergistic naturals complex, has been clinically shown to quickly reduce the visible signs of breakouts while being gentle and mild to the skin.  During clinical testing, the transparent gel formula was shown to work quickly to reduce the redness and size of pimples.
Eating fruits are a great source of vitamins and antioxidants to get you going and feeling great.  Your skin can use vitamins and antioxidants to give you that extra boost.  Leading teen skin care brand Clean & Clear has introduced a set of smoothie‐inspired, fruit‐filled facial cleansers and facial scrub that leave a lasting pleasant scent on skin.
Fruit Infusions: Back to School Shopping Options Teens Will Love
All fruit ingredients were carefully selected to meet teens' top skincare needs: Pomegranate to help revive, Mandarin Orange to help cleanse, Pineapple to help hydrate and Yumberry to help smooth and soften skin.  This collection is ripe with exotic fruit with healthy skin benefits you can actually see and feel.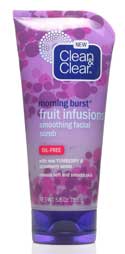 Clean & Clear Morning Burst Fruit Infusions Facial Cleansers are offered in the following exotic scents and is packed with strawberry seeds to provide a light exfoliating effect:
Mandarin Orange: Purifying Cleanser to help cleanse pores
Pomegranate and Passion Fruit: Reviving Cleanser to help revive tired skin
Pineapple and Coconut: Hydrating Cleanser to help moisturize skin
There's also the brand new Clean & Clear Morning Burst Fruit Infusions Smoothing Scrub with Yumberry extract and antioxidants to help reveal healthy looking skin.  The scrub formula also helps to exfoliate and smooth skin.
Back to School Shopping Essentials to Keep Acne at Bay
Nearly three‐quarters of young women ages 13‐24 struggle with oily skin every day and identify recurring oiliness as a key aspect of frustration and bother. Recognizing that oil absorption is an unmet need, the Clean & Clear Brand developed the Clean & Clear Advantage Oil Absorbing Collection to help control unwanted shine.
The line contains a breakthrough POWDERPARTICLES™ technology with rice protein that targets excess shine by absorbing 50 percent more oil than a leading ingredient. Combined with salicylic acid to treat and help prevent breakouts, this collection is the ideal solution to help control blemishes and shine.
If your teen suffers from the ever-present acne flareups, consider the Clean & Clear Advantage Oil-Absorbing Cleanser which actually eliminates 85% of built up oil and controls shine all day long.  Couple that with the Clean & Clear Advantage Oil Absorbing Acne Treatment which functions as a daily moisturizer.  The difference though is that this lotion will actually absorb excess oil and not clog pores.
Neutrogena Oil-Free Acne Wash is the number one acne fighting cleanser, recommended by dermatologists because it provides effective, yet gentle acne cleansing.  This medicated, gel facial wash is formulated with 2% Salicylic Acid to penetrate deep down into pores to help eliminate most acne blemishes and keep pores clog-free.
Because it effectively removes excess oil in pores, Neutrogena Oil-Free Acne Wash can be used daily to help prevent future breakouts.  And Neutrogena Oil-Free Acne Wash rinses away clearly, so there's no left-over residue.  In addition, special skin comforters, including aloe and chamomile, soothe and condition skin to help prevent irritation and over-drying. The result is skin that's clean, clear, residue-free and never oily.
A Few Back to School Shopping Must-Haves Just for the Girls!
When it comes to breakouts, it's not surprising that many women feel self-conscious about their acne, but sometimes covering up the skin with makeup can clog pores and leave an unnatural cakey look.  With the Neutrogena SkinClearing Line, you don't just cover up--you clear up! Not only does this line of products hide breakouts with a natural-looking finish but it also treats and helps prevent future breakouts from occurring. In fact, in a clinical test, 100% of women who tried it had improved skin over time.
Available in a mineral powder, blemish concealer and liquid foundation, this multi-benefit line is the first to combine flawless makeup coverage with MicroClear technology, a breakthrough patented technology that cuts through oil quickly to speed the delivery of maximum-strength acne medicine, Salicylic Acid, straight to the source of breakouts. MicroClear technology has been clinically proven to help prevent up to 70% of emerging acne from reaching the skin's surface.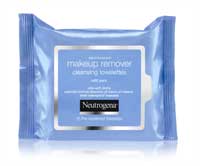 Banish the daily shine for good with the Clean & Clear Oil Absorbing Sheets.  These take-along sheets remove excess oil without smudging make-up and without leaving a residue on the skin's surface.  They are smooth, flexible sheets that change color with use so young women can actually see them working. The sheets are conveniently packaged in a slim, pop-up package for instant, on the go freshening anytime, anywhere.
Taking off makeup ever day can be a hassle. Many removers do not fully remove product leaving traces of makeup, that can end up causing clogged pores and breakouts.  Neutrogena Makeup Removing Cleansing Towelettes are ultra soft cloths that gently dissolve all traces of make-up, even waterproof mascara, for clean, fresh, make-up free skin in one easy step.  They offer superior make-up removal with a patent pending technology that is so effective, it easily dissolves long-lasting extended-wear make-up.
Disclosure: I received the products shown above from Neutrogena and Clean & Clear in order to facilitate my review. No other compensation was received. This product review is based on my own personal experiences with this item and is completely honest and objective.
I'm a former 7th grade Science teacher turned stay-at-home mom that lives in Houston, Texas. I am married to my college sweetheart and have a beautiful daughter named Riley, who definitely keeps me on my toes! I am also involved in starting a small business which would both manufacture and sell an invention that I've patented, called Toothpaste 2 Go. I love interacting with my readers and hope to learn as much about you as you learn about me!
Melissa @ Mommy Living the Life of Riley!