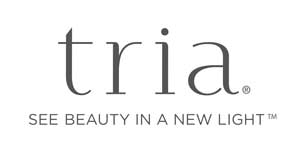 I've battled adult acne for what seems like forever, and during all of the time spent using countless creams and prescriptions, I've never been able to find a long-lasting solution to my problem.  One of the possibilities I've heard of, yet never tried, is a blue light acne treatment.
Tria Beauty actually makes a blue light acne treatment easy and convenient enough for daily use at home with their Skin Perfecting Blue Light.  I've begun using this device and will be reporting back to you with my full results once I've had the chance to try it for several weeks.  Right now, I want to tell you all about how their blue light acne treatment system works.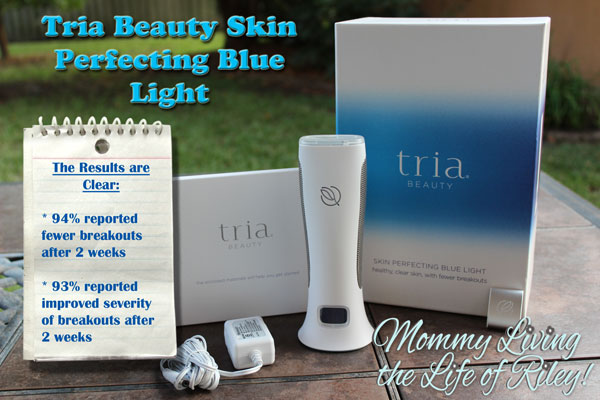 The Most Advanced Blue Light Acne Treatment Available for At-Home Use
Dermatologists have used blue light in their offices since 2002 to clear acne breakouts quickly and effectively by eliminating the bacteria that cause them. Blue light acne treatment is a non-UV light therapy, which is gentle on skin and does not cause long-term harmful health effects.  The Tria Beauty Skin Perfecting Blue Light system is perfect for at-home use and has been shown to reduce the amount of acne by up to 70% from daily use over a period of two weeks.
The Tria Skin Perfecting Blue Light treats the very source of acne—bacteria (P. acnes) living in the pores. When blue light strikes the acne bacteria cells, it kills them, without affecting the surrounding tissue. And when you eliminate acne-causing bacteria, you eliminate clogged pores, blemishes, pimples and breakouts to reveal clearer, smoother, healthier skin.
Using this blue light acne treatment is super simple and takes just 5 minutes per day per treatment area.  For someone like me, with multiple areas to treat, the time spent using the Skin Perfecting Blue Light might actually take much longer, since a treatment area is only a few inches wide.
Before using the Tria Skin Perfecting Blue Light, you must make sure that you have the type of acne that is best healed with an acne treatment such as this.  Comedonal, severe nodular or cystic acne are not able to be treated in this way and are not recommended for the Skin Perfecting Blue Light.  However, if you have mild or moderate acne, you should see significant improvement from using this device.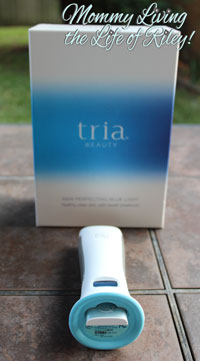 First, use the charger to activate the device and then put in the included cartridge.  The device should beep and the display will come on.  Tap the tip of the device with the palm of your hand so that the blue light comes on.  Now you're ready for your first blue light acne treatment!
Steps to Using the Tria Beauty Skin Perfecting Blue Light
1.  Make sure the Skin Perfecting Blue Light is charged and has a cartridge inserted.
2.  Clean your skin and dry the area you want to treat.
3.  Apply the treatment guide to an area of skin with pimples or pustules.  You can use the included guides, but because I had many areas to treat, I preferred not to use them.
4.  Put the Tria Skin Perfecting Blue Light tip on your face.  The light will automatically come on.
5.  Move the device's tip across your skin within the treatment area.  Slide the tip continuously and evenly across the whole area.  Keep going for 5 minutes until the unit turns off.
6.  Treat another area, if desired.
Make sure to follow along on my journey with the Tria Beauty Skin Perfecting Blue Light.  You'll see before and after photos showing my skin's changes over a period of 3 weeks.  If this blue light acne treatment actually reduces my mild to moderate adult acne, I'll be the happiest girl in the world!
Disclosure: I received the Skin Perfecting Blue Light from Tria Beauty in order to facilitate my review. No other compensation was received. This product review is based on my own personal experiences with this item and is completely honest and objective.
I'm a former 7th grade Science teacher turned stay-at-home mom that lives in Houston, Texas. I am married to my college sweetheart and have a beautiful daughter named Riley, who definitely keeps me on my toes! I am also involved in starting a small business which would both manufacture and sell an invention that I've patented, called Toothpaste 2 Go. I love interacting with my readers and hope to learn as much about you as you learn about me!
Melissa @ Mommy Living the Life of Riley!