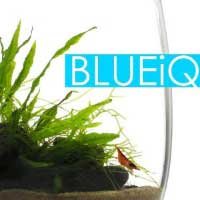 One of my favorite units to teach each year, back when I was a Science teacher, was Ecology.  The study of how plants and animals interact with their environments in order to successfully live and reproduce never ceased to fascinate me...or my students.  It seems that children just have a natural affinity for living things and love to learn more about how all life is interrelated here on Earth.
Personally, I've always been amazed at how miniature ecosystems can be formed and are truly self-sufficient because they contain a unique balance of energy, water, plants, animals and bacteria (decomposers) which mimics the exact balance in our own planet's ecology.
BLUEiQ miniature ecosystems bring a beautiful touch of Science into your home, which will inspire you to reflect on your own actions and role in Earth's ecosystems.  I recently had the chance to review the BLUEiQ from Art & Science For All, Inc.  Keep reading to learn more!
I reviewed the
BLUEiQ Miniature Ecosystem
from Art & Science For All, Inc., which retails for $89.00, but is currently on sale for $79.00.
Enter to win a BLUEiQ of your very own. 
Click here
for more details.
The BLUEiQ is a miniature ecosystem designed to be both educational and beautiful.  The first of two boxes includes standard components: 20-page educational Owner's Guide, hand-blown glass container, tweezers, tying thread, thermometer, and magnifying glass.  The second box (shipped free of charge), includes the livestock and substrate of your BLUEiQ:  5 dwarf shrimp, 2 snails, your choice of aquatic plant, and your choice of substrate type.

Using the tweezers, tying thread, and magnifying glass, you'll design your BLUEiQ environment.  Once introduced to their new environment, the shrimp, snails, plants and other microscopic organisms living in the substrate form an ecosystem with a unique balance that requires very little maintenance.  All you'll need to do is provide a light source for the plants and occasionally replenishment evaporated water with fresh, filtered water.  No feeding is required.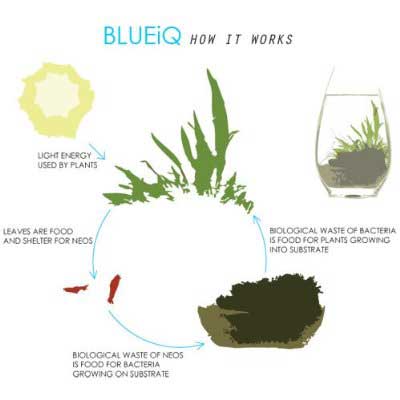 The goal of the BLUEiQ is to provide its owners with a better understanding of how ecosystems work and of the natural mechanisms that manage the balance of life within them.  Creating your personalized BLUEiQ ecosystem is a piece of cake.  Simply read the Owner's Guide, order your livestock and custom options through http://www.theblueiq.com, follow the easy instructions to assemble the system and last but not least, enjoy!

The BLUEiQ models after larger, more complicated ecosystems and will develop a natural internal balance.  The BLUEiQ requires very little care and is a unique addition to the home, office or classroom.  Because it is a self-contained miniature ecosystem, you want to make sure you place it in a spot which receives about 6-12 hours of light (either natural or artificial) as well as a place with minimum disruptions.
If you have small children, please make sure that they won't be bumping this ecosystem or putting their hands, crayons, toys, etc. inside.  This would be like toxic waste being introduced to the ecosystem and could easily disrupt the balance with catastrophic effect.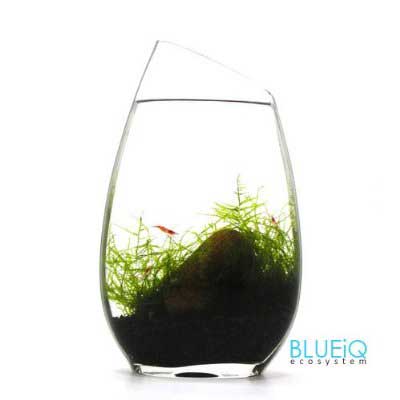 I must say that I was really taken aback by the thoroughness, quality standards and additional options offered by Art & Science For All, Inc. with the BLUEiQ miniature ecosystem.  This complete kit is expertly made and designed and looks absolutely beautiful.  It will blend seamlessly with any home's decor and is an automatic conversation starter.  Who needs a boring old aquarium, which requires a ton of maintenance and upkeep, when you can enjoy nature in its perfect balance with BLUEiQ?
I love how there are so many additional upgrades and options available as well as how you can personally customize what goes into your ecosystem.  Once your first box arrives, you get to create an account online and select which items you want to receive.  This second box will then be shipped to you very quickly, completely free of charge.  Honestly, I was stunned at the high quality items I received, for this reminded me of something that could be purchased out of a teacher's Science supply catalog for MUCH more money.
I think anyone would enjoy the BLUEiQ miniature ecosystem from Art & Science For All, Inc., for it makes a gorgeous and interesting addition to any home or office.  Older children will be amazed at what they see before them and since upkeep is minimal, it would be easy for them to care for.  If you'd like to "give the world" to someone special, you can!  With BLUEiQ, it will just be on a much smaller scale!  :big grin:
Disclosure:  I received the BLUEiQ Miniature Ecosystem from Art & Science For All, Inc. in order to facilitate my review. No other compensation was received. This product review is based on my own personal experiences with this item and is completely honest and objective.
I'm a former 7th grade Science teacher turned stay-at-home mom that lives in Houston, Texas. I am married to my college sweetheart and have a beautiful daughter named Riley, who definitely keeps me on my toes! I am also involved in starting a small business which would both manufacture and sell an invention that I've patented, called Toothpaste 2 Go. I love interacting with my readers and hope to learn as much about you as you learn about me!
Melissa @ Mommy Living the Life of Riley!