Although it's been quite a while since I myself was a child, I can still remember battling periods of self-doubt and uncertainty.  A child's confidence level can make all the difference between success and failure and the scars they receive as a child will often plague them throughout adulthood.
Instilling an unwavering sense of confidence in your children is perhaps one of the greatest gifts you can give as a parent.  Here are a few suggestions for rocketing your child's self-assurance into the stratosphere!
Tools for Building Confidence That Parents Can Use Immediately
Always laugh along with your child, and under no circumstances laugh at them, for this reaction could make your son or daughter shy away from experiencing new things. Remember, we should be building confidence, not tearing it down.
Pay lots of attention to the things your child does well. This might include sports, art, academics, doing their chores, being kind, etc. No achievement is too insignificant to praise and will help instill a sense of pride and self-confidence in your child.
Have the utmost of faith in your child and show it. Let them know that the sky's the limit to what they can accomplish and if they happen to fall short, encourage them to try again. Succeeding at a task due to sheer effort and determination helps build confidence in children.
Constructive criticism is a necessary factor to helping your child improve at something. Just be sure to criticize their behavior or actions and not the child.
Have a genuine admiration for your child's passions and stay involved in their lives. Inquire about their friends and what's happening in school and provide positive feedback when you can.
Get your youngster involved in athletics, and constantly show them an abundance of support. Even if their team is not doing as well as expected, continue to show that support and your child will learn that even if he is not the best, he is still a champion for doing his best.
Give your child chores to do around the house and hold them accountable.
Don't put too much pressure on your child as this could cause them to shut down and feel defeated. As a parent, you should want them to try lots of different things and become comfortable leaping in with both feet, but we also don't want them to feel overwhelmed.
Remember that as parents, we should always be there to encourage, to sympathize and to help our kids when we can.  Pick up those pom-poms and take center stage as the biggest cheerleader for your child.  Their confidence level will increase dramatically due to your efforts!  :clap:
About ACT for Kids: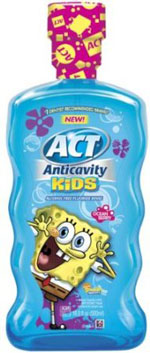 ACT fluoride rinses and mouthwashes prevent cavities, rebuild tooth enamel, and strengthen teeth.  ACT Anticavity Kids rinses are the segment leader, providing kids ages 6-12 with trusted fluoride protection in a variety of fun flavors and popular licensed characters.  In addition, ACT Anticavity Kids rinses:
Provides up to 40% fewer cavities
Strengthens teeth up to 2 times stronger
Is the only kids' rinse to provide maximum fluoride protection in a one-time-a-day formula
Has an easy-to-use metered top that minimizes messes and provides the right dose of fluoride every time
Has a unique, kid-friendly wave bottle design perfect for small hands
Tastes great
Makes rinsing fun
More info on ACT for Kids: http://www.actanticavitykids.com
 

 

Disclosure:  I was compensated for this blog post while participating in the SocialMoms and ACT Kids blogging program. The opinions and ideas expressed here are my own. To read more posts on this topic, 

click here

.
I'm a former 7th grade Science teacher turned stay-at-home mom that lives in Houston, Texas. I am married to my college sweetheart and have a beautiful daughter named Riley, who definitely keeps me on my toes! I am also involved in starting a small business which would both manufacture and sell an invention that I've patented, called Toothpaste 2 Go. I love interacting with my readers and hope to learn as much about you as you learn about me!
Melissa @ Mommy Living the Life of Riley!