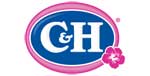 The longer I live, the more I believe that I'm a bonafide sugar addict.  My sweet tooth always seems to be on the rampage and I absolutely LOVE eating desserts of all kinds.  I'm also a die-hard coffee drinker who likes to dump a ton of sugar in my cup to really get the morning off on the right foot.  The only problem is, as I get older, all of those unwanted calories seem to find themselves right around my midsection in no time at all!
That's led me on a quest for a low-calorie, all-natural sweetener which still tastes like sugar.  By blending pure cane C&H Sugar with a naturally sweet extract from the stevia plant, the C&H Sugar Company has created a delicious sweetener with no artificial ingredients.  But would I like it in my coffee each morning and even like the way it tasted in my favorite dessert, white chocolate cheesecake bars?  Keep reading to find out!
Try C&H Light for yourself and
save $1.00
with this coupon.  Click on the CH Light Coupon tab on their Facebook page to get yours!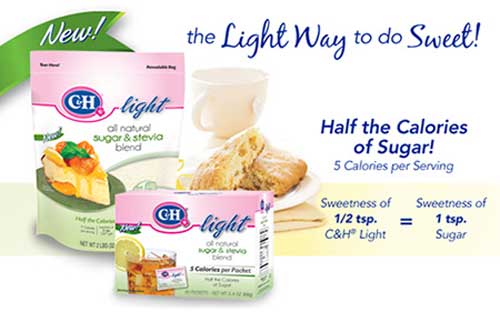 I used to use artificial sweeteners in my coffee and iced tea all the time.  That is, until I read many, many articles on the evils of aspartame.  Whether they're right or wrong, I don't know for sure, but it isn't worth the risk, in my opinion.  I've tried drastically limiting the amount of pure sugar I use, but then I never truly enjoy the drinks I love so much.  That's why I couldn't have been happier to learn of C&H Light Sugar.
At just 5 calories per serving, it offers all the sweetness of 1 teaspoon of sugar in just 1/2 teaspoon.  It comes in a variety of sizes, from a 2 lb. resealable bag to a box of 40 convenient packets.  The taste is slightly different from sugar, but doesn't take much getting used to.  I love that I can now enjoy my sweet cup of coffee and glass of iced tea without the guilt or the added calories.
The small sugar packets make it easy to take with you, since most restaurants only offer the option of sugar or artificial sweeteners.  Now I can enjoy C&H Light anywhere without worrying about those added calories going straight to my tummy!  Of course, the best feature is that C&H Light is 100% all natural.  Because it's just a blend of sugar with the zero-calorie, naturally sweet extract from the stevia plant, you don't have to worry about any of the nasty side-effects associated with artificial sweeteners.
The following is one of my all-time favorite dessert recipes and now, thanks to C&H Light Sugar, these bar cookies are even lower in calories than before.  ENJOY!  :drool:
Lower Calorie White Chocolate Cheesecake Bars
Makes 3 dozen bars
Ingredients:
1 (18.75 oz.) package white cake mix
1/2 cup (1 stick) butter, melted
3 large eggs
1 (8-oz.) packages cream cheese, softened
1/8 cup C&H Light Sugar
1 teaspoon vanilla extract
1 cup white chocolate chips
9" x 13" baking pan, greased or lined with foil
Directions:
1.  Preheat oven to 350 degrees Fahrenheit.
2.  Mix the cake mix, melted butter and 1 egg in a large bowl with electric mixer on medium speed for 1 to 2 minutes until blended.  Press into prepared pan.  Bake 15 minutes.
3.  Meanwhile, beat the cream cheese, sugar, remaining 2 eggs and vanilla extract in large bowl with electric mixer on high speed for 1 to 2 minutes until smooth.  Stir in 1 cup white chocolate chips.  Pour over partially baked crust.
4.  Bake 23 to 26 minutes until just barely set at center.  Transfer to a wire rack and cool completely.
Optional topping:
I don't use the following topping, for these bar cookies are just perfect as they are, in my opinion.
5.  Microwave 1 cup of additional white chocolate chips and 2 teaspoons vegetable shortening in a medium microwavable bowl on high for 1 minute, stirring after 30 seconds, until melted and smooth.  Drizzle over bar cookies.
It's not often that you can find a product which delivers the taste you're looking for without a down side. C&H Light Sugar is almost too good to be true. Try it in your cup of morning joe :coffee: or glass of iced tea and see what you've been missing...none of the flavor, but half of the calories!
Make sure to tune in to the awesome Twitter party which will be about all the ways you can use these new C&H Sugar products in baking and other recipes to help you with your healthy living lifestyle.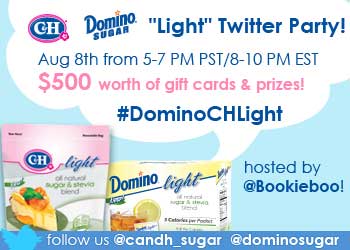 Who: Domino® Light AND C&H® Light: Sugar & Stevia Blends

When: August 8th, 2012 from 8-10pm EST
Hashtag: #DominoCHLight
Brand Twitter: @Dominosugar (Domino® Light) AND @Candh_sugar (C&H® Light)
Disclosure:  I received samples and a promotional item from Domino Sugar in order to facilitate my review. No other compensation was received. This product review is based on my own personal experiences with this item and is completely honest and objective.
I'm a former 7th grade Science teacher turned stay-at-home mom that lives in Houston, Texas. I am married to my college sweetheart and have a beautiful daughter named Riley, who definitely keeps me on my toes! I am also involved in starting a small business which would both manufacture and sell an invention that I've patented, called Toothpaste 2 Go. I love interacting with my readers and hope to learn as much about you as you learn about me!
Melissa @ Mommy Living the Life of Riley!