I participated in a campaign on behalf of Mom Central Consulting for Cascade. I received a product sample to facilitate my review and a promotional item as a thank you for participating.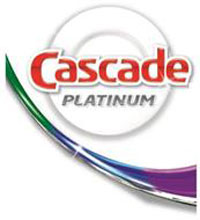 The worst part about eating a nice, big dinner with all the trimmings is definitely washing the dirty dishes after you're through!  Even though I have a dishwasher, my dishes never really seem to get truly clean.  I always manage to find tiny particles of "gook" stuck here and there, which makes me think that my dishwasher isn't doing its job.
I never really thought about whether my dishwashing detergent was doing its job or not.  So, with this in mind, I was very excited to try the brand new Cascade Platinum Pacs on my dirtiest of dishes.  Read on to find out more about the amazing pac that cleans more than just your dishes.
In order to give my Cascade Platinum Pacs a REAL challenge, I decided to make my baked ziti for dinner.  This recipe is always a killer for the pan I bake it in, since that stuck on, baked on sauce and cheese just never comes clean in the dishwasher.  I really wanted to put Cascade to the test to see if these tiny little pacs could do everything they promise they can do.
What do they promise?  Just the impossible, in my opinion!  Cascade Platinum Pacs claim to contain tough food enzyme action and the ability to combat both tea and coffee stains.  They also help to prevent hard water filming on the inside of your machine so that even your dishwasher will sparkle!  Finally, these pacs contain the grease fighting power of Dawn which will remove food and grease from your spatulas and silverware, as well as a rinse aid which will leave your glassware crystal clear!  That's a very big chore for such a tiny little packet.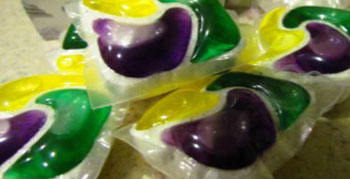 I left my baked ziti dish out after dinner for about 3-4 hours, then loaded up the dishwasher and inserted one of the Cascade Platinum Pacs into the soap tray.  These tiny pacs are designed to dissolve quickly, so that their grease fighting power can get to work right away.  Later, I opened the dishwasher and couldn't believe my eyes!  Not one tiny particle of noodle, cheese or sauce remained on my baking dish and it looked just like new again!  Even the inside of my dishwasher seemed to have gotten a good scrubbing from the Cascade Platinum Pacs.
Cascade Platinum is more expensive than your regular dishwashing detergent, but once I saw how powerful their cleaning action truly is, I think they are worth it!  Finally, there's a product that can supercharge my dishwasher and make cleaning up after a big meal a snap.  In order to save money, I will probably only use these little guys on my toughest dishes to clean, which means they'll be working double duty over the holidays when our oven seems to be in overdrive!
Now, more than ever, people eat with their eyes, and the evidence is all over sites like Facebook and Instagram. With that in mind, Top Chef judge and editor of Food+Wine magazine, Gail Simmons, has partnered with Cascade to discuss why presentation is just as important as preparation. From prep to plating:  It's more than just a great-­tasting recipe, but also perfect presentation.  Sparkling dishes, shining flatware and spot free glasses truly let you put your best food forward with culinary creations that pop!
Gail recommends impressing with a Platinum Presentation:  "The easiest recipes pop with unexpected, gourmet presentations.  Drizzle bright sauces on sparkling white plates or layer desserts in crystal clean glassware.  Keep your presentation sparkling with Cascade Platinum, which keeps dishes perfect for anytime entertaining and impromptu guests."  Learn more about Cascade's partnership with Gail Simmons by viewing videos available on the Cascade Facebook page and Cascade YouTube page.
Each week will have a 6-day entry period where Instagram users can enter the contest with their #MyPlatinum Photo.  Cascade will choose two weekly winners and one final grand prize winner after the entry period has ended.  Please be sure to include both the #MyPlatinum hashtag and tag @MyCascade in your entries to the contest!
Week 1: My Platinum Plate  (Entry Period: 6/3 -­ 6/9) - Show us your best dish styled from the sparkling plate up!
Week 2: My Platinum Bite  (Entry Period: 6/10 ­‐ 6/16) - Show us your best bite and most creative use of sparkling silverware!
Week 3: My Platinum Clink  (Entry Period: 6/17 ‐ 6/23) - Show us how you serve up creative concoctions in sparkling glasses.
Week 4: My Platinum Table  (Entry Period: 6/24 -­ 6/30) - Show us your sparkling tablescape for your most special celebrations!
Grand Prize Winner:  (Entry Period: 6/3 - 6/30)
I'm a former 7th grade Science teacher turned stay-at-home mom that lives in Houston, Texas. I am married to my college sweetheart and have a beautiful daughter named Riley, who definitely keeps me on my toes! I am also involved in starting a small business which would both manufacture and sell an invention that I've patented, called Toothpaste 2 Go. I love interacting with my readers and hope to learn as much about you as you learn about me!
Melissa @ Mommy Living the Life of Riley!