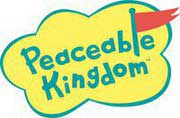 Keeping a preschooler entertained all day in a way that's both enjoyable for her and for me isn't always easy.  That's why I love finding games that we can play together which also help her develop new skills.
I've long been a fan of Peaceable Kingdom's Cooperative Games collection because these games allow you to play together with your child instead of compete against them.  Riley and I recently had the chance to review two award-winning board games from Peaceable Kingdom.  Keep reading to learn more!
I reviewed the following cooperative games from Peaceable Kingdom:
Willy's Wiggly Web
, which retails for $19.99 with FREE SHIPPING
Feed the Woozle
, which retails for $19.99 with FREE SHIPPING
Feed the Woozle...or Else!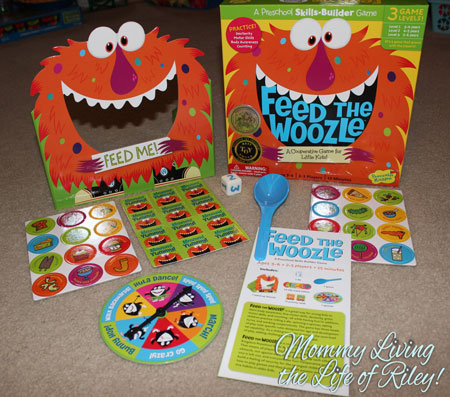 Uh-oh!  Woozle is hungry and it is everyone's job to feed this beast.  His mouth is wide open and ready to catch some crazy snacks.  Simply feed him 12 silly snacks without dropping them from the spoon and everyone wins!  This cooperative game is designed for children ages 3 to 6 years old and can accommodate up to 5 players.  What's hilarious about this game is that you must do some sort of funny movement while trying to feed the Woozle.
Just spin the large colorful spinner and see what goofy movement awaits!  Perhaps you'll have to walk across the room backwards or even while doing the hula.  No matter what happens, you can rest assured that there will be smiles and giggles a-plenty!
There are three levels of difficulty to this game, ensuring that it will grow right along with your child's skill set.  Level 1 introduces basic counting, while Level 2 adds a gross motor movement for the child to perform while making their way to feed the Woozle.  In Level 3, players rely on guidance from teammates to find the Woozle, because they must close their eyes.
This game is very easy to both learn and teach, and within minutes, Riley and I were hard at play...working together to feed this hungry Woozle.  Since she just turned four-years-old, we played the game on Level 2.  I could see the sparkle in her eyes and her enthusiasm jump through the roof when either her or I attempted to feed our new friend.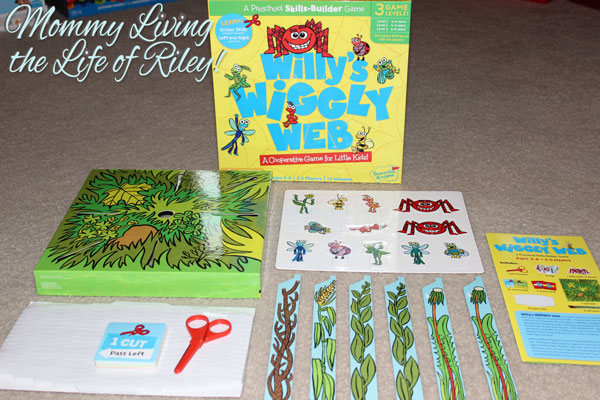 Willy's Wiggly Web is a Total Cut Up!
Grab a pair of child-safe scissors and prepare to cut up!  Willy's Wiggly Web is an adventure in cooperation to free all 10 of the trapped bugs from Willy's web before the spider falls.  In order to play, children will pick a card, follow the instructions to cut the web and pass the scissors either to the left or right.  Again, this game is designed with three levels of difficulty to accommodate children as their skill sets mature.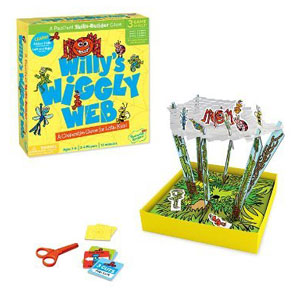 For instance, Level 1 includes cutting with scissors and passing them in just one direction.  Level 2 adds left and right to the mix and Level 3 actually challenges players to get up and switch seats, moving themselves instead of just passing the scissors.
I loved playing Willy's Wiggly Web with Riley because there were so many wonderful skills being taught along the way.  We worked on learning left from right, cutting with scissors, taking turns, counting, hand-eye coordination and working together.  She also thought it was too cool that we were actually cutting "Willy's Web" in order to free the little trapped bugs.  At first, I was a little concerned to learn that Willy's Wiggly Web used consumable paper webs, for I figured we'd run out in no time.  Thankfully though, Peaceable Kingdom thought to include 50 of these paper webs so that the fun will go on and on!
These delightful cooperative board games from Peaceable Kingdom offer non-stressful play situations, promote self-esteem, offer a sense of community and initiate problem solving.  I highly recommend both the Feed the Woozle and Willy's Wiggly Web game for your little one.  Now, you won't have to worry about children fighting or getting hurt feelings while playing a game because with the cooperative games collection from Peaceable Kingdom, everyone's a winner!
Willy's Wiggly Web was recently featured on the Today Show
Visit NBCNews.com for breaking news, world news, and news about the economy
Disclosure: I received the two cooperative games shown above from Peaceable Kingdom in order to facilitate my review. No other compensation was received. This product review is based on my own personal experiences with this item and is completely honest and objective.
I'm a former 7th grade Science teacher turned stay-at-home mom that lives in Houston, Texas. I am married to my college sweetheart and have a beautiful daughter named Riley, who definitely keeps me on my toes! I am also involved in starting a small business which would both manufacture and sell an invention that I've patented, called Toothpaste 2 Go. I love interacting with my readers and hope to learn as much about you as you learn about me!
Melissa @ Mommy Living the Life of Riley!