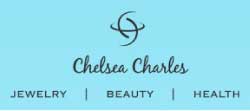 Now that swimsuit season is here and my diet and exercise plan is in full effect, I've discovered some pleasant side effects from all of my hard work.  Not only am I losing weight (thank goodness!), but I'm much more cognizant to the overall state of my health and am making great strides to improve it across the board.
What I've also discovered is that forming good health habits is a lot of hard work and memorization!  Remembering to take my vitamins, drink 8 glasses of water a day, get enough dietary fiber and potassium, reduce my sugar intake, etc. can be quite exhausting.  Thankfully, Chelsea Charles has designed a line of beautiful bracelets that make setting and remembering these important goals much easier.  Keep reading to learn more!
I reviewed the Count Me Healthy Mommy and Me Bracelet from CMH Jewelry, which retails for $88.00.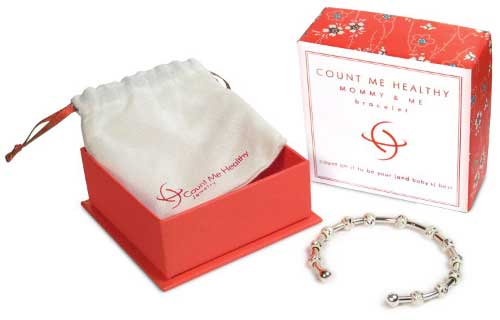 Chelsea Charles created Count Me Healthy to serve as a beautiful reminder to track daily goals.  She used her initial designs to count daily fruit and vegetable servings - making sure she got enough.  The delicate beaded bangles quickly became popular among celebrities like Fergie, and Giuliana Rancic as well as thousands of women.
CMH now offers various styles of yellow gold, rose gold and sterling dipped, beaded bangles that women can stack and mix-and-match to create a gorgeous look while also serving as a reminder of their goals by assigning a value to the hand-etched beads.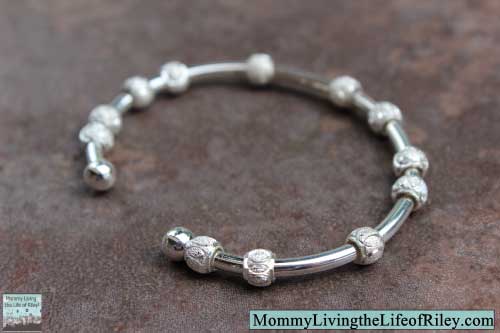 I was thrilled to have the chance to review the Count Me Healthy Mommy and Me Bracelet for myself.  Mommy and Me comes with its own distinct style of handcrafted, sterling silver beads.  This jewelry is lightweight and perfect to wear for everyday activities.  It's also elegant, discrete and compliments almost any attire.  Because it's a cuff bracelet, it will fit most any wrist size too (once on wrist, gently squeeze or open cuff for a perfect fit).
I love the versatility of this bracelet, for the beads can represent absolutely anything you'd like.  Right now, I'm using the Mommy and Me Bracelet to represent glasses of water.  There are 12 beads on this sterling silver cuff bracelet and I'm striving to drink 8 glasses of water each and every day.  What's great is that the beads slide easily, yet stay in place, so you don't have to worry about accidentally losing count while wearing this bracelet.
I start each day with four beads on one side of the Count Me Healthy bracelet and 8 on the other.  The 8 beads obviously represent the 8 glasses of water I hope to drink that day.  When I get a glass of water and am in the process of drinking it, I move one bead to the center of the bracelet.  This helps me remember that I haven't already moved it over to the "completed" side of my bracelet.
Once I finish the glass, I move the bead I had in the middle to the finished side.  Then I repeat this pattern 7 more times.  Having this visual reminder is wonderful and definitely helps me stay on track.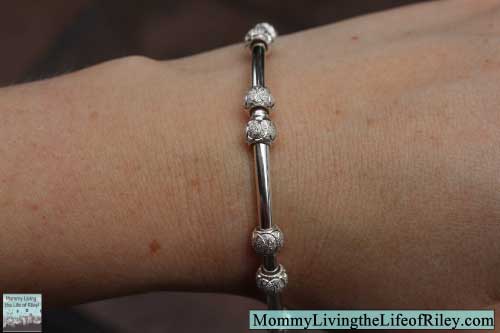 Once I make drinking 8 glasses of water a day a tried and true habit, I plan on using the Count Me Healthy bracelet to keep track of my daily fruit and vegetable servings, which is currently quite atrocious.  After that, who knows?  I'm sure I will always find plenty of goals and reminders to use the Count Me Healthy Mommy and Me Bracelet for, but even if one day I find I'm perfect (yeah, right!), the bracelet is still gorgeous and can be worn without the beads signifying anything.  Want more ideas for using the Count Me Healthy bracelet?  Check these out:
Helps Monitor:
Prenatal

Fetal kicks
Glasses of water
Daily nutrition
Calcium servings
Daily fiber
Prenatal vitamins
Postnatal

Hours between feedings
Baby's feedings
Vitamins
Mommy's daily prescriptions
Baby's daily prescriptions
Baby's input/output
Mommy's "Diet Points"
Helps Reduce:
Sugary sodas
Sodium
Grams of sugar
Caffeinated beverages
High glycemic (GI) foods
Artificial sweeteners
Refined convenience food
Want to show mom how much you love her this Mother's Day?  Let her count the ways...on a Count Me Healthy Mommy and Me Bracelet!  :kiss:
Disclosure:  I received the Count Me Healthy Mommy and Me Bracelet from CMH Jewelry in order to facilitate my review. No other compensation was received. This product review is based on my own personal experiences with this item and is completely honest and objective.
I'm a former 7th grade Science teacher turned stay-at-home mom that lives in Houston, Texas. I am married to my college sweetheart and have a beautiful daughter named Riley, who definitely keeps me on my toes! I am also involved in starting a small business which would both manufacture and sell an invention that I've patented, called Toothpaste 2 Go. I love interacting with my readers and hope to learn as much about you as you learn about me!
Melissa @ Mommy Living the Life of Riley!