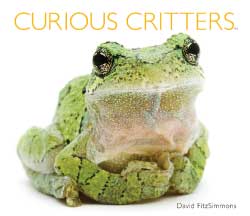 I have to admit that I'm a complete nature fanatic!  A small part of me envies Henry David Thoreau, for like him, I could find endless fascination sitting alone in the woods investigating all that I see.  My daughter seems to share the same love of animals that I have, and so when I happened across the children's picture book, Curious Critters by David FitzSimmons, I just knew I had to show Riley.
David is a writer, photographer and university professor who has managed to take some amazing up-close photographs of animals both familiar and exotic.  But what really sets this picture book apart from the rest is the hilarious dialogue that awaits the reader inside.  Keep reading to learn more!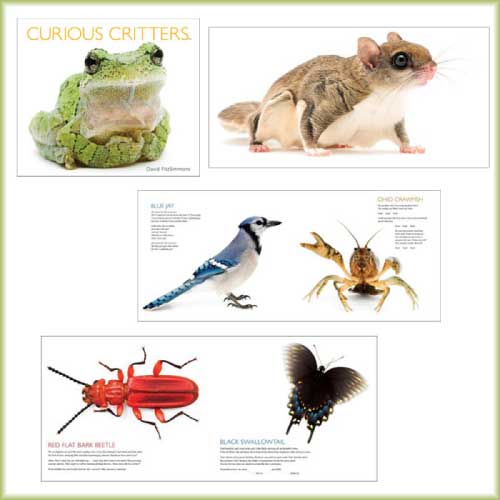 In his children's picture book, Curious Critters, photographer David FitzSimmons turns his camera on a variety of animals common throughout North America.  Curious Critters presents stunning images of everyday animals, including a red flat bark beetle, an Eastern spiny softshell turtle, a spotted salamander, and many other intriguing creatures.  Each Curious Critter is photographed against a white backdrop, showcasing the animals' colors, textures, and shapes with precision and clarity.
My daughter was amazed with this book from the moment I set it down in front of her.  Although we frequently use our magnifying glasses to inspect the creepy crawlies in our backyard, this view can't compare with the breathtaking detail shown through Mr. FitzSimmons' camera lens.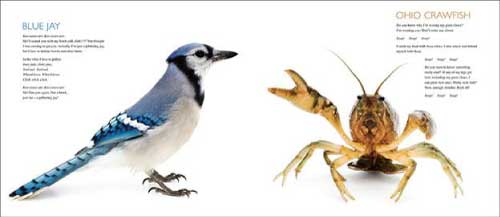 Each animal then discusses aspects of their own feeding strategies, daily activities, metamorphosis, camouflage, etc. in a simple, yet comedic way.  This makes Curious Critters a fabulous and enjoyable read for parents too.  After reading about each featured critter, you'll find a natural history section, life-size silhouettes and glossary at the back of this picture book too.  Want a quick sample of the fun you'll have while inspecting each curious critter up close?  Just look at some of what's found on the Virginia Opossum page:
"Ode to Opossum"
by O. Possum
Opossum! Opossum! How I love you!
You carry your kids like marsupials do.
Whenever you're bothered, you run on ahead.
If further provoked, you pretend you are dead.
But what I was wondering in writing these lines
is why say "Opossum," Possum?  No "O" is fine!
If you have a child who's quite the nature lover, then I highly recommend the picture book, Curious Critters by David FitzSimmons.  The fun animal facts and amazing photographs will quickly teach your child the finer points of ecology in a way that's visually stimulating and entertaining as well!
Disclosure: I received the children's picture book, Curious Critters by David FitzSimmons, in order to facilitate my review. No other compensation was received. This product review is based on my own personal experiences with this item and is completely honest and objective.
I'm a former 7th grade Science teacher turned stay-at-home mom that lives in Houston, Texas. I am married to my college sweetheart and have a beautiful daughter named Riley, who definitely keeps me on my toes! I am also involved in starting a small business which would both manufacture and sell an invention that I've patented, called Toothpaste 2 Go. I love interacting with my readers and hope to learn as much about you as you learn about me!
Melissa @ Mommy Living the Life of Riley!