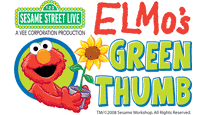 My daughter is an absolute Elmo fanatic and her 2nd birthday is actually less than a week away, so we were thrilled to have the chance to take her to see Sesame Street Live - Elmo's Green Thumb in Beaumont, Texas!
Riley has only been to one live children's show before and she had a blast.  I knew that if she could have the chance to see her idol live and in person, she would hardly be able to contain herself!  Keep reading to find out all about the hit Sesame Street show, "Elmo's Green Thumb"!
Since we live about an hour and a half away from Beaumont, we knew that seeing this show would be an all-day family fun experience.  Riley was a real trooper and couldn't wait to get there.  We listened to her Elmo music CD for a while in the car and sang along to her favorite songs in order to get ready for the show.
The stage was set up like a big multi-colored flower and the show began promptly at 2:00 pm.  All of the Sesame Street characters (except Snuffy and Grover) started to appear one by one, singing and dancing in unison.  Riley was so excited and kept clapping and singing along!
Every time a new character appeared, she would wave and shout "Hi (character's name)!  How you doin'?"  It was so cute and her father and I had such a good time just watching her reactions to the show.
Elmo's Green Thumb was perfect for small children, because during the show, there was an intermission of about 15 minutes, at which time we fed Riley some milk and a snack and checked to see if she needed a diaper change.  There was also a ton of singing and dancing, which Riley loved.  The characters weren't too heavy on just talking, which was good for young children definitely like the singing over the talking.
After the show was over, we stopped by the souvenir stand to get Riley an official Sesame Street Live Elmo hat!  I was pleasantly surprised at how affordable their souvenirs were!  Riley's hat cost only $12, which was what most of the souvenirs cost.  They also offered a ton of items under $10 too!
While in Beaumont, we stopped off at Cheddar's for something to eat and discussed how well the show went and how much fun we all had.  As you can see below, Riley did so much singing and dancing, that she fell asleep almost instantly after pulling out of the restaurant's parking lot!
She slept almost the entire way home, until we were about 5 minutes away from the house.  Then, she needed her Daddy's sunglasses so that she could "look cool, man" on the rest of the way home.
If you have a child who enjoys Sesame Street, then I highly recommend taking them to see Sesame Street Live - Elmo's Green Thumb.  The show is well done, educational and even imparts a nice Earth-friendly message to the children at the end.  Go see this show with the entire family and be prepared to have a permanent smile plastered on your face!  :)
Disclosure:  I received two vouchers to see Elmo's Green Thumb in Beaumont, Texas from the

US Family Guide

Network in order to facilitate my review. No other compensation was received. This product review is based on my own personal experiences with this item and is completely honest and objective.
I'm a former 7th grade Science teacher turned stay-at-home mom that lives in Houston, Texas. I am married to my college sweetheart and have a beautiful daughter named Riley, who definitely keeps me on my toes! I am also involved in starting a small business which would both manufacture and sell an invention that I've patented, called Toothpaste 2 Go. I love interacting with my readers and hope to learn as much about you as you learn about me!
Melissa @ Mommy Living the Life of Riley!