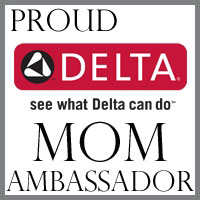 I love being a homeowner, for now I have a permanent palette to create and decorate as I please.  We've lived in our home for over seven years now and have changed nearly every inch of it to suit our style and tastes.  Our upstairs bathroom was one of the first rooms we redid because it's used so often.  Unfortunately, we were quite short-sighted in choosing a shower head for this project and based our decision on looks, not function, which we now regret.
When thinking of changing our bathroom's shower head, several manufacturers came to mind, including Delta Faucet Company.  Delta is one of the world's largest manufacturers of quality faucets and makes many of their products right here in the USA.  :usa:  They were kind enough to allow me to review one of their newest bathroom shower head designs, the In2ition Two-In-One Shower Arm Mounted Shower.  Keep reading to learn more!
The Delta In2ition shower head is a two-­in-­one system that features a shower head and handheld shower in one, combining the soothing comfort of a shower head with the convenience of a handheld.  The handheld shower is also perfect for washing your children's hair while they're taking a bath or for bathing your pet.  This detachable handheld can run separately or simultaneously from the base of the shower head, giving you the warmth and cleaning power of two streams of water at once.
Delta In2ition Features:
A lever positioned on the side of the shower head lets the user set the In2ition shower to one of three options: shower head and hand shower, shower head only and hand shower only.
All In2ition shower heads feature a variable spray hand shower, letting the users choose from relaxing massage or invigorating spray.
A pause setting reduces the water to a trickle, helping to conserve water when a full stream is not needed (like when lathering up or shaving).
A flexible 60-­inch hose that conveniently stretches to 82 inches provides extra reach and flexibility before returning to its original length.
Of course, my In2ition shower head gets even better, because it happens to be a model that includes H2Okinetic technology too!  H2Okinetic technology is an internal system that controls the speed, movement and droplet size of the water exiting the shower head, delivering the feeling of more water without actually using more water.  I knew this shower head was supposed to feel like more water was raining down, but "more water" is an understatement.  This felt more like a bathing deluge!  I couldn't get over how much more water was being delivered.  It literally felt like I had two typical shower heads raining down on me at the same time.  What a great experience!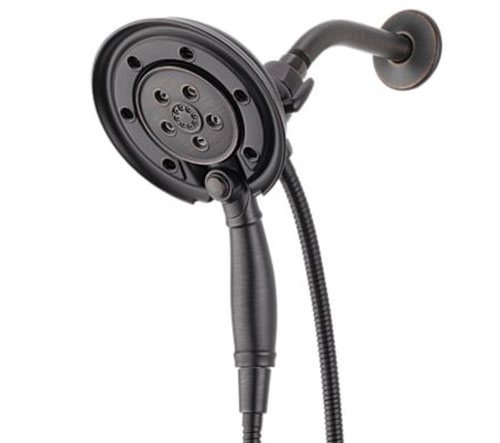 The In2ition shower heads with H2Okinetic technology also feature a powerful magnet to lock the handheld shower firmly into place into the base of the shower head itself.  Say goodbye to dangling handheld showers for good!  I also loved the four different spray settings offered by the In2ition shower head.  There was a good variety of softer, gentler deliveries coupled with those designed more to massage.  My favorite was the H2Okinetic with Massage setting, which mixed a good overall spray with a deeper massage.
Now, anytime my husband and I get started on a home renovation project of any kind, a small part of me cringes a bit.  No matter how easy a company says something is to install, my husband and I seem to have a knack for finding the "super long" installation method.  So, color me surprised when we were able to successfully install this In2ition shower head in 5 minutes...literally!  :thumbs up:  See for yourself in my install and demo video below:
Most importantly, I love how Delta stands behind their faucets and shower heads with three words: "Guaranteed for Life".  Now, how great is that?    Delta actually guarantees both the faucets they sell as well as the appearance of the finish...for life!  It's extremely reassuring to know that I will never have to worry about my beautiful Venetian Bronze finish "heading south" through the years.
If you'd like a quick, easy and extremely satisfying home renovation project you will enjoy for years to come, just ditch your current bathroom's shower head and bathe in the luxury of a Delta In2ition Shower Head.  Technology never felt so good!
 

Disclosure:  I participated in an Ambassador Program on behalf of

Mom Central Consulting

for Delta Faucets. I received a product sample and promotional item as a thank you for participating.
I'm a former 7th grade Science teacher turned stay-at-home mom that lives in Houston, Texas. I am married to my college sweetheart and have a beautiful daughter named Riley, who definitely keeps me on my toes! I am also involved in starting a small business which would both manufacture and sell an invention that I've patented, called Toothpaste 2 Go. I love interacting with my readers and hope to learn as much about you as you learn about me!
Melissa @ Mommy Living the Life of Riley!