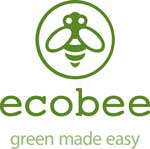 I have to admit that I didn't think there were many differences between various models of programmable thermostats...until I discovered the ecobee thermostat.  ecobee is a smart, innovative company with a brand new approach to home energy management.  I recently had the chance to learn more about their Smart Si thermostat.  Keep reading to learn more!
I reviewed the
Smart Si Thermostat
from ecobee which retails for $270.00, but is currently on sale for $193.77 with FREE SHIPPING.
iPhone, Android or Blackberry app before you start back home and enjoy the fact that you just saved 3 hours of needless cooling or heating costs and your home's temperature is still nice and comfortable for your arrival.  You are also able to access and control all of your ecobee thermostat's information via a FREE web portal.
What's more, ecobee thermostats have built-in DataRhythm Technology that uses a complex set of data points including your HVAC equipment type and historical run-times, weather, and the ongoing energy performance of your home to make intelligent, unique and personalized heating and cooling decisions for you.   This, of course, results in more energy and cost savings!  As a matter of fact, a recent study estimated that the average ecobee homeowner saves 26% on their heating and cooling costs versus the benchmark of leaving a thermostat on hold at 72 degrees Fahrenheit.
ecobee also took practicality to a whole new level by integrating the Home IQ feature into their standard web portal.  ecobee's Home IQ displays the customer's ecobee rating (a relative assessment of a home's energy performance), their estimated monthly energy savings, monthly heating and cooling summaries, details on performance influencing factors such as the weather and average set point, HVAC runtime reports and more.
But that's not all...ecobee's Home IQ even offers you insights into some of the key factors that affect your home's energy performance every month (such as the weather or your weekly schedule). It also offers a convenient summary of your heating and cooling report so you can compare your number of heating or cooling hours month over month.
I never thought a thermostat could do so much, but frankly I was blown away by all of the innovative capabilities of the Smart Si ecobee thermostat.  The only downside is that, more than likely, you will need a professional to install it for you, especially if you happen to have multiple thermostats or HVAC units in your home.  Other than that, the Smart Si makes a science out of quickly and accurately monitoring and controlling your home's energy usage.  The learning curve is small, but the savings can be huge!

Disclosure:  I received the Smart Si ecobee thermostat in order to facilitate my review. No other compensation was received. This product review is based on my own personal experiences with this item and is completely honest and objective.