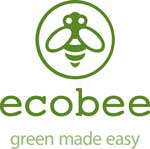 During the fall, we frequently hear tips about how to better weatherproof our homes for the cold winter season that lies ahead. I haven't read a tip list yet which didn't mention using a programmable thermostat, and that's probably because 50 - 70 percent of our homes' energy consumption is directly related to its HVAC system. A programmable thermostat not only makes saving energy easy, it also saves us plenty of money quite effortlessly.
I have to admit that I didn't think there were many differences between various models of programmable thermostats...until I discovered the ecobee thermostat.  ecobee is a smart, innovative company with a brand new approach to home energy management.  I recently had the chance to learn more about their Smart Si thermostat.  Keep reading to learn more!
I reviewed the
Smart Si Thermostat
from ecobee which retails for $270.00, but is currently on sale for $193.77 with FREE SHIPPING.
The Smart Si ecobee Thermostat is an Easy, Convenient, Energy Solution
So what's the big difference between the Smart Si ecobee Thermostat and any other basic programmable thermostat?  PLENTY!  For one, the ecobee thermostat is actually Wi-Fi enabled!  At first, I wasn't quite sure how a thermostat could benefit its users from being able to access the internet, but I quickly realized that the Wi-Fi capabilities are what give the Smart Si thermostat so much practicality.
Now, you can easily make adjustments to your home's thermostat while on the go via your tablet, computer, iPhone or smart phone.  This feature alone ups the cool factor tremendously!  My husband and I are very energy conscious and are always watching our home's thermostat like a hawk.  Unfortunately though, if you don't have remote access, you can't max out on your energy savings.  For instance, say you have your thermostat set to cool down your house 30 minutes before you typically arrive home from work.  But then, something unexpected comes up and you go out with friends and don't arrive home for another 3 hours.
With the ecobee thermostat, you can quickly adjust the settings to match your new schedule.  Just log in to the iPhone, Android or Blackberry app before you start back home and enjoy the fact that you just saved 3 hours of needless cooling or heating costs and your home's temperature is still nice and comfortable for your arrival.  You are also able to access and control all of your ecobee thermostat's information via a FREE web portal.
Another favorite feature of mine is the Smart Si's large color screen and light-up buttons.  This thermostat is extremely user-friendly and easy to operate.  It also allows you to see both the indoor and outdoor temperatures at a glance.  My husband can't get enough of this feature, since men are inevitably more and more fascinated with the weather as they get older!  :big grin:
If you're like me, then you're constantly forgetting when to perform the basics of home maintenance.  I know that filters should be changed at regular intervals and annual HVAC maintenance checks are important, but honestly, I never remember to do this consistently.  That's where once again, this ecobee thermostat is a cut above the rest.  It automatically alerts and reminds you when your HVAC equipment is due for service, if there is an equipment malfunction or when it's time to change your filter, so you don't have to worry about it.  :whew:
What's more, ecobee thermostats have built-in DataRhythm Technology that uses a complex set of data points including your HVAC equipment type and historical run-times, weather, and the ongoing energy performance of your home to make intelligent, unique and personalized heating and cooling decisions for you.   This, of course, results in more energy and cost savings!  As a matter of fact, a recent study estimated that the average ecobee homeowner saves 26% on their heating and cooling costs versus the benchmark of leaving a thermostat on hold at 72 degrees Fahrenheit.
ecobee also took practicality to a whole new level by integrating the Home IQ feature into their standard web portal.  ecobee's Home IQ displays the customer's ecobee rating (a relative assessment of a home's energy performance), their estimated monthly energy savings, monthly heating and cooling summaries, details on performance influencing factors such as the weather and average set point, HVAC runtime reports and more.
I really like the ecobee rating system, which lets you see at a glance just how energy-efficient your home is.  You can earn a possibility of 5 stars.  A low score means you may want to consider upgrading your insulation, weather stripping, caulking or improving the quality of your windows. A high score is great, meaning you can be confident that you are maximizing your energy efficiency resulting in big savings.
But that's not all...ecobee's Home IQ even offers you insights into some of the key factors that affect your home's energy performance every month (such as the weather or your weekly schedule). It also offers a convenient summary of your heating and cooling report so you can compare your number of heating or cooling hours month over month.
I never thought a thermostat could do so much, but frankly I was blown away by all of the innovative capabilities of the Smart Si ecobee thermostat.  The only downside is that, more than likely, you will need a professional to install it for you, especially if you happen to have multiple thermostats or HVAC units in your home.  Other than that, the Smart Si makes a science out of quickly and accurately monitoring and controlling your home's energy usage.  The learning curve is small, but the savings can be huge!
Disclosure:  I received the Smart Si ecobee thermostat in order to facilitate my review. No other compensation was received. This product review is based on my own personal experiences with this item and is completely honest and objective.
I'm a former 7th grade Science teacher turned stay-at-home mom that lives in Houston, Texas. I am married to my college sweetheart and have a beautiful daughter named Riley, who definitely keeps me on my toes! I am also involved in starting a small business which would both manufacture and sell an invention that I've patented, called Toothpaste 2 Go. I love interacting with my readers and hope to learn as much about you as you learn about me!
Melissa @ Mommy Living the Life of Riley!