Christmas is such a magical season that it's a shame it only comes around once a year.  Last Christmas, our holiday was made a little brighter and a lot more fun thanks to Sapphire from Elf Magic.  I had a good feeling that my daughter would like having a special little visitor to share the holidays with, but I had no idea how attached the two would become.
Even now, six months later, Riley still mentions Sapphire regularly.  Anytime we talk about cold weather, Christmas or sometimes just for no reason at all, Sapphire gets brought up.  Elf Magic doesn't have to happen only around the holidays though.
Now, there's an entire line of fun accessories for your elf so that they can make an impromptu visit.  This unexpected "elf time" would instantly liven up a family vacation, birthday or other special occasion.  Our Sapphire decided to drop in on Riley for a two-week period around Easter.  Keep reading to learn more!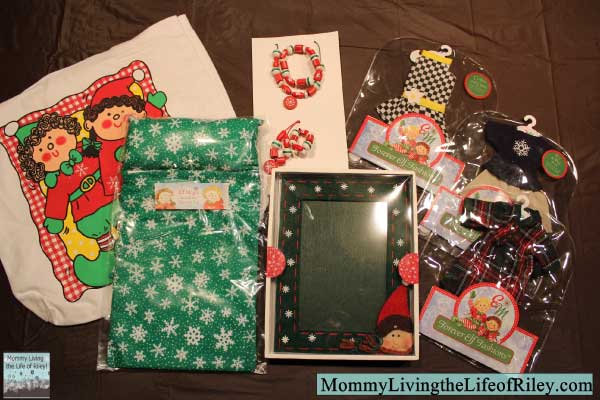 As you can see from the picture above, Elf Magic has a whole slew of neat accessories designed to help your elf fit in during the rest of the year, instead of just at Christmastime.  There are sleeping bags, matching jewelry, new sets of pajamas and more to make your elf feel right at home, no matter the occasion.  I especially loved the navy tee/khaki shorts outfit and the funky black/white checkered dress.  With all of these new accessories, Sapphire was definitely ready to reunite with Riley.
Sapphire made her unexpected debut in Riley's Easter basket and when Riley saw her, she was literally speechless!  All she could say over and over again was that "Sapphire's back!  Sapphire's back!"  I explained to Riley that even elves get to take a vacation from making toys at Santa's workshop and that Sapphire had asked Santa if she could spend her vacation with Riley.  My daughter couldn't have been more thrilled and once again, the two were inseparable.
Sapphire wasted no time getting right back to doing all of the things she's known and loved for around our house.  As you can see from the pictures here, Sapphire chatted it up with the rest of Riley's dolls at a special tea party, helped some toys feel better by using Riley's doctor's kit, and got hung up on our ceiling fan while flying about the house as "Super Sapphire".
Every morning that Riley awoke, her first order of business was finding Sapphire and discovering what crazy hi-jinks she had performed while everyone else slept.  It never got old for her and each morning began with a wild goose chase and then a big hug and kiss for Sapphire.
Now that Riley and Sapphire have been friends for a while, we even have the night time routine down to a science!  Check out the video below which captures two nights of Riley putting Sapphire to bed.  There's a ton of kisses, hugs, crackers, ice and stuffed animal companions, all of which makes plenty of treasured family memories.
Although Riley really had a hard time parting with Sapphire last Christmas Eve, this time around was much easier.  I think Sapphire's mini-Easter vacation definitely helped Riley to understand that Sapphire WILL come back to see her.  It's just that she happens to live very far away and is busy doing a great job for Santa in the meantime.  Riley still mentions Sapphire every now and again and how she misses her, but there's no doubt that this Easter was made even more special thanks to the appearance of her Elf Magic buddy!
Connect with http://www.elf-magic.com via Facebook and Twitter to see great stories of Elf Magic Elves all over the world!
Does your child have an elf friend that comes and visits around the holidays?  What do you think about the "surprise" random elf visits throughout the year?
Disclosure:  I received the items shown above from Elf Magic in order to facilitate my review. No other compensation was received. This product review is based on my own personal experiences with this item and is completely honest and objective.
I'm a former 7th grade Science teacher turned stay-at-home mom that lives in Houston, Texas. I am married to my college sweetheart and have a beautiful daughter named Riley, who definitely keeps me on my toes! I am also involved in starting a small business which would both manufacture and sell an invention that I've patented, called Toothpaste 2 Go. I love interacting with my readers and hope to learn as much about you as you learn about me!
Melissa @ Mommy Living the Life of Riley!