This post brought to you by Sunkist S'alternative. All opinions are 100% mine.
My sodium intake is honestly something I've never really thought about before.  I guess I'm still having a hard time adjusting to the fact that I am no longer a spring chicken, but rather a 35-year old "experienced" hen.  I've increased my daily exercise regimen to account for this, but now I may need to adjust my diet somewhat as well.
Most food includes "hidden salts" that can be dangerous to your health.  How much sodium are you consuming on a daily basis?  Take the Sunkist Sodium Quiz on Facebook to find out where you fall on the sodium scale.  Whether it turns out you're a Serial Salt Offender or a Sodium Smarty, you'll learn new tips on how to use Sunkist® lemons as a healthy sodium-free alternative to salt.  I was surprised at how well I did!
The Sunkist Sodium Quiz will tell everyone where they fall on the sodium scale based on their daily food choices.  After you discover your sodium style, you can invite friends to take the fun and fast quiz to compare results!  In addition to being fun, the quiz will help you be more salt savvy by teaching about Sunkist S'alternative, a healthy way to reduce sodium, increase potassium and enhance the flavor of food by using Sunkist® lemons as an alternative to salt.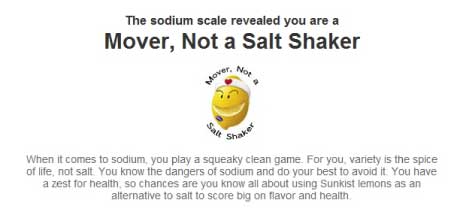 Sunkist® Lemon Seafood Paella -
Ingredients: (Makes 8 servings)
*1 32 oz can low sodium vegetable broth
*1 cup dry white wine
*1 teaspoon saffron threads
*1 lb. of firm, fresh pieces of whitefish such as tilapia, bass, halibut and swordfish, cut into 16-21 pieces
*1 lb. or 16-21 mussels, cleaned and de-bearded
*1 lb. or 16-21 medium sized clams, rinsed
*1 cup chopped fresh parsley
*3 Sunkist® lemons, zest and juice
*3 Tbsp. olive oil
*1 cup minced onion
*3 cloves garlic, minced
*1 teaspoon crushed red pepper
*3 cups uncooked short-grain rice such as Valencian, Arborio, or Calrose
*1 cup frozen green peas
*1 8 oz. jar of sliced, roasted red peppers
Instructions:
• To prepare broth, combine all the ingredients in a saucepan. Bring to a simmer (do not boil). Keep warm over low heat.
• To prepare paella, heat 3 tablespoons olive oil in a large paella pan or large skillet over medium-high heat. Add fish pieces to pan and sauté 1 minute. Remove fish from pan, reserve and keep warm. Add onion to pan and sauté 5 minutes. Add the lemon zest, garlic and crushed red pepper and cook 5 minutes. Add rice and cook 1 minute longer, stirring constantly. Stir in broth, bring to a low boil and cook 10 minutes, stirring frequently.
• Stir in the peas and red pepper slices. Add mussels and clams to pan, nestling them into rice mixture. Cook 5 minutes or until shells open; discard any unopened shells. Stir in the reserved fish and chopped parsley and cook 5 minutes. Remove from the heat, stir in lemon juice and check for seasoning. Cover with a towel and let stand 10 minutes before stirring.
Although the change may seem radical now, as you reduce your sodium intake, your taste buds will adjust, allowing you to enjoy the true flavors of food that salt often masks.  So embrace a healthier lifestyle with Sunkist® S'alternative!
I'm a former 7th grade Science teacher turned stay-at-home mom that lives in Houston, Texas. I am married to my college sweetheart and have a beautiful daughter named Riley, who definitely keeps me on my toes! I am also involved in starting a small business which would both manufacture and sell an invention that I've patented, called Toothpaste 2 Go. I love interacting with my readers and hope to learn as much about you as you learn about me!
Melissa @ Mommy Living the Life of Riley!