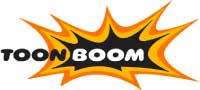 What child doesn't love cartoons?   From as far back as I can remember, I've been a fan of animated movies, television shows and merchandise.  Now that computers are so readily available to everyone, including children, software companies like Toon Boom Animation are bringing us ways to make our very own cartoons.
Recently, I had the chance to review the Flip Boom Doodle software and enter my creation into a contest hosted by Toon Boom Animation to win an iPad.  Keep reading to learn more about how you can obtain this animation software for free and enter to win as well!
I reviewed the
Flip Boom Doodle software
from Toon Boom Animation, which retails for $29.00, but can be downloaded for FREE until February 10th, 2012.
Create your own animation using the Flip Boom Doodle software and
enter to win an iPad
!  Contest ends 2/10/12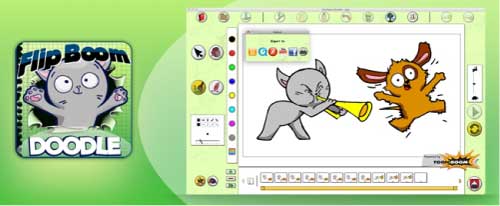 Flip Boom Doodle animation software from Toon Boom Animation is a supposedly kid-friendly program which allows you to bring graphics to life by creating your own animation.  Now you can draft your very own cartoon quickly and easily and for a limited time, you can nab this software program for FREE!
Also, until February 10th, Toon Boom Animation will be accepting entries for their Toon Boom Valentine's Day contest with the chance to win an iPad.  Since I would love to finally own an iPad, it was time to roll up my sleeves and put my creative juices (and the Flip Boom Doodle software) to the test!
The rules are simple enough.  In honor of Valentine's Day, Toon Boom is asking for your animation to be centered around an animated Valentine's Day heart.  Just follow these guidelines to enter:
Submit your information to enter the competition
Click HERE to download your free version of Flip Boom Doodle software to create your animated heart for Valentine's Day Contest.
Create your masterpiece
When you are ready – go back to contest page on Toon Boom's Facebook or Toon Boom's website and upload the video (Note: Although Flip Boom Doodle can publish videos to Facebook or YouTube from the software interface, for this contest you MUST follow the instructions described above).
Take a look at the other entries HERE
Entries will be submitted for public voting (February 10 – February 14 2010). The winner will be announced on February 15th, 2012.
Downloading the software was easy enough, but once I opened it, I was kind of dumbfounded as to what to do.  I couldn't seem to find a set of well-written instructions anywhere, but I did find a video on the Toon Boom site which showed how to make a video of an animated lamb jumping over a hand-drawn bush.
This definitely led me in the right direction and I was moving along fairly fine with my daughter sitting on my lap telling me what to create, until I discovered that there wasn't a heart of any kind in the icon catalog of the Flip Boom Doodle software.  This meant that I had to draw the heart myself and then figure out how to make just the heart move for my animation.  Let the trouble begin...
I had nothing but issues with this program and once I finally accepted the fact that I couldn't seem to make a solid red heart move, I went with an outline of a heart.  I could get this to move and I finished my video...almost two hours later!  Unfortunately, when I came back to the program after eating dinner, prepared to upload it to Facebook, the program said that my file wasn't valid and wouldn't open it.  AAARRRGGGHH!  I was very disappointed that I had done all of this work and it was gone.  The file was clearly saved correctly on my desktop in the right format, but the Flip Boom Doodle software just wasn't opening it.
Thankfully, things were much faster the second time around and I was able to redo my animation a lot quicker.  Unfortunately, I hit another snag when it came to publishing it.  Apparently, you need to have at least 48 frames in order to make a movie, so when you are creating your own video, please make sure to keep this in mind.
At this point, I was done and didn't have another creative bone in my body.  I simply hit the repeat button about 30 times to make an additional 30 frames and called it a day.  Here's the result:  I titled it "Love on the Rocks" after the great Neil Diamond song.  It was playing on the radio early on when Riley and I were making this movie.  What can I say, Neil is our muse!  :rofl:
I have to admit that I don't believe the Flip Boom Doodle software is very kid friendly, or even adult friendly, if you are hand drawing anything.  Sure it is fine if you are using their icons, but what comes with the original program is pretty limited and to obtain additional icons costs more than the program itself.  A manual of some kind would have worked wonders for me, for I am hardly illiterate when it comes to publishing and formatting graphics.  This software has potential but is just not user-friendly enough for me to recommend it to you.
Thanks to Toon Boom Animation, the Flip Boom Doodle software is completely free, so I still think you should try it for yourself and enter to win the Valentine's Day Contest for a free iPad.  Maybe you'll figure something out that I didn't and enjoy it wholeheartedly.  If you do discover a tip or two regarding the Flip Boom Doodle animation software, please share it in the comments section below.  Happy animating and GOOD LUCK!  :luck:
Disclosure: I wrote this review while participating in a campaign by Mom Central Consulting on behalf of Toon Boom Animation and received a promotional item to thank me for taking the time to post.

I'm a former 7th grade Science teacher turned stay-at-home mom that lives in Houston, Texas. I am married to my college sweetheart and have a beautiful daughter named Riley, who definitely keeps me on my toes! I am also involved in starting a small business which would both manufacture and sell an invention that I've patented, called Toothpaste 2 Go. I love interacting with my readers and hope to learn as much about you as you learn about me!
Melissa @ Mommy Living the Life of Riley!