I'm a frugal gal and do everything in my power to make practical decisions which stretch my family's budget to the max.  Clipping coupons, shopping off-season and taking advantage of sales always lowers our bills, but what really frustrates me is how we have to throw money away every time the food we eat spoils prematurely.
Food prices are steadily increasing, making fruit and produce purchases an even greater risk.  I want my family to eat healthy, but I also want to make sure that I'm not needlessly wasting food or money because of food spoilage due to improper storage.  FoodSaver Vacuum Sealing Systems promise to save households a ton of money by extending the shelf life of almost everything we consume up to 5 times!  Now that's something this bargain hunter just couldn't pass up.  Keep reading to learn more!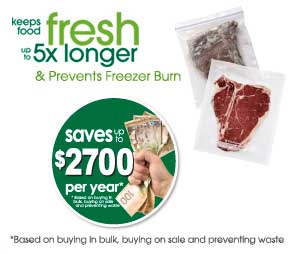 The FoodSaver Vacuum Sealing System keeps food fresh up to 5x longer than ordinary storage methods like zipper bags, foil, plastic wrap and containers.
Air is the enemy of freshness and primary cause of freezer burn and dehydration of foods stored in the freezer, refrigerator and pantry.  Ordinary storage methods trap air inside, causing food to lose flavor and nutrition over time.  FoodSaver Vacuum Sealing Systems remove and lock out air and moisture using specially-designed bags and canisters to prevent freezer burn.
FoodSaver Heat-Seal Bags are made of durable multi-ply material that is proven to prevent freezer burn better than zipper bags and other storage methods.  Multiple layers built into the FoodSaver Heat-Seal Bags help ensure that air does not leak out over time, keeping your food fresh and delicious even through long-term storage.  You'll also be glad to know that FoodSaver Bags are BPA free.
I had the privilege to review the FoodSaver 3820 Vacuum Sealing System and discover for myself just how quick and easy it is to save a ton of money by greatly reducing food spoilage.  I really liked the smooth, sleek look of the FoodSaver system, as well as its slim design which could store easily on a counter top or inside a cabinet.  It also offered the following features:
Smart Seal technology
Fully automatic operation
Air-tight heat seal
Convenient roll storage
Delicate food settings
Auto moist/dry food detection
Rapid Marinate Mode
Retractable accessory hose
Keeps food fresh up to 5x longer & prevents freezer burn
Saves up to $2,700 per year
Works with FoodSaver Heat Seal Bags & Rolls, Containers and Canisters
Starter Kit containing 2 Heat-Seal Rolls (11" x 16' and 8" x 10') included
The first step in using the FoodSaver is to make your own storage bag from the Heat-Seal Roll.  To do this, just lift up the appliance door and cutter bar and place the bag material beneath the cutter.  Measure out a bag that's at least 4" longer than what you'll be storing inside and slide the bag cutter to make your own custom-size bag.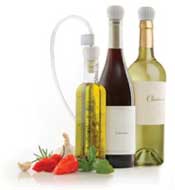 Next, feed one of the open ends of the bag inside the FoodSaver and press the seal/stop button to seal one end.  Once this is done, simply load the item(s) you'd like to preserve and insert the open end of the bag into the Vacuum Channel.  The vacuum pump will automatically start and begin sucking the air out of the bag, creating an airtight, vacuum seal.
If you're storing something more delicate, such as breads and pastries, you can prevent crushing these items by using the seal/stop button at any time to stop removing the air and go right into the automatic sealing process.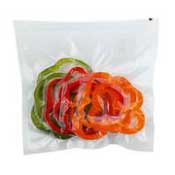 I couldn't get over how quick and easy this was to do!  FoodSaver, where have you been my whole life?!  :big grin:  Now, thanks to the FoodSaver, I have a whole new world of money-saving opportunities available.  Just think, if I find a tremendous deal or sale on chicken breasts, beef, fish or the like, I can portion out the amount I'd like to store and safely keep this meat in my deep freezer for 2-3 YEARS, versus 4-6 months using a normal freezer bag.
FoodSaver offers a wide variety of storage options too because they have a whole host of accessories available to use with the FoodSaver Vacuum Sealing System.  Our produce is always being thrown away before we eat it all, but I plan on purchasing a few of the vacuum-sealable canisters to make this wastefulness a thing of the past!  Heck, you can even keep your cooking oils and wine vacuum sealed!
There's even an accessory to marinate your meat in just 10 minutes with the FoodSaver Quick Marinate Cycle.  The vacuum pump will "hold" the vacuum for several minutes then release the vacuum, allowing the food to "rest" for 30 seconds.  This "pulsing" action of "vacuuming and resting" will allow for quick and flavorful marinating...and you no longer have to let your food marinate for hours or even overnight!
STAY IN TOUCH: Want to be in the loop? You can also check out FoodSaver on the following sites:
FOODSAVER
I couldn't be more thrilled with the FoodSaver 3820 Vacuum Sealing System.  This handy appliance has opened up a whole new way to saving.  Now, I can buy in bulk and use every morsel of food I purchase, without having to throw any of it away due to spoilage.  My leftovers and other prepared meals will always taste great whether they're being served on day 1 or day 100 and won't lose their flavor or moisture thanks to improperly storing them.
If you'd like to save a pretty penny and eliminate the wastefulness and expense that comes with food going bad, then by all means, make sure to purchase a FoodSaver Vacuum Sealing System!
Disclosure:  I received the FoodSaver 3820 Vacuum Sealing System from Jarden Consumer Solutions in order to facilitate my review. No other compensation was received. This product review is based on my own personal experiences with this item and is completely honest and objective.
I'm a former 7th grade Science teacher turned stay-at-home mom that lives in Houston, Texas. I am married to my college sweetheart and have a beautiful daughter named Riley, who definitely keeps me on my toes! I am also involved in starting a small business which would both manufacture and sell an invention that I've patented, called Toothpaste 2 Go. I love interacting with my readers and hope to learn as much about you as you learn about me!
Melissa @ Mommy Living the Life of Riley!