In this high-tech, digital world, it seems I have a million different devices which need to be charged almost daily.  From cell phones, digital cameras and camcorders to Bluetooth headsets, iPods and iPads, the list seems never-ending, yet my electrical power supply outlets are.
How many of you are sick and tired of digging through drawers trying to find just the right power cord and having your devices strung out all over the place using numerous outlets?  Or, if you're like my family, we have one outlet that is on overload and a huge ton of wires and cords sticking out of it.
I won't even mention the chaos that goes on when we actually have to travel somewhere and remember to bring all of these chargers and devices with us on the road!  That's why I was thrilled when I was asked to review the IDAPT i4 Universal Charger.  This could be the answer my family was looking for to solve our digital dilemma!  Keep reading to learn more!

The IDAPT i4 is an innovative charging solution that can charge up to 4 mobile devices simultaneously and is compatible with over 4,000 mobile electronic devices including the iPhone, iPad, Blackberry, Nintendo DS, PSP, GPS systems, digital cameras, and Bluetooth products.  It features an interchangeable tip system making it completely customizable.
The IDAPT i4 has 3 charging ports and an additional USB charging port, allowing users to charge their electronics without the mess of tangled cords or the need for more than one outlet.  It also comes in three different sleek lacquer finishes to match your home's decor: white, black and silver.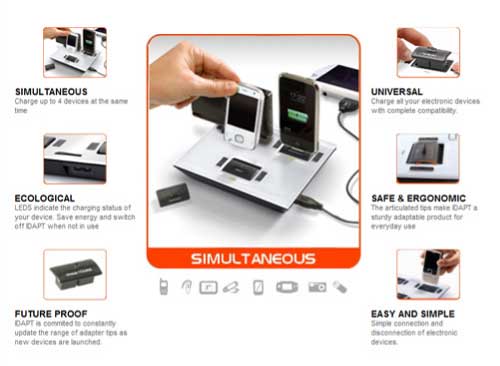 UNIVERSAL & UPGRADABLE:  Enjoy complete compatibility with the majority of brands of mobile phones, mp3 players, ebooks, portable gaming devices, batteries, navigators, cameras, controllers, tablets, etc.
SIMULTANEOUS:  You will be able to charge up to 4 devices at the same time in a fast and efficient way.
INTERCHANGEABLE TIPS:  Unique and patented tip system ensures a wide compatibility today and in the future.
ON/OFF:  The power-off switch allows you to disconnect the charger when not in use.
NEAT/SIMPLE:  IDAPT is designed to eliminate cord clutter so you can charge several devices without a tangle of wires or the mess of charging cases of wireless pads.
USB OUTPUT:  High efficient USB allows you to charge tablets, ebooks, multimedia players and other portable devices.
ANTI-SCRATCHING:  The anti-scratching surface allows you to use the IDAPT daily with a lasting stylish design.
HOME:  It includes a wall plug so you can use this product daily at home.
AFFORDABLE:  IDAPT is an affordable way to charge all your devices.  Save money now and in the future with a charger that will cover all your devices.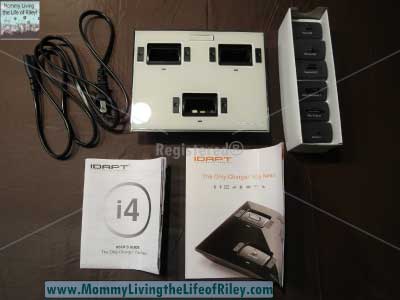 First, let me say that I absolutely LOVE the IDAPT i4 Universal Charger!  It is the coolest and most useful travel gadget I've run across in a long while.  This is because you can easily charge up to four devices using just one electrical plug as well as keeping all of your electronic devices in ONE place.
When Michael and I travel, we seem to take all of our electronics with us.  I mean we have to have our cell phones for emergencies, our digital cameras and/or camcorders for plenty of photos and memories, our laptop, our iPods, etc.  If you're traveling with kids, you know they love having their portable video game players too.  Now, when you stay in a hotel, it seems that empty electrical plugs are pretty scarce.
I can remember having to charge my cell phone in the hotel bathroom, unplugging a lamp or two so as to charge our digital cameras and iPods, and then trying to remember where all of our devices were scattered when it was time to pack up and head home.  I actually almost left my digital camera in a hotel room once, because there was an obscure plug almost under my bed, and I didn't see my camera sitting there charging!
The IDAPT i4 is also perfect for home use.  I am currently using this universal charger in my home office and love how everything is charging and within easy reach, without a huge tangled cord mess.  I can easily see which devices are fully charged and ready to use, thanks to the red/green lights on the IDAPT i4 itself and I love how the USB port can push enough power to even charge an iPad.
I highly recommend the IDAPT i4 Universal Charger because it solves the ever-growing problem of overloaded electrical sockets and unsightly power cords.  Thanks to the abundance of electrical gadgets and devices in our lives, almost every home suffers from these issues, making it a perfect gift for the holidays.  It's also great for frequent travelers so that they can keep their expensive items together and powered up while on the go.  If you're looking for an attractive way to seriously cut down on the cord clutter, the IDAPT i4 won't disappoint!
Disclosure:  I received the IDAPT i4 Universal Charger plus iPod/iPhone and miniUSB tips from IDAPT in order to facilitate my review. No other compensation was received. This product review is based on my own personal experiences with this item and is completely honest and objective.
I'm a former 7th grade Science teacher turned stay-at-home mom that lives in Houston, Texas. I am married to my college sweetheart and have a beautiful daughter named Riley, who definitely keeps me on my toes! I am also involved in starting a small business which would both manufacture and sell an invention that I've patented, called Toothpaste 2 Go. I love interacting with my readers and hope to learn as much about you as you learn about me!
Melissa @ Mommy Living the Life of Riley!