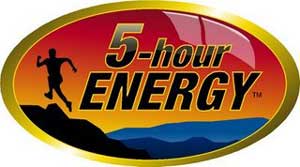 The older I get, the more I crave it...ENERGY!  It seems that I need a ton of energy to get through most days and sometimes, I'm just not generating enough of it on my own.  Most of the time, I reach for a cup of joe, but I always cringe when I think of the extra calories and sugar I'm consuming.
Thankfully, 5-Hour ENERGY provides a more healthful energy alternative that is easy on the waistline, yet delivers a power-packed punch.  Keep reading to learn more!

5-Hour Energy Review - My Husband's Experience
My husband is the one who first turned me on to the benefits of using 5-Hour ENERGY and with good reason.  He should be the poster child for this product, because 5-Hour ENERGY helps him get through his two shifts per week at his second job...running a karaoke show at a top bar in Houston.
You see, my husband has a regular 9 to 5 job, but every Friday and Saturday night he transforms himself into super KJ (karaoke jockey)!  Now no one wants a tired, lethargic person in this position because that wouldn't be any fun.  :cry:  That's why Michael uses 5-Hour ENERGY, without fail, to amp up his energy level in a safe and easy way so that he can really get the party started.
The great thing about 5-Hour ENERGY is that it gets to work almost immediately, so you don't have to wait 30 minutes to an hour to feel the energy boost.  It's also packed with B-vitamins and amino acids to charge you up without relying on sugar or an obscene amount of caffeine.  Since Michael raves about this product so much, I was ready to take the plunge myself and have to admit that I really like 5-Hour ENERGY shots.
Why try 5-Hour ENERGY?
Quick, simple and effective
Fast and easy to consume
Zero sugar
Zero herbal stimulants
4 calories!

B-vitamins and amino acids
As much caffeine as a cup of the leading premium coffee
Also available in a decaf version
Non carbonated
They're extremely convenient to take, since there's only a 2 oz. portion to swallow.  Now you don't have to worry about downing a huge 16 oz. energy drink or cup of coffee which might keep you running back and forth to the bathroom.  The 5-Hour ENERGY shots also contain just 4 calories and no sugar, which is easy on the waistline and doesn't sabotage my dieting efforts.
Best of all, it really works and lasts for a long time.  When life has you running in circles, be sure to get the energy you need in a safe, effective manner with 5-Hour ENERGY!
Disclosure: I received a six pack of 5-Hour ENERGY from Smiley360 in order to facilitate my review. No other compensation was received. This product review is based on my own personal experiences with this item and is completely honest and objective.
I'm a former 7th grade Science teacher turned stay-at-home mom that lives in Houston, Texas. I am married to my college sweetheart and have a beautiful daughter named Riley, who definitely keeps me on my toes! I am also involved in starting a small business which would both manufacture and sell an invention that I've patented, called Toothpaste 2 Go. I love interacting with my readers and hope to learn as much about you as you learn about me!
Melissa @ Mommy Living the Life of Riley!