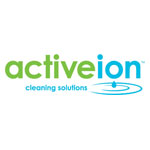 Having a dog and a small child in the house definitely means that I have to step up my cleaning routine in order to keep up with them.  It also means that for the first time in my life, I've actually begun considering what is IN those cleaning products I use.  I've read so much in the past few years about how toxic common household cleaners can be, though I want to make sure everything in my house is exceptionally clean, so that my family doesn't get ill.
Activeion Cleaning Solutions has found a uniquely designed way to bring you the best of both worlds...a super clean home with absolutely no harmful chemicals used in the process.  Let me introduce you to the Activeion ionator HOM.
I reviewed the ionator HOM from Activeion Cleaning Solutions, which retails for $179.99.
The ionator HOM has the unique ability to clean your entire house from top to bottom using only tap water.  The ionator HOM transforms tap water into a general purpose cleaner which is perfect for cleaning stains, dirt, dust and more.  Activeion technology has been thoroughly tested at a major university and the findings revealed that the ionator HOM cleaned as well as, or in most cases, better than the general purpose or specialized household cleaners.
The way the ionator HOM works is quite simple.  A small electrical charge is sent through the tap water in the tank and this charged water is then sent through an ion-exchange membrane which yields a ton of positively and negatively charged bubbles. This ionized water then helps to break apart and lift dirt and oil from the surfaces they're on, working like a magnet.  All that is left to do is wipe the dust, dirt and germs away.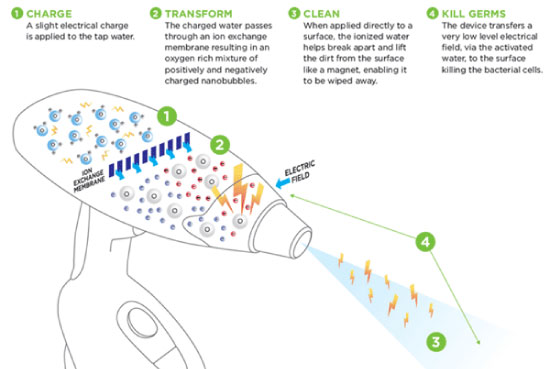 What sets the ionator HOM apart from any of the household cleaners you may be using now, is that the ionator HOM actually has the power to sanitize too.  Because the ionized water from the ionator HOM contains a small electrical current, bacteria are killed immediately as soon as they come into contact with the water.
There is no job too big or small for the ionator HOM!  It can clean and sanitize bathroom surfaces such as mirrors, toilets, sinks and tubs.  It's also great for use on all areas in the kitchen, such as countertops and food prep areas, sinks, ovens, refrigerators and dishwashers, and even flatware.
You can use the Activeion ionator HOM to clean your floors and carpets and it works great on tile and hardwood floors too.  Because the ionator HOM eliminates 99.9% of harmful germs, inluding H1N1 and E.coli, this is the perfect cleaning tool for your children's toys, pacifiers, toothbrushes and door handles.  Sanitizing these high use items can lead to a marked improvement in your family's health, especially around cold and flu season.
Since I have a little one in the house, I love knowing that I have now eliminated the second leading cause of childhood poisoning by saying goodbye to my array of household cleaners.  Just look at all the cleaners I used to use in the picture above!  Now those can be replaced with the safe, natural cleaning agent used by the Activeion ionator HOM.
I especially like the fact that I am no longer leaving chemical residues behind anymore when I clean.  These residues can then be absorbed by the lungs, skin or food directly into our bodies.  With the Activeion ionator HOM, the only thing left behind is water, which eventually evaporates.  This cleaning system is so safe, it can even be used to wash your fruits and veggies before serving.
Of course, I also love using anything which is good for the environment and the ionator HOM can definitely be considered a "green" cleaning tool.  Since it uses a completely renewable resource, water, and lasts for years, the Activeion automatically eliminates empty cleaning containers from our landfills.  Also, because it doesn't use any consumable parts, just tap water, you will save plenty of money too in the long run by using this chemical-free cleaning tool over conventional household cleaners.
I am so excited to now have the capability to both clean and sanitize my home with the Activeion ionator HOM.  It makes me feel good to know that my family is no longer exposed to harmful chemical residues and that most of our household surfaces are 99.9% bacteria free.
I also like knowing that the potential for childhood poisoning has been reduced and that I am helping to keep empty containers and waste out of our landfills.  The Activeion ionator HOM is one of the most beneficial products that I have come across in a long time and I highly recommend it to anyone interested in getting their home truly clean!
Disclosure:  I received the ionator HOM from Activeion Cleaning Solutions in order to facilitate my review. No other compensation was received. This product review is based on my own personal experiences with this item and is completely honest and objective.
I'm a former 7th grade Science teacher turned stay-at-home mom that lives in Houston, Texas. I am married to my college sweetheart and have a beautiful daughter named Riley, who definitely keeps me on my toes! I am also involved in starting a small business which would both manufacture and sell an invention that I've patented, called Toothpaste 2 Go. I love interacting with my readers and hope to learn as much about you as you learn about me!
Melissa @ Mommy Living the Life of Riley!