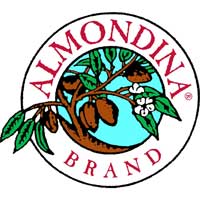 It's such a cruel twist of fate...whatever seems to taste the worst is usually the healthiest thing to eat and whatever tastes the best is the kind of food you should never put in your mouth.  When Charles Barkley was asked what his secret was to losing 40+ pounds recently, he said that he followed a simple diet...if it tastes good, spit it out.
Almondina Brand believes that it is indeed possible to blend healthy with delicious, and their all-natural, wonderfully crunchy almond biscuits come from a secret family recipe dating back to 1929.  Keep reading to learn more!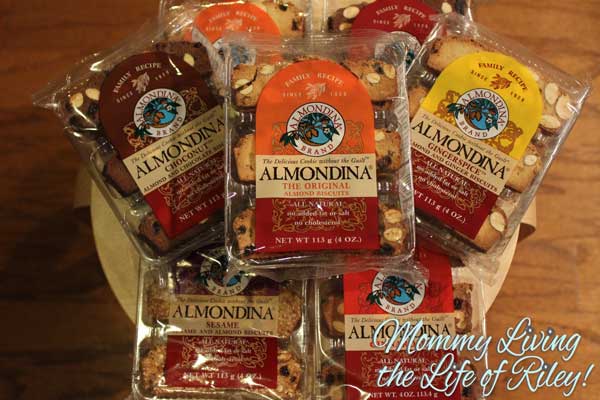 Almondina is the inspiring success story of a man whose great loves include both music and wonderful food.  For generations, the Zaliouk family loved his grandmother Dina's most secret cookie, which she called Petit Gateau Sec.  Generous as she was in giving away her recipes, Grandma Dina kept the one for Petit Gateau Sec a total secret until the end of her life.  Only then did she finally reveal the secret to her daughter, Ahuda.
"It is with her blessing and with pride that my family shares these delicious, healthful wonders with your family", says Yuval Zaliouk, Dina's grandson and founder of the Almondina Brand.  Long after his grandmother's death, Zaliouk became aware that the remarkable characteristics of this addictively delicious but extremely nutritious cookie fell squarely in line with the growing demands of health-conscious consumers at the end of the century.  Within seven years, having started baking in his kitchen, the Almondina biscuits were available in all fifty states.
These all-natural, wonderfully crunchy almond biscuits do not contain cholesterol, added fat, trans-fats, salt, coloring or preservatives.  Almondina Brand biscuits are also low in calories, with just 30 per slice, kosher and pareve, or non-dairy.  They are a delightful accompaniment for coffee, tea, soft cheeses and dessert wines or just as an everyday snack.  The rush to eliminate fat from gourmet foods has also eliminated most of the flavor, a fact which is in sharp contrast to these enticingly delicious biscuits.
Almondina biscuits are currently available in the following flavors:
Original - America's all natural favorite with almonds and raisins
Chocolate Cherry - We combined the world's finest dark chocolate with plump cherries to produce an irresistible, decadent treat without guilt.
Choconut - Rich tasting crunchy chocolate, but low in calories

Cinnaroma

- The original biscuit for cinnamon lovers

Gingerspice

- Trend setting, with chunks of Australian ginger
AlmonDuo - Double-nut wonder with almonds and pistachios
AnniversaryT - Award winning delight with a touch of anise
BranTreats - Made with oat bran and the finest cinnamon "Cookies For Breakfast"
Sesame - Irresistible, exotic, flavorful
Seasonal Pumpkin Spice - A seasonal attraction with a delightful touch of fall spices combined with the highest quality almonds and pepitas(pumpkin seeds)
Chocolate Dipped – the Original dipped in the finest, pure, rich dark chocolate was previously offered only certain times of the year is now available year round
Although I am not the biggest fan of almonds, my husband and daughter couldn't seem to get enough of these tasty biscuits.  Riley usually has fruit for breakfast, but now, she just has to have one of her favorite Almondina biscuit flavors, Cinnaroma, to go along with it.  My husband has also developed quite a weakness for the Chocolate Cherry variety and can often be found snacking on these crunchy treats throughout the day.
While my daughter, at just three and a half years old, tells me only that the Almondina biscuits are "delicious".  My husband is a little more explicit.  He says that the crunch is quite addicting and that the blend of flavors is perfect...not too sweet, but rather a great balance.
He also reports that it is very evident that the Almondina biscuits are indeed a gourmet product for the ingredients taste of the highest quality.  If you'd finally like to end your quest for a healthy food which actually tastes good too, then be sure to try the Almondina Brand biscuits.  I have a feeling Charles Barkley would be proud!  :thumbs up:
Disclosure:  I received the assorted Almondina samples shown above in order to facilitate my review. No other compensation was received. This product review is based on my own personal experiences with this item and is completely honest and objective.
I'm a former 7th grade Science teacher turned stay-at-home mom that lives in Houston, Texas. I am married to my college sweetheart and have a beautiful daughter named Riley, who definitely keeps me on my toes! I am also involved in starting a small business which would both manufacture and sell an invention that I've patented, called Toothpaste 2 Go. I love interacting with my readers and hope to learn as much about you as you learn about me!
Melissa @ Mommy Living the Life of Riley!