In this day and age, we are all fully aware of how harmful smoking can be to our health.  Most smokers try repeatedly to stop, yet the actual habit of smoking is often much harder to break than the nicotine dependency.  You may have heard about the new electronic cigarettes that have hit the market, which provide a much safer alternative to smoking a traditional cigarette.
While smoking a traditional cigarette is definitely detrimental to your own health and possibly even those around you, it also has other side effects such as yellowing of the hair, teeth and nails.  If you smoke inside your home, you'll also find that your home's walls and possessions will become sticky and yellow over time too.  American Blue Tip recently allowed me to review their Preferred Pack System of electronic cigarettes.  Keep reading to learn much more!
I reviewed the Electronic Cigarettes Preferred Pack System from American Blue Tip, which retails for $99.95 and contains the following:

Lithium Battery

USB Charger

Wall Charger

Leather Carrying Case

Atomizer

2 Flavor Cartridges

Box of 10 Additional Flavor Cartridges
E-cigarettes don't burn the same way that traditional cigarettes do.  Rather, they have an atomization chamber that is attached to a lithium battery.  When you take a drag on an e-cigarette, a heating vapor coil is automatically activated, while liquid from the atomization chamber passes over it.  This causes the liquid to be flash heated, which produces a smoke-like vapor that you inhale and exhale like a traditional cigarette.
Now that I have personally reviewed a few different brands of electronic cigarettes, I've found several differences among them.  Although almost all electronic cigarettes work roughly the same way, the differences really seem to lie in how long it takes to charge the lithium battery and what is contained in the atomization cartridges.  Another factor is the price of the cartridges themselves and how long they will last.
The American Blue Tip electronic cigarette has a lithium battery which takes about 2-3 hours to charge fully.  The e-cigarette itself is rather light and definitely resembles a traditional cigarette, except that when smoked, the end of this cigarette glows bright blue.  Perhaps this e-cigarette has been purposefully designed in this manner, so that no one will freak out when they see you smoking it indoors.
I really liked the black leather clamshell case which houses the battery, two cartridges and charger very nicely.  I also thought that it was very practical to include both a USB charger as well as a home charging unit.  This way, it is easy to keep your battery fully charged both at home and on the go.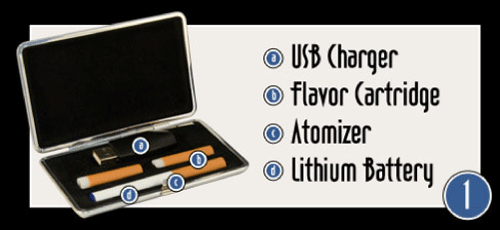 Unfortunately, there are several features of the American Blue Tip electronic cigarette that I didn't care for.  First, I don't appreciate any company or web site which doesn't clearly list the prices of their products.  When you visit the American Blue Tip website, you will only find general information regarding their product packages and cartridges.
They are quick to advertise their money-back guarantee and free trial offer, but in order to discover their prices, you must call a 1-800 number and speak to a sales associate.  Maybe it's just me, but I don't like high-pressure sales tactics and I always think that a company must be a little shady if they aren't readily up front with all of their product information.
Next, the American Blue Tip cartridges do not contain any nicotine whatsoever and it's actually a little unclear if they even contain any flavoring.  Based on the information from their website, it seems that the cartridges only contain water which is then turned into a "smoke like vapor" when inhaled.  Even though I no longer smoke, I still enjoy the act of smoking upon occasion.  I have to admit that I felt a little silly when smoking the American Blue Tip cigarettes.
I didn't taste anything, didn't feel a hit to my throat or lungs when I inhaled the vapor and actually felt more like a little kid who pretends to smoke when it's really cold outside and the breath that comes out of your mouth can resemble smoke.  I can see how this e-cigarette is extremely healthy as compared to smoking a traditional cigarette, but I didn't enjoy smoking this e-cigarette much.  I felt more like I was trying to be cool and fool everyone around me into thinking I was smoking, kind of like I did when I bought candy cigarettes as a kid.
Finally, the cartridges from American Blue Tip are each supposed to last about 100 puffs.  These cartridges are sold in packs of 10 for $19.95, which equates out to 1000 puffs for $20.  Since everyone takes longer and shorter drags when they smoke, you might want to count next time to see how many packs of cigarettes this would equal for you.
If you are looking for a nicotine-free way to smoke anywhere without inhaling any harmful chemicals or releasing any second-hand smoke to those around you, then perhaps the American Blue Tip e-cigarette is what you have been looking for.  But if you are wanting a way to still get your nicotine and want an e-cigarette that more closely resembles the actual experience of smoking a traditional cigarette, then I'm afraid you won't care for the American Blue Tip variety.
Disclosure:  I received the Electronic Cigarettes Preferred Pack System from American Blue Tip in order to facilitate my review. No other compensation was received. This product review is based on my own personal experiences with this item and is completely honest and objective.
I'm a former 7th grade Science teacher turned stay-at-home mom that lives in Houston, Texas. I am married to my college sweetheart and have a beautiful daughter named Riley, who definitely keeps me on my toes! I am also involved in starting a small business which would both manufacture and sell an invention that I've patented, called Toothpaste 2 Go. I love interacting with my readers and hope to learn as much about you as you learn about me!
Melissa @ Mommy Living the Life of Riley!