I think the subject of genealogy is a fascinating one, for the thought frequently crosses my mind as to where I really came from.  Maybe it's because I'm an American living in a country composed entirely of immigrants (except for the Native Americans), or maybe it's because I was a Genetics major in college, but I've always wanted to know more about the people who make me...ME.
Thankfully, Ancestry.com, the premier online family history source, allowed me the chance to review their World Deluxe Membership.  Keep reading to find out more, as well as what interesting fact I discovered!
I reviewed the World Deluxe Membership from Ancestry.com, which retails for $299 for twelve months of world-wide access.
When I was pregnant with Riley, I put all that extra nesting energy I had to good use and began building my family tree step-by-step while using my mom's Ancestry.com membership.  I was quite surprised at just how addicting and utterly interesting it is to learn about your own lineage.
Ancestry.com's mission is to help everyone discover, preserve and share their family history, and they have 6  BILLION records available to help you do just that.  With over 1.6 million subscribers, they are the world's largest online family history resource.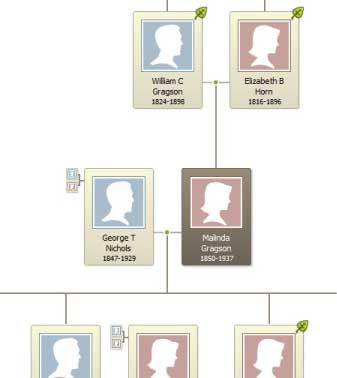 It is extremely easy to get started too.  As a matter of fact, Ancestry.com is offering everyone a FREE 14-day trial to help get your family tree underway.  The best way to begin is just to dive right in with what you already know.  Don't worry if you are hazy on some of the details, Ancestry.com will help you every step of the way.
For instance, remember the family trees I had worked on several years ago on my mom's account?  Well, thankfully, I had saved all of those family trees as GEDCOM files.  So now that I have my own account, I just uploaded those files and was happy to discover that all of my hard work was right there before my eyes, in a matter of seconds.
Since Ancestry.com is constantly adding new files and records to their already overwhelming database, I began seeing small green leaves showing up on the heads of some of my ancestors, as shown above.  This signals that Ancestry.com might have a new record or file for that person that you haven't looked at yet.
Just click on the leaf and you will automatically be linked up with several records for you to consider.  You can either attach them directly to that corresponding person or ignore them if you feel that they don't match.  I found out so much about my paternal grandmother's side of the family that was quite exciting!

First, I found out that most of my family on that side has lived and breathed Kentucky air for what seems an eternity!  My grandma and her sister were actually the first ones to settle in Texas.  What's more, I've discovered that her family can be traced back to Scotland...more specifically the Clan MacNicol, which are considered to be Gaelic.
Thanks to Ancestry.com's World Deluxe Membership, I was even able to find our family crest!  I had absolutely no idea that we had Scottish roots...I thought everyone in my family was English, so this was a pleasant surprise.
I even discovered through Ancestry.com that the Clan MacNicol is a large organized group of people with a website who also has annual meetings and stays in contact regularly.  I've contacted this group to learn even more about my heritage and can't wait to hear back from them.  Now, I've finally discovered the deep-seated reason as to why Braveheart is one of my all-time favorite movies!  :)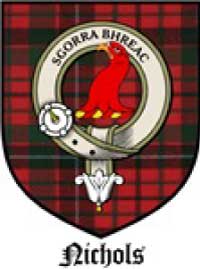 Ancestry.com is the world's online genealogy authority and has one of the easiest and most thorough ways to discover, preserve and share your family's roots.  Their database is constantly being updated with new and more complete records and through their system you can attach stories, photos and other knowledge about your family's past to share with others.  You can even record interviews with relatives by phone and save them to your tree via tools like the Ancestry.com Storytelling Service.
If you are looking for a wonderfully original and unique gift for dad this Father's Day, don't surprise him with a traditional tie, let him discover his family ties through Ancestry.com!  A World Deluxe Membership will literally unlock a world of genealogical possibilities!
Disclosure:  I received a six-month World Deluxe Membership to Ancestry.com in order to facilitate my review. No other compensation was received. This product review is based on my own personal experiences with this item and is completely honest and objective.
I'm a former 7th grade Science teacher turned stay-at-home mom that lives in Houston, Texas. I am married to my college sweetheart and have a beautiful daughter named Riley, who definitely keeps me on my toes! I am also involved in starting a small business which would both manufacture and sell an invention that I've patented, called Toothpaste 2 Go. I love interacting with my readers and hope to learn as much about you as you learn about me!
Melissa @ Mommy Living the Life of Riley!