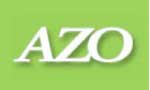 There are only 3 letters I know of that can strike fear into the heart of any man...P...M...S!  Of course if they think it's bad, they should try how it feels from our end, right?  The bloating, moodiness and irritability can be unbearable at times, making us feel like one unattractive mess!
Thankfully, AZO Products has released a natural herbal blend medicine called AZO PMS which provides much needed relief for the monthly bloating, irritability and moodiness associated with our cycle.
Receive a coupon for $1.00 OFF any AZO product by filling out this quick form.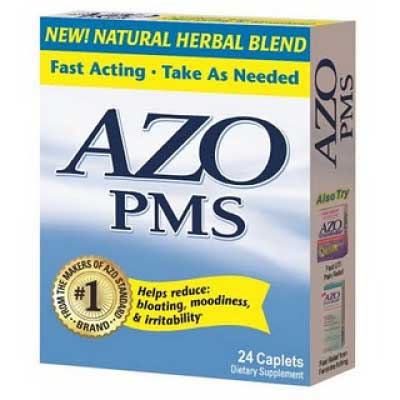 Each month, millions of women suffer from symptoms associated with premenstrual syndrome (PMS). With the introduction of the all-new AZO PMS – the only brand available to address both physiological and emotional symptoms – women can now get relief from PMS with a fast acting natural product.
PMS refers to a wide range of physical and emotional symptoms that typically occur five to 11 days before a woman starts her monthly menstrual cycle, and at least 85 percent of menstruating women have at least one PMS symptom as part of their monthly cycle. While other products address the physical symptoms of PMS, only AZO PMS has the added benefit of also reducing the emotional changes caused by hormonal fluctuations associated with PMS.
AZO PMS is unique because it is a natural formula that does not contain caffeine, like some other over-the-counter products and dietary supplements, as caffeine is known to irritate symptoms associated with premenstrual syndrome. AZO PMS is specially formulated to help reduce moodiness, irritability, and bloating with a variety of ingredients including high potency B-vitamins, along with calcium, magnesium, folic acid and two natural herbal blends.
AZO PMS is not a drug; it is a natural product that contains a variety of herbal ingredients and botanicals that women can take each month. An anti-bloating herbal diuretic features buchu leaf, cornsilk stylus, couch grass hydrangea root, juniper berry and uva ursi leaf, which combine to address physical symptoms such as bloating and water retention. A calming herbal blend of Chinese date fruit, white peony root extract, chasteberry fruit extract, ginger root extract, cramp bark and Magnolia bark extract works to address emotional symptoms such as moodiness and irritability.
AZO PMS can be taken as needed (episodically) and does not have to be taken daily to be effective. Additionally, the formula is fast-acting, affording women quick relief. AZO PMS is currently available at Wal-Mart, Rite-Aid and drugstore.com, and will roll out at additional retailers including Walgreens and CVS throughout the summer. The suggested retail price of AZO PMS is $7.49 for 24 blister-sealed caplets.
So if you'd like a safe, natural way to ease those PMS blues, then make sure to be prepared next month with a package of AZO PMS.  Your body and the man in your life will most definitely thank you!  :-)
Disclosure:  I received the AZO PMS Relief and Relaxation Prize Pack from AZO Products in order to facilitate my review. No other compensation was received. This product review is based on my own personal experiences with this item and is completely honest and objective.
I'm a former 7th grade Science teacher turned stay-at-home mom that lives in Houston, Texas. I am married to my college sweetheart and have a beautiful daughter named Riley, who definitely keeps me on my toes! I am also involved in starting a small business which would both manufacture and sell an invention that I've patented, called Toothpaste 2 Go. I love interacting with my readers and hope to learn as much about you as you learn about me!
Melissa @ Mommy Living the Life of Riley!