Board games, card games and the like are some of the easiest and least expensive ways to experience real quality time with your friends and family.  Some of my most favorite memories have occurred while playing games of all kinds with the ones I love.  All Things Equal, Inc. is the creator of several fabulous family and party games, such as Loaded Questions and Awkward Family Photos.
They're introducing a brand new board game called, The Greatest Day Ever! Game and asked whether I'd like to host a review and giveaway for three of their titles.  Who could say no to that?  Well, keep reading to find out my take on all three family board games from All Things Equal, Inc. at FamilyandPartyGames.com!
Receive 10% OFF your entire order when you use coupon code "THANKS"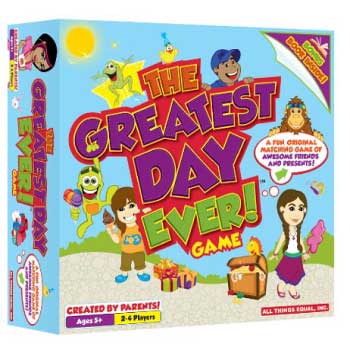 The first game my family played was the brand new, The Greatest Day Ever! Game.  This board game was created by parents and designed for 2-4 players, ages 5 years old and up.  It's super easy to learn, for the rules are very simple, yet the game is extremely engaging for both kids and adults alike.
The goal of this game is to be the first player to match your five playing cards with any combination of your eight friends and presents.  From the carnival, to the toy store, to a big beach party, find your friends and presents as you race around the coolest board ever enjoying the greatest day ever in this original and unforgettable matching game.  Before or after you play the game, you can also read "The Greatest Day Ever" book, which is included in this board game.
Since Riley is too young yet to play this game, Michael and I decided to give it a go and was surprised at just how much fun this scavenger hunt like game is!  Some games were quick, while other games were longer, but every game was fun!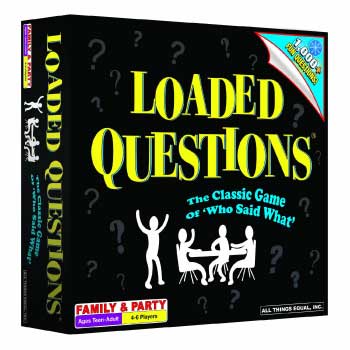 Next up, was the board game Loaded Questions.  This game is designed for more of a party atmosphere, since it requires 4 to 6 players ages teen and up.  This hilarious game tests players on how well they know each other with more than 1,000 questions designed to spark uproarious laughter, creative discussions and lasting memories.
It's extremely easy to play with minimal rules and maximum fun!  Basically, players take their turns landing on different circles of the game board and depending on the space they land on, read aloud the corresponding question from the corresponding category.  Every player (except the roller) writes a personal answer for this question.  After the answers are collected by the previous roller and read aloud, the roller must guess which player wrote which answer.  For every correct match, the roller advances one space.
The questions are thought-provoking and extremely funny and since my husband and I didn't have four players with which to play this game, we just sat around one night and took turns reading the questions aloud and answering them.  I can't tell you how much we laughed by doing this!  We also got into several great discussions which helped us learn a little more about each other, which I thought was almost impossible at this point because we've known each other for so long.
I highly recommend this game for party play or even for instant discussion starters.  Taking a few of these cards along for a night out at a family restaurant would be a great way to spark some interesting conversation before the food comes!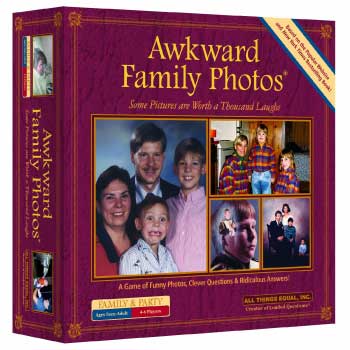 Finally, I had the chance to review the absolutely side-splitting board game, Awkward Family Photos.  After checking out the bizarre photos on the box itself, I knew my husband and I were going to be in for a good time with this one.  This board game is designed for 4-6 players, ages teen and up, and is a game of funny photos, clever questions and ridiculous answers.
Once again, the rules are simple and easy to learn.  Just flip over the classic and never-before-seen Awkward Family Photos featuring uncomfortable moments including vacations, weddings and holidays and read aloud the open-ended questions.  Your hilarious answers guarantee a night of awkward fun...and if you know your fellow players well enough and can impress them with your answers, you'll get the last laugh.
My husband and I (lacking the other necessary two players for this game) decided to adapt this party game for two-player fun and we had a blast.  We would take turns showing each other the hilarious photo and then rolling the die and answering the question that was asked.  Of course, we didn't play to win, but I can't tell you how hard we laughed while playing...so I guess we both won!  :rofl:
If you are looking for some great party games for the upcoming holidays or are already beginning to choose Christmas gifts for friends and family, then I definitely recommend all three of the awesome games I reviewed from FamilyandPartyGames.com.  There's no doubt that you will make lasting memories and strengthen your family's relationships while enjoying these board games...and that's a truly priceless gift!
 

Disclosure:  I received the three board games listed above from FamilyandPartyGames.com in order to facilitate my review. No other compensation was received. This product review is based on my own personal experiences with this item and is completely honest and objective.
I'm a former 7th grade Science teacher turned stay-at-home mom that lives in Houston, Texas. I am married to my college sweetheart and have a beautiful daughter named Riley, who definitely keeps me on my toes! I am also involved in starting a small business which would both manufacture and sell an invention that I've patented, called Toothpaste 2 Go. I love interacting with my readers and hope to learn as much about you as you learn about me!
Melissa @ Mommy Living the Life of Riley!