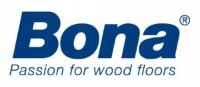 There are many household chores that every mom must do on a regular basis, but there's one that I loathe above all others...mopping!  Vacuuming is easy, for the vacuum cleaner itself does all of the work and it's just a matter of running the machine across your carpets.  Unfortunately though, mopping is extremely labor intensive and most of the time I find myself down on my hands and knees scrubbing and feeling a little like a deprived Cinderella.
In this day and age, there just has to be an easier way to accomplish this household chore, right?  YES!  Bona US has designed the Motion Hardwood Floor Mop which is guaranteed to bring out the amazing shine on your hardwood floors with minimum effort on your part.  Keep reading to learn more!

Since 1919, Bona has pioneered the highest quality hardwood floor care products for professionals and homeowners.  Their products have protected and cared for distinguished floors such as Westminster Cathedral, Nike World Headquarters, NBA arenas and museums worldwide.
I first discovered the power of Bona hardwood floor cleaners when I moved into our current house.  There are two large rooms in my home with hardwood floors and I soon found out that Bona products do a fabulous job of making these floors sparkle!  Unfortunately, while the products worked great, my system of applying the product to the floor and then mopping behind it, did not.
I've used lightweight hardwood floor mops in the past, but they were just as labor intensive as scrubbing the floor by hand.  You see, the mop would be so light that it would just glide across the floor without picking up any dirt or dust.  That meant that I had to really lay in to the mop and put extra elbow grease behind it to get the mop to do its job.  Two large rooms later, I was sore and worn out.  There had to be a better way and Bona has found it with their Motion Hardwood Floor Mop.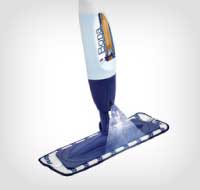 The Bona Motion is a premium spray mop with sonic motion power that gives an extra cleaning boost so you spend less time with stuck on messes.  It combines Bona's premium no-residue cleaner with a durable, high quality microfiber mop. Simply push the button to activate the deep cleaning sonic motion for tough stuck on messes.  If you're just giving your floor a quick once-over to remove the dust and bring out its natural shine, deactivate the sonic motion for easy, everyday cleaning.
The atomizing spray produces a fine mist of cleaning product directly in front of the mop itself, so there's no more bending, spraying and then mopping.  I love how quick and easy the Bona Motion Hardwood Floor Mop is to use.  It's much more automatic now, in the same vein as vacuuming, which makes this chore much less despicable for me.
The Bona Motion uses 4 "AA" batteries as well as a microfiber cleaning pad and refillable mop cartridge, which are all included.  What's more, this mop is lightweight, but definitely heavy enough so that there is plenty of pressure applied to your floors without the need for you to press it into the floor yourself.
I won't go so far as to say I love to mop, but thanks to Bona I definitely don't avoid it or dread it like I used to...and for me, that's a major improvement!  :party:
Disclosure: I received a Bona Motion Hardwood Floor Mop from Bona US in order to facilitate my review. No other compensation was received. This product review is based on my own personal experiences with this item and is completely honest and objective.
I'm a former 7th grade Science teacher turned stay-at-home mom that lives in Houston, Texas. I am married to my college sweetheart and have a beautiful daughter named Riley, who definitely keeps me on my toes! I am also involved in starting a small business which would both manufacture and sell an invention that I've patented, called Toothpaste 2 Go. I love interacting with my readers and hope to learn as much about you as you learn about me!
Melissa @ Mommy Living the Life of Riley!