From as far back as I can remember, I've been a list maker...to-do lists, grocery lists, wish lists, shopping lists.  You name it and I'll make a list for it.  Especially now that I'm getting older and trying to run a household and three businesses, keeping lists is the only way I know to make sure I get done what needs to be accomplished and still stay sane!  :pull hair out:
Using scraps of paper to make all of these various lists I keep isn't very good for the environment and since I've vowed to "be more green" this year, I knew there had to be a better solution.  That's what led me to discover the Boogie Board.  I happened to be at Brookstone one day (the most dangerous store in the world for me) and I came across the original eWriter from Improv Electronics.  Of course, I just had to buy it and have been using it to keep my mind right ever since.
Unfortunately, it didn't have the one capability that would make this tool truly indispensable...the ability to save the notes you keep.  Thankfully, Improv Electronics recognized that need and did something about it.  The result is one of the best eco-friendly tools on the market today and a gadget that I absolutely can't live without...the Boogie Board Rip LCD Writing Tablet.  Keep reading to learn more!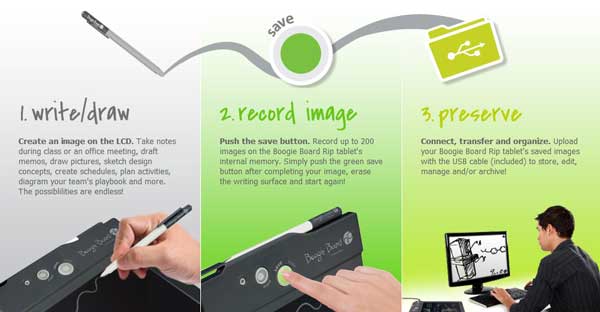 The Boogie Board Rip LCD Writing Tablet from Improv Electronics is a perfected version of the original.  The 9.5" LCD screen offers plenty of room for notes, doodles, drawings or a combination thereof to successfully eliminate the need for paper.  It has a rechargeable battery which works through the Micro USB port on the right side of the Boogie Board Rip.  It's also completely compatible with both Windows and Mac computers.
The first thing you want to do when using your Boogie Board Rip is to switch the erase lock on the left-hand side of the tablet to the unlocked position.  Now you can start using this eWriter for anything and everything you'd like to jot down.  It's perfect for a college student to take class notes with, a high school student to practice their algebra equations on or a working mom like myself who has a million ideas and tasks I need to jot down on a daily basis.
If you mess up or would like to start with a proverbial clean slate, simply use the erase button to automatically clear the page.  But, if you made a list or drawing that you'd actually like to keep, the Boogie Board Rip now makes that possible.  Simply click the save button and whatever was on the screen is automatically converted to a .pdf file to be downloaded to your computer later.  It's just that easy!
I can't tell you how much more I use the Boogie Board Rip over the original Boogie Board thanks to this innovative .pdf converter feature.  For example, I write a grocery list down on this tablet, save it to a .pdf, download it to my computer and then email it to my husband so that he can stop by the store on his way home from work.  If I'm going to be out and about that day, I'll email the .pdf file to myself and then use the Adobe Reader app on my smartphone to have the list with me when I need it.
I'm constantly making to-do lists now and then sending them to my smartphone which makes it so much more convenient to get things done.  Gone are the days of the endless scraps of paper in my purse reminding me to accomplish the various things on my daily to-do list, thanks to the Boogie Board Rip LCD Writing Tablet.
I love the erase lock feature too because once I switch this to the locked position, I no longer have to worry about accidentally deleting my note until it's ready to finally be erased or saved.
Even my 3.5 year old daughter loves the Boogie Board Rip.  She doodles constantly on it and I love taking it with us when we go on long car trips or out to dinner at a local restaurant.  Now, she no longer uses the disposable placemats that most restaurants provide for entertainment.  She instead goes right to scribbling on her eco-friendly Boogie Board eWriter.  When used in this way, it reminds me of an extremely advanced version of the classic Etch-a-Sketch toy.
Personally, I can't wait to take this little gem with me to BlogHer '12 this year.  With the Boogie Board Rip Protective Sleeve, I can keep this LCD Writing Tablet in my bag and take an endless amount of notes while I'm there.  Since this eWriter is capable of holding over 100 pages of .pdf files before its memory is full, I will be able to take conference notes and exchange information with other bloggers and PR companies with ease and without the bulk of carrying a spiral or other large notebook.
If you've been searching for a unique and utterly convenient way to say goodbye to paper once and for all, then be sure to check out the Boogie Board Rip LCD Writing Tablet from Improv Electronics.  Being green has never been so easy or so cool!
Disclosure: I received the Boogie Board Rip LCD Writing Tablet and Protective Sleeve from Improv Electronics in order to facilitate my review. No other compensation was received. This product review is based on my own personal experiences with this item and is completely honest and objective.
I'm a former 7th grade Science teacher turned stay-at-home mom that lives in Houston, Texas. I am married to my college sweetheart and have a beautiful daughter named Riley, who definitely keeps me on my toes! I am also involved in starting a small business which would both manufacture and sell an invention that I've patented, called Toothpaste 2 Go. I love interacting with my readers and hope to learn as much about you as you learn about me!
Melissa @ Mommy Living the Life of Riley!