Motherhood: the toughest job you'll ever love.  I believe that saying down to my core, for I've never worked harder at something, only to love and cherish every single minute of it.  We moms are in a unique club of sorts that only other moms understand.  Believe me, I know.  Before I became a mom, I was completely clueless as to how wonderful motherhood could be.  Now, of course, I want to proclaim my "mom-ness" to the world!
PeaceLoveMom is a company that totally gets that and wants to help all of us moms celebrate motherhood in a cool, stylish way.  Established in 2006, the PeaceLoveMom team of ladies bring variant backgrounds, perspectives, and creativity to the table.  Although the day-to-day business tasks are split, every PeaceLoveMom in our company possesses the same passion for motherhood and their new found careers. Creating designs that will both inspire and empower mothers everywhere, PeaceLoveMom represents a collaboration and true celebration of motherhood.  Keep reading to learn more!
At PeaceLoveMom, celebrating mom is the order of the day.  They have a wide variety of fashionable ways to express how happy and proud you are to be a part of the mom club too.  There are thermals, tank tops, short and long sleeve tees, hats, belts and jewelry all designed to tell the world that you are one proud mama!  I love the myriad of unique and stylish designs they carry, all of which are completely "mom-centric".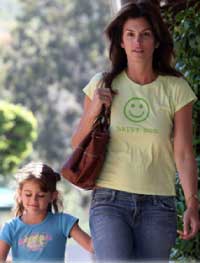 Even though the temperatures here in Houston are well over 100 degrees, I'm a sucker for a long-sleeve t-shirt.  So when PeaceLoveMom let me choose my favorite shirt, I just couldn't resist the Happy Mom Turquoise V-Neck Burn Out Tee.  The design is fun and simple, yet completely says it all:  Happy Mom.  Yep, that's me!  Now, I can proclaim my "mom-ness" without looking frumpy or nerdy.  No puffy-paint mom sweatshirts for me!  :big grin:
As you can see from this picture, even Cindy Crawford thinks the Happy Mom designed tee from PeaceLoveMom is pretty cool...and let's face it, Cindy probably knows a thing or two about fashion.
The Happy Mom Turquoise Burn Out Tee is dyed and washed and put through an extensive process so that it achieves that weathered and worn look.  The vintage worn-in feel is evident immediately and gives this shirt a hip style that is definitely in keeping with the latest fashion trends.  It is a very lightweight and sheer material with a neckline that is not plunging in the least.  It's also made in America exclusively for PeaceLoveMom.  :usa:
I absolutely LOVED the longer arm length of this shirt and the material felt so light and airy that I'm still not ruling out wearing my PeaceLoveMom shirt this summer, even in 100 degree weather.  Unfortunately, the only thing I must disagree with is the overall sheerness.  On the PeaceLoveMom website, it says: "No need to layer anything under it. Your friends will only see beautiful PeaceLoveMom colors."
As you can see from the picture of me wearing it, that is simply not the case.  I had to change my original bra to a sports bra for the sake of this picture and it is quite easy to see both my sports bra and my skin color through this shirt.  I will definitely be wearing this shirt, but only with a tank top or other layering piece underneath.
Other than that, I highly recommend the PeaceLoveMom shirts and welcome you to shop their online collection and "celebrate motherhood!"
Disclosure: I received the Happy Mom Turquoise V-Neck Burn Out Tee from PeaceLoveMom in order to facilitate my review. No other compensation was received. This product review is based on my own personal experiences with this item and is completely honest and objective.
I'm a former 7th grade Science teacher turned stay-at-home mom that lives in Houston, Texas. I am married to my college sweetheart and have a beautiful daughter named Riley, who definitely keeps me on my toes! I am also involved in starting a small business which would both manufacture and sell an invention that I've patented, called Toothpaste 2 Go. I love interacting with my readers and hope to learn as much about you as you learn about me!
Melissa @ Mommy Living the Life of Riley!