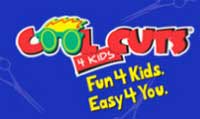 Everyone knows that a child's first haircut is one of those big, special milestones that you will always remember, long after the tears have dried.  Riley is 32 months old and has never had her hair cut yet because it just grew to look so pretty on its own.  I love the way her hair looks, but realized that the time has finally come to give her a trim, since she is beginning to get a few split ends.
Of course, I was very hesitant to cut her hair myself, for I didn't want to mess up her flowing locks.  Thankfully, there's a place that specializes in kid-friendly haircuts called Cool Cuts 4 Kids.  Riley and I had the chance to review our local salon for her very first haircut.  Keep reading to learn more!
When we first walked into our local Cool Cuts 4 Kids, I was immediately impressed at how fun and kid-friendly the entire salon was.  All of the furniture and decorations were brightly colored and the waiting area had plenty of neat games and toys as well as a cartoon movie playing on the small television.  We were a walk-in on a Saturday afternoon and so I was expecting to have to wait at least 15 minutes or so, but was pleasantly surprised to be ushered in to a barber's chair within a few minutes.
Here's where things really got neat!  The lady asked me what movie Riley would like to watch during her haircut and showed me a large bulletin board with about 30 movie titles on it.  I selected an Elmo movie and the lady popped it into the small television's DVD player located right in front of the barber seat.  Now that's a great idea to get your child to sit still and not move their head around!
I thought that the barber chairs themselves were extremely cool.  They were all in the shape of a car, complete with a working steering wheel and a small ringing bell on the dash.  Riley immediately started to drive the car and play with the steering wheel.  She barely even noticed the lady putting the cape around her and combing her hair.
The hair stylist asked me what I'd like for Riley's first haircut and I told her that I'd like to trim off an inch or so in order to get rid of the split ends she has.  The stylist then squirted her hair with a little water and combed it several times.  Unfortunately, she didn't really seem to know how to cut hair very well for after about 5 snips, she said she was done.  There wasn't hardly any hair cut at all and she didn't cut anything around Riley's face or trim the layers of shorter hair she had.
I actually had to tell the stylist about three times how to cut her hair, which was surprising, since the other children in the room seemed to be getting their hair cut just fine.  I think the lady we got was brand new and wasn't very good, but the other stylists seemed to be much better.
Finally, Riley's hair was somewhat cut and the lady used a blow dryer and a round brush to style it.  Riley liked this a lot and it was so cute to see her hair get fixed like this.  The stylist then put some of her hair clippings into a small Ziploc bag and presented us with a keepsake certificate to commemorate Riley's first haircut.  She even gave Riley a small white bow hair clip to put in her hair and we were ready to go!
Even though our hair stylist wasn't the greatest, I would still recommend Cool Cuts 4 Kids and plan to return there.  No salon is immune from questionable stylists and I could tell that the haircuts given by the other stylists were pretty good.  Cool Cuts 4 Kids is completely centered around haircuts for children and make the whole process as fun and entertaining as possible.  They definitely live up to their motto of "Fun for Kids, Easy for You"!
Disclosure:  I received a $25 Gift Card from Cool Cuts 4 Kids in order to facilitate my review. No other compensation was received. This product review is based on my own personal experiences with this item and is completely honest and objective.
I'm a former 7th grade Science teacher turned stay-at-home mom that lives in Houston, Texas. I am married to my college sweetheart and have a beautiful daughter named Riley, who definitely keeps me on my toes! I am also involved in starting a small business which would both manufacture and sell an invention that I've patented, called Toothpaste 2 Go. I love interacting with my readers and hope to learn as much about you as you learn about me!
Melissa @ Mommy Living the Life of Riley!