Colossal Christmas Countdown:

22 Days Until Christmas!

I don't know about you, but one of my fondest childhood ways to spend a cold or rainy afternoon, was to build a huge indoor blanket fort!  These forts would usually span the entire living room (if my parents would let me) and would consist of every chair, bed sheet, blanket and clothespin in the house.  Of course once your masterpiece was created, there would be additional hours or sometimes DAYS of fun reading books, playing cards, board games, etc. inside.

I also remember this super fun task to be quite challenging and thoughtful too, since inevitably one portion of the "blanket town" would fall down or need to be repaired.  CrazyForts.com must have grown up like me, for they have created the neatest construction toy...Crazy Forts!  Keep reading to learn more! 

From the first moment I saw the Crazy Forts Construction Toy, I thought this was a super idea come to life.  Now, building your own blanket fort would be so much easier and probably more parent-approved, since every piece of tall furniture in your home wouldn't have a blanket over it!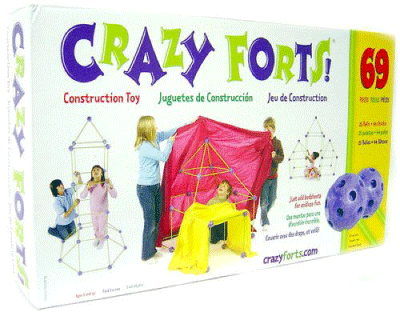 When the Crazy Forts toy arrived, I have to say that I was a little disappointed in its packaging.  I'm a huge fanatic about storage and having a place for everything, so when I opened the box to remove the 69 pieces, I noticed that this box could not be reused for storage, because it has to be ripped open on its side.
Now, I will need to purchase some sort of plastic tub so that I can keep all 69 pieces together.  Thankfully though, my disappointment quickly ended for I got to begin putting this fort together and it was extremely fast and easy to do!

The Crazy Forts Construction Toy consists of 25 purple balls and 44 green sticks.  I couldn't get over how sturdy and hard these parts were.  They definitely seemed as if they could withstand years of fort building.  In order to construct your fort's frame, simply push and twist a green stick into one of the many holes on a purple ball.  It is advised that for the ball to be in the best configuration, you should always have the Crazy Forts logo on the ball facing straight up.
I started my own creation first, but then realized that I didn't have enough pieces to build it very high, so I then followed the picture of the house on the front of the Crazy Forts box.  Within 15 minutes, my husband and I had the entire thing built and were ready to find some bed sheets or light blankets to finish the job.
Every once in a while, a purple ball had to be taken off and realigned so that the holes were where we wanted them to be, but this was easily rectified and actually made the fort building a little more of a challenge, which was good.

As you can see, once we threw over the blankets, our little house was quite roomy inside.  Even my husband Michael couldn't resist climbing in our newly built fort to try it out for himself!  He's such a nut!  Of course, it was all we could do to keep Riley out of it while we were trying to build it.  She is a little too young to build this fort by herself, since you need a some muscle to attach the sticks to the balls, but she definitely helped by bringing us the objects we needed while we built our fort.
Riley has now been exposed to her first blanket fort and I know we'll be building many more of these in the future with our Crazy Forts set!
I always think of children like cats because they love to be enclosed in anything like boxes, blankets, tents, etc.  Crazy Forts has done a great job creating a high-quality toy which makes building a blanket fort fast, fun and easy!  I highly recommend this toy and have to caution you though that if you want a large blanket fort, it will take more than one kit.  I'm already considering buying another kit, so be warned.  I'm not sure you can buy just ONE of these Crazy Forts Construction Toys!
Disclosure:  I received the Crazy Forts Construction Toy from CrazyForts.com in order to facilitate my review. No other compensation was received. This product review is based on my own personal experiences with this item and is completely honest and objective.
I'm a former 7th grade Science teacher turned stay-at-home mom that lives in Houston, Texas. I am married to my college sweetheart and have a beautiful daughter named Riley, who definitely keeps me on my toes! I am also involved in starting a small business which would both manufacture and sell an invention that I've patented, called Toothpaste 2 Go. I love interacting with my readers and hope to learn as much about you as you learn about me!
Melissa @ Mommy Living the Life of Riley!