As a former seventh grade Science teacher, I can say that the biggest challenge I faced was not actually teaching the curriculum itself to my students...it was teaching them how to think and reason logically.  Logical thinking and deductive reasoning are tools that we, as adults, often take for granted, but unless they are specifically taught to our children, our children might miss out.
I noticed that the students in my class who were able to sit down and logically think out a problem did well in school whether they were applying themselves fully to their studies or not.  So it goes in life...our brain is a huge asset, but we must train it to recognize clues to a problem's solution and what to do with those clues in order to eventually arrive at the solution.  Since Riley was a baby, her father and I have been trying to teach her cause and effect, basic logic and problem-solving skills, etc.
Facts and figures can be found quickly now in this digital age, but you can't Google how to think rationally and methodically!  Thankfully, I was given the opportunity to review a book which would help me to further teach Riley her thinking skills from The Critical Thinking Co. Keep reading to see what my thoughts were on this tool.
I have to say that right away I was very impressed by the content inside the Building Thinking Skills Beginning book from The Critical Thinking Co.  This book is geared for children ages 3-4 years.  I wasn't really sure how you would go about teaching reasoning skills with a workbook to children this young, but I soon found out as soon as I opened the book.
You can teach the same skills, you just make sure you're using things they already know and understand.  I was blown away by the use of primary colors and large graphics, so as not to overwhelm the child.  These illustrations definitely were inviting and Riley loved looking at this book!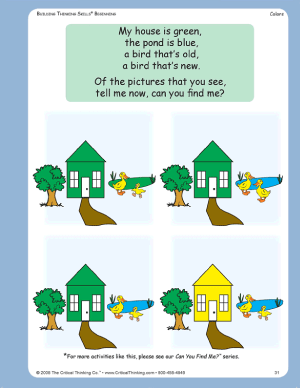 The content was awesome as well!  I would be thrilled if Riley were able to master all of the concepts in this book, which include:
Colors
Similar and Different
Inference
Sequencing
Classification
Visual Discrimination
Longer - Shorter
Visual Tracking
Mazes
Half and Whole
Geometric Shapes
Analogies
Vocabulary Development
Can You Find Me?
Thinker Doodles
Straight and Curved
Logical Connectives, etc.
Whew!  Now that's a book chock full of wonderful lessons for your child!  My favorite feature of this book had to be the "Can You Find Me?" pages (see example above).  In my opinion, this was analytical thought and deduction at its best.  When Riley gets a little older, I plan on ordering more of the titles from the "Can You Find Me?" series to practice with her.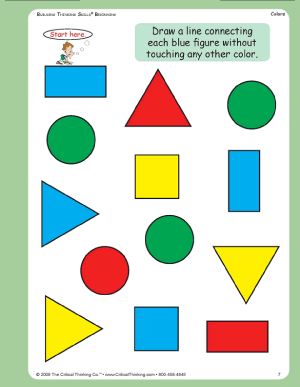 I also really liked how The Critical Thinking Co. has a "Try Before You Buy" feature for their products.  Now you can look at several full-size pages of many of their books, so as to know if it is the resource you are looking for.  The full-size pages ensure that you can even print them out and work a few of them with your child to gauge their interest and skill level.
I think this is great, because oftentimes, children may be either ahead or behind for their age, since children's brains all grow and develop at their own pace.  Now you can make sure what you buy is at the correct level for your child.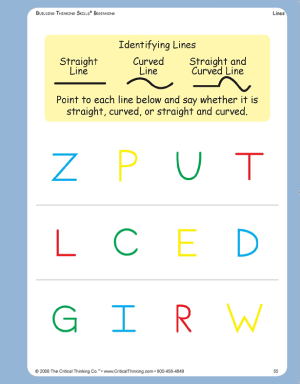 I am thrilled with the high-quality learning materials and resources offered by The Critical Thinking Co.!  If you notice that your child is struggling in school and is having a hard time grasping the curriculum, then I would highly recommend bolstering their reasoning skills.  You might be amazed at just how much these skills will help your child in all of their school subjects as well as for the rest of their life!
Disclosure:  I received the Building Thinking Skills Beginning Book from The Critical Thinking Co. in order to facilitate my review. No other compensation was received. This product review is based on my own personal experiences with this item and is completely honest and objective.
I'm a former 7th grade Science teacher turned stay-at-home mom that lives in Houston, Texas. I am married to my college sweetheart and have a beautiful daughter named Riley, who definitely keeps me on my toes! I am also involved in starting a small business which would both manufacture and sell an invention that I've patented, called Toothpaste 2 Go. I love interacting with my readers and hope to learn as much about you as you learn about me!
Melissa @ Mommy Living the Life of Riley!