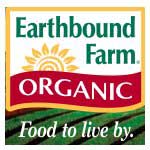 With fresh produce at its peak of flavor and lowest prices, summertime is the perfect time to take advantage of all the benefits of eating organically grown fruits and vegetables.
Earthbound Farm, North America's leading grower of organic produce, has an extensive website that makes eating and cooking organically a snap with tips, recipes and down-to-earth (no pun intended!) advice on how to feed your family the healthiest food while protecting the planet.
Not sure what it means when a fruit or vegetable is labeled organic?  You can't buy everything organic so you'd like to know which fruits and veggies are the most likely to have the most pesticide residues?  Looking for the perfect family-friendly recipe -- or two -- for the 5lb zucchini or bushel of tomatoes you just harvested from your backyard garden?  Answers to these questions -- and much, much more -- are all available on EBfarm.com.  Keep reading to learn more!
Some additional highlights of EBfarm.com include:
An entire section just for kids.  Kids are the most susceptible to the negative effects of pesticides, so education about eating healthy and making the right organic choices is key. (http://www.ebfarm.com/WhyOrganic/kids/organicfarming.aspx)
Earthbound Farm makes going organic fun with info on the best bugs to have on an organic farm, instructions for making a worm compost bin and  downloadable activity books.
Downloadable herb and greens identification charts.
Cooking tips and shortcuts for easily prepping fresh ingredients.
Myra Goodman has been labeled the "Queen of Greens" by More and is recognized as a pioneer in bringing the organic food and specialty salads to the masses.  She has been featured on Oprah as the woman behind the salad-in-a-bag and interviewed on Live with Regis & Kelly as one of the country's foremost experts about organic food.  In THE EARTHBOUND COOK: Recipes for Delicious Food and a Healthy Planet she shares 250 fabulous recipes, as well as easy tips to keeping a green kitchen, so we can all help protect our planet for our children and for generations to come.
In FOOD TO LIVE BY: The Earthbound Farm Organic Cookbook, a dazzling full-color cookbook, Myra Goodman offers an utterly appealing, new casual style of cooking based on using the best ingredients, organic or otherwise.  The dishes are irresistible: Sweet Corn Chowder, Spinach, Feta and Mushroom Quiche, Foggy Day Chili, Merlot-Braised Short Ribs with Cipollini Onions, Spicy Chicken Lettuce Wraps, Ginger Lime Salmon, Grilled Pork Tenderloin with Spiced Orange Sauce, Blue Cheese Smashed Potatoes, Coconut Lemongrass Sorbet, Cherry Panna Cotta, and Farm Stand Carrot Cake.  Plus, throughout are Farm-Fresh Ingredient boxes—on sorrel, corn, asparagus, artichokes— cooking and shopping tips, and health notes.
To help your family enjoy this summer's bounty of delicious, planet-friendly organic produce, Earthbound Farm is offering a terrific giveaway from their lovely farm stand in Carmel Valley, CA worth over $100, including their famous Organic Maple Almond and Organic Cranberry Pecan granolas and Organic Ginger Snaps, Chocolate Chip and Lemon Snap cookies, delicious and healthy Organic Raisins and Dried Cranberries and signed copies of Myra Goodman's (Earthbound Farm's co-founder) two cookbooks: THE EARTHBOUND COOK: Recipes for Delicious Food and a Healthy Planet; and FOOD TO LIVE BY: The Earthbound Farm Organic Cookbook. The gift box also contains two $5 and two $1 coupons good for Earthbound Farm organic salads, fruits and vegetables.
Disclosure:  I received the Earthbound Cook and Food to Live By books from Earthbound Farm in order to facilitate my review. No other compensation was received. This product review is based on my own personal experiences with this item and is completely honest and objective.
I'm a former 7th grade Science teacher turned stay-at-home mom that lives in Houston, Texas. I am married to my college sweetheart and have a beautiful daughter named Riley, who definitely keeps me on my toes! I am also involved in starting a small business which would both manufacture and sell an invention that I've patented, called Toothpaste 2 Go. I love interacting with my readers and hope to learn as much about you as you learn about me!
Melissa @ Mommy Living the Life of Riley!