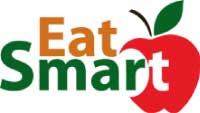 Now that I'm getting older, the state of my physical fitness has crept way up on my list of concerns.  I'm all too aware of how bone mass and muscle mass decrease with age while percentage body fat is steadily on the rise.  Also, since becoming a full-time blogger, my life has become more sedentary than it used to be.
When I work out and exercise and choose to eat healthier, I like to know the benefits I'm receiving because it motivates me to do even better.  In order to chart your body's measurements accurately, you need a high-quality bathroom scale designed around physical fitness.  HealthTools LLC has engineered the EatSmart Precision GoFit Digital Body Fat Bathroom Scale to help you and your family stay healthy and fit.  Keep reading to learn more!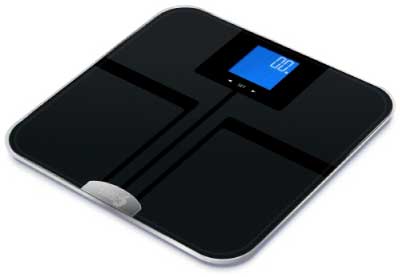 The EatSmart Precision GoFit Digital Body Fat Bathroom Scale uses BIA (bio-electrical impedance analysis) technology by imputing information of gender, height, age, activity level and your weight to calculate body fitness.  In bare feet, this technology sends a low-level electrical signal through your body fat and then measures the resistance the signal encounters.  This signal is perfectly safe and will not be felt.  The lower the body fat, the faster the signal will travel.
Within seconds, you will be given a final reading of your weight, body fat percentage, total body water, muscle mass and bone mass.  This scale stores up to 8 different users' personal profiles and will be able to recognize these users as soon as they step onto the scale.  Stepping on the scale with shoes, socks or slippers will display your weight only.
Setting up the EatSmart Precision GoFit Digital Body Fat Bathroom Scale couldn't have been simpler.  Just insert the 4 "AAA" batteries (included) into the back of the scale and set it down on a hard, flat surface.  The scale reading automatically jumps to 4 lbs and then back to zero.  This means that the scale has auto calibrated itself and is ready to use.  Next, my husband stepped up on the scale and was given his weight first.
A few seconds later, he was given his body fat percentage, total body water percentage, muscle mass percentage and bone mass.  The really helpful thing is that there is a comparison chart in the included instruction booklet that shows which values are in the low, optimal, moderate or high ranges for each category.  This was really encouraging, for both my husband and I received readings in the optimal health ranges. :whew:
I love how it is so simple to chart short term goals (like body fat percentage and muscle mass percentage) along with values you need to chart for the long haul, like bone mass.  As a woman, I must be vigilant about charting my bone mass to make sure that I am not at risk for developing osteoporosis.  I'm happy to say that the EatSmart Precision GoFit Digital Body Fat Bathroom Scale can easily help me to do just that.
Of course, in order to receive truly accurate measurements, care must be taken to consistently weigh yourself at the appropriate times of the day.  For instance, in order to receive the most accurate weight measurement, it is best to weigh yourself first thing when you get up in the morning.  If you want to get the most accurate body fat measurement, weigh yourself in the evening just before eating.
One of the features I really like now, but was totally frustrated with in the beginning, is the automatic user identification.  This feature is designed to effortlessly recognize an individual automatically and then store their results in their own profile on the scale.  Unfortunately, I didn't realize this feature when I was first testing out the EatSmart Precision GoFit Digital Body Fat Bathroom Scale, and I couldn't figure out why it wasn't telling me anything besides my weight when I'd get on it.
You see, my husband tried out the scale first and so the EatSmart Precision GoFit went ahead and assigned him as user number one automatically.  When he stepped on the scale, all of his data was accurately displayed, but because I hadn't created a user number for myself yet, only my weight was displayed.  As soon as I figured this out and entered myself as user number two, all of my information was instantly charted and now the scale automatically recognizes who is who when either my husband or myself step on the scale.  How neat is that?!
The EatSmart Precision GoFit Digital Body Fat Bathroom Scale truly does it all and looks so futuristic and sleek in the process!  I love the way that my entire family can accurately measure all facets of our physical fitness and overall health which will help keep us active and aware of changes in our bodies for years to come.  You can't change what you aren't aware of and with the EatSmart Precision GoFit scale, being aware and charting your body's progress has never been easier! :clap:
Disclosure:  I received the EatSmart Precision GoFit Digital Body Fat Bathroom Scale from HealthTools LLC in order to facilitate my review. No other compensation was received. This product review is based on my own personal experiences with this item and is completely honest and objective.
I'm a former 7th grade Science teacher turned stay-at-home mom that lives in Houston, Texas. I am married to my college sweetheart and have a beautiful daughter named Riley, who definitely keeps me on my toes! I am also involved in starting a small business which would both manufacture and sell an invention that I've patented, called Toothpaste 2 Go. I love interacting with my readers and hope to learn as much about you as you learn about me!
Melissa @ Mommy Living the Life of Riley!