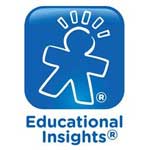 My daughter never ceases to amaze me with the rate at which she absorbs and learns new things.  At this age, her little brain is a sponge that can never seem to soak its fill, which is why I love providing her with toys which will stimulate her brain long after mine has worn out!  :crazy:
Educational Insights has consistently come to my rescue with their wide variety and selection of award-winning educational toys.  Since Riley is about to be three years old next month, I thought that maybe it was time to take her learning to the next level with the GeoSafari Jr. Laptop Jr.  Keep reading to learn more!
I reviewed the
GeoSafari Jr. Laptop
(Ages 3-7 Edition) from Educational Insights, which retails for $64.99, but is currently on sale for $48.51 with FREE SHIPPING.
Embark on an interactive learning adventure with GeoSafari Jr. Laptop Jr.  With 126 award-winning educational lessons and an easy-to-use card based format, even the youngest kids can play and learn.  Simply select and insert an activity card and watch as lights and sounds guide game play.  Children will master important phonics, reading, social studies, science and math skills in no time.  Kids can play alone, in pairs or in teams.  Completely portable for learning on the go.
The GeoSafari Jr. Laptop Jr. comes complete with 63 dual-sided cards which provide 126 interactive activities that introduce and reinforce the alphabet, phonics, sight words, reading, science, math, visual discrimination and social studies.  Each activity is numbered from 1 to 126 and the higher the number, the more difficult the lesson.  Since my daughter isn't quite three yet, she definitely needed to start with card number 1 and work her way up.
Once you get to around the middle of the deck, children will need to be able to read somewhat in order to interact with these lessons on their own.  Of course, if you don't mind sitting down and reading the cards out loud to your little one, younger children may then be capable of answering the questions on the harder cards.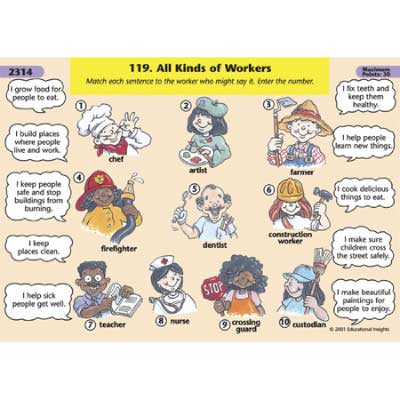 In order to begin, just press the "ON" button and enter the four digit code of the particular lesson you want to work with.  This code is highlighted in the upper left hand corner of each card and a green light flashes next to it to remind your child that this number needs to be input first.  Next, choose the mode of play (1 = Single Play, 2 = Two-Player Game, 3 = Two-Player "Head to Head").
Then, select the number of seconds allowed for each answer.  You can choose 1-99 seconds.  This is the length of time your child will have to answer each question on the card.  You can even select things such as bonus points for each player, whether you want the questions asked in a random or sequential order, etc.  Inputting all of these values would be especially intimating for a very small child and this is something an adult can take care of for them when they first turn the GeoSafari Jr. Laptop Jr. on.
Once everything is set up, play proceeds rather easily.  The laptop will automatically select a question and the child must then locate the answer on the card and find the corresponding number of the correct answer.  They enter the number and hit return.  The GeoSafari Jr. Laptop Jr. will then immediately tell them whether they were right or wrong and reward them with a show of flashing lights and points added to their total score.
If you get stuck and would like to see the correct answer, just press the question mark and the screen will show which numbered answer was correct.  Any time that your child wants to change cards, just hit the "clear" button and the laptop will then prompt you to enter the four digit code of the new card you're working on.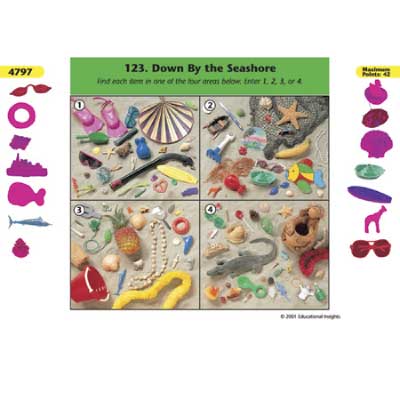 The only criticism I have of the GeoSafari Jr. Laptop Jr. is that it runs off of 4 "AA" battery power only.  Now don't get me wrong, this is wonderful for when we travel, but Riley likes to play with her new laptop much more often at home and having to make sure I have plenty of batteries charged all of the time can be quite bothersome.  The good thing is that the 4 "AA" batteries ARE included with the GeoSafari Jr. Laptop Jr. even though the box states that the batteries aren't included.
This is really an excellent learning tool which children will enjoy for years to come.  The lessons are patterned sequentially according to difficulty, so that as your child's skill set grows, their ability to conquer harder and harder lessons grows too.  All of the cards fit neatly inside the GeoSafari Jr. Laptop Jr. case and it even snaps shut so that nothing falls out.  The handle on the side makes it super easy to tote around too, so that your child's knowledge can flourish absolutely anywhere!
Disclosure:  I received the GeoSafari Jr. Laptop Jr. (Ages 3-7 Edition) from Educational Insights in order to facilitate my review. No other compensation was received. This product review is based on my own personal experiences with this item and is completely honest and objective.
I'm a former 7th grade Science teacher turned stay-at-home mom that lives in Houston, Texas. I am married to my college sweetheart and have a beautiful daughter named Riley, who definitely keeps me on my toes! I am also involved in starting a small business which would both manufacture and sell an invention that I've patented, called Toothpaste 2 Go. I love interacting with my readers and hope to learn as much about you as you learn about me!
Melissa @ Mommy Living the Life of Riley!