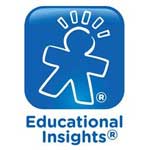 Preparing my daughter for success in school is something I don't take lightly.  So many benefits in life stem from a good education and I want to do my absolute best to make sure that Riley receives just that.  Of course, my ultimate goal is to have her fall in love with the process of learning itself, so that she can become a motivated, self-sufficient, lifelong learner.
Any toy that can combine solid fundamental lessons with a great deal of fun will always be at the top of my shopping list.  That's why I was so excited to have the chance to review the Talking Hot Dots Pen with Astronomy and Money Cards Sets from Educational Insights.  Would this toy be all I was hoping it would be?  Keep reading to find out!
Get a FREE Talking Hot Dots Pen with the purchase of 2 Hot Dots Card Sets.  Use coupon code "HOTPEN" at checkout.
Help your child kick the back-to-school season off to a fabulous start and have a blast all the while with the Talking Hot Dots Pen from Educational Insights.  The Hot Dots pen works with dozens of Hot Dots card sets, providing instantaneous visual and audio feedback. Simply press the pen to choose an answer on any Hot Dots or Hot Dots Jr. card for an immediate response.  Your child will receive cool, kid-friendly phrases for correct answers and gentle redirection for incorrect responses.
The Hot Dots pen is designed for children ages 5 years old and up and uses 2 AAA batteries (not included).  There are so many wonderful card sets available which can prepare your kids for most any task they'll come across in school.  As a former Science teacher, I'm thrilled to say that Riley already has a love of Science, especially the stars and planets, so I couldn't wait to try out the Astronomy Hot Dots Science Set with her.
Because this set of cards is geared for children ages 7 years old and up, I wasn't able to gauge her interest in them, but I was very happy with the content offered and the way in which it was presented.  This set is an interactive way for individual students to learn and practice key science concepts and vocabulary on their own.  There are 36 double-sided laminated cards included in the Astronomy Science Set for a total of 72 thought-provoking questions.
The Money Hot Dots Flash Cards Set was slightly easier for children to pick up simply because it didn't require as much reading.  There were plenty of realistic images of U.S. currency to aid in coin and bill recognition.  This set even comes complete in a sturdy plastic storage case for quick cleanup and could even be used without the Talking Hot Dots Pen, if so desired.
Once again, it was a little difficult to try and use the Hot Dots Pen and the two card sets I selected with Riley since she is only 3.5 years old.  I am very confident though that as soon as she is able to comprehend the concepts taught on these card decks, she won't be able to put them down.  This educational toy is so small and portable that it's perfect for long car rides, family vacations or even overnight trips to grandma's house.
http://www.youtube.com/watch?v=LvUTInxZgks
If you would like to start your child's educational journey in the right direction by integrating basic lessons with plenty of fun, then I highly recommend the Talking Hot Dots Pen and Card Sets from Educational Insights.  Your child will laugh and giggle their way straight to the head of the class!
Disclosure: I received the Hot Dots items above from Educational Insights in order to facilitate my review. No other compensation was received. This product review is based on my own personal experiences with this item and is completely honest and objective.
I'm a former 7th grade Science teacher turned stay-at-home mom that lives in Houston, Texas. I am married to my college sweetheart and have a beautiful daughter named Riley, who definitely keeps me on my toes! I am also involved in starting a small business which would both manufacture and sell an invention that I've patented, called Toothpaste 2 Go. I love interacting with my readers and hope to learn as much about you as you learn about me!
Melissa @ Mommy Living the Life of Riley!