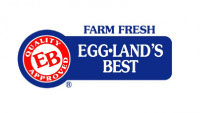 Breakfast is one of my favorite meals of the day, primarily because I LOVE eggs!  Eggs are one of those perfect foods, for there are a million ways to cook them and they all taste great.  Of course, there's more to an egg than meets the eye, and Eggland's Best gave my friends and family the opportunity to discover the differences and uncover why Eggland's Best is America's #1 egg.
I had the chance to host a Blogger Brunch on Saturday, March 26th.  Keep reading to find out what we learned and what we ate!  :)
Eggland's Best Eggs are definitely a cut above the rest and provide your family with an excellent source of nutrition.  Just look at how Eggland's Best Eggs compare to an ordinary egg:
10 times more Vitamin E
2 times more Vitamin D
115 mg of Omega 3, beneficial to cardiac health
25% less Saturated Fat
75% more Vitamin B12
15% more Riboflavin
10% of the daily recommended amount of folic acid
200 mcg of Lutein, beneficial to eye health
Contains only 175 mg of Cholesterol
Now that's one hard-working egg!  Visit Eggland's Best for more nutritional comparisons of an Eggland's Best Egg versus an ordinary large egg.  The results are quite an eye-opener!
All of these nutritional facts make me feel good about serving Eggland's Best Eggs to my friends and family, but in the end, I eat eggs for their taste.  When I was a little girl, I used to love eating breakfast at my grandparents farm, for every morning, we would get up early and collect the eggs right from the hens.  That farm-fresh taste definitely came through in every dish my grandmother would prepare and no store bought eggs have ever come close to that freshness...until now.
Eggland's Best Eggs come from hens which are fed a strictly controlled, high-quality, all-natural, all-vegetarian diet without added hormones, antibiotics or steroids of any kind. As a matter of fact, Eggland's Best is certified by the American Vegetarian Association that enables vegetarian-minded people to make accurate food choices.
Eggland's Best also conducts 35,000 quality assurance tests per year so as to guarantee that their eggs are free from blood spots, cracks and stains.  This superior quality to the hens' feed as well as their own production standards give the Eggland's Best Eggs a fresh taste that is far better than any store-bought egg I've ever eaten...just like on my grandparents' farm!
Needless to say, my friends and family were very excited to be a part of the Eggland's Best Blogger Brunch.  I had three prize packs to give away, consisting of an apron, shopping bag and stuffed EB egg, as well as many VIP coupons for free EB egg products!  My husband and I took turns serving up some mouth-watering dishes and the results couldn't have been better.  Everyone laughed, ate, learned more about Eggland's Best and then ate some more!  :)
Our guests definitely seemed to prefer the Egg Salad Sandwiches we served as well as the Deviled Eggs.  We couldn't seem to make them fast enough!  If you are searching for some scrumptious ways to serve your Eggland's Best Eggs, just check out their website for a huge list of recipes.
Of course, for the little ones in attendance, we served up plain hardboiled eggs as well as some cheesy omelettes and the results were outstanding.  Even my own toughest critic, Riley, had to give in to the fresh-tasting goodness of an Eggland's Best omelette!
In order to award the prize packs, we quizzed everyone in attendance on some interesting Eggland's Best facts.  Here were a few of the questions which stumped most everyone.  Do you know the correct answers?
1.  How many eggs per DAY are eliminated because they do not meet the criteria of an Eggland's Best egg?
a.  20,000
b. 30,000
c. 200,000
d. 300,000
2.  True or False:  It's more nutritious to eat only the egg whites.
3.  True or False:  EB Eggs have thicker shells than ordinary eggs.
The answers:
1.  d. 300,000
2.  False -
The majority of nutrients can be found in the yolk. Research has shown that people who ate up to 12 Eggland's Best eggs per week experienced no increase in their total serum cholesterol or LDL ("bad") cholesterol when compared to a group who did not eat eggs. In fact, both groups reduced their serum cholesterol by approximately the same amount.
3.  True -
EB eggs have a thicker shell as a result of the special diet EB hens are fed, which helps keep more nutrients intact and provides extra protection from bacterial penetration.
So there you have it!  Eggland's Best Eggs are America's #1 egg for good reason.  If you've yet to try an EB egg, I highly recommend picking up a carton on your next trip to the grocery store.  With better nutrition AND better taste, how can you go wrong?
Disclosure:  I received VIP coupons, a gift card, a Flip video camera, and prize packs and information for my guests from Eggland's Best in order to facilitate my review. No other compensation was received. This product review is based on my own personal experiences with this item and is completely honest and objective.
I'm a former 7th grade Science teacher turned stay-at-home mom that lives in Houston, Texas. I am married to my college sweetheart and have a beautiful daughter named Riley, who definitely keeps me on my toes! I am also involved in starting a small business which would both manufacture and sell an invention that I've patented, called Toothpaste 2 Go. I love interacting with my readers and hope to learn as much about you as you learn about me!
Melissa @ Mommy Living the Life of Riley!