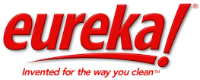 With a toddler and a small, black-haired dog, I have to be diligent about cleaning our carpeted, tile and hardwood floors...or else risk being carried away by a giant crumb-filled hairball!  I've owned several vacuum cleaners, both bagless and bagged, in a wide price range.  Typically, I love the way the bagless uprights clean, for they tend to have much greater suction power, but they have always been such a mess to clean, that I tend to stick with the bagged upright models.
But when I heard about how Eureka! designed a brand new technology called AirSpeed, which is designed to move more air, thus removing more dirt from your home, I had to check this out for myself.  Since I have a dog who sheds A LOT, Eureka! was generous enough to allow me to review their pet version of the AirSpeed line of vacuums, the AirSpeed Pet.  Keep reading to learn more!
I reviewed the
AirSpeed Pet Vacuum
from Eureka!, which retails for $129.99 and is found exclusively at Target.
Eureka! unleashed a powerful, deep-cleaning vacuum with the AirSpeed Pet, which is designed to tackle both pet hair and odor, two of any pet owner's biggest cleaning challenges.  The AirSpeed technology uses two smooth tubes with limited bends and turns, which allows more air to pass through the vacuum.  The direct air path from floor to cup decreases the distance for dirt to travel, which increases the amount of airflow for more powerful suction.
The Eureka! AirSpeed Pet Vacuum Cleaner comes complete with a PET Power Paw, crevice tool, dusting brush, filter cleaning brush, extra belt, hose, hose release wand and owner's manual.  All of the attachments fit nicely on the Eureka! AirSpeed Pet, with the PET Power Paw sitting on the front of the unit and the crevice tool and dusting brush secured to the back.
I love the PET Power Paw for it uses teeth and a rubber strip to remove pet hair from both stairs and upholstery, two areas I always have a hard time cleaning.  Just attach the PET Power Paw to the end of the hose's wand, which provides an additional 10 feet of reach, and you'll have all of those hard to reach surfaces clean in no time!
One of my favorite features of the Eureka! AirSpeed Pet is the Dual-Powered Edge Kleeners (shown in the upper left picture).  These yellow bristles stick out just a little wider than the vacuum cleaner itself and make it so that cleaning along baseboards and against walls and cabinets is a breeze.
As you can see in the lower left picture, my dog sheds like crazy and leaves dog hair absolutely everywhere.  But with the Edge Kleeners, this hair was agitated and sucked up straight away without having to sweep around the edges of the walls first.  Now that's a real time saver!
I also really enjoyed the foot-activated power lever which is on the lower left hand side of the vacuum cleaner.  I've never owned a vacuum cleaner before which was able to be turned on and off using your foot, but now I am spoiled.  It's so much easier than fumbling around on the front of the unit for an on/off switch and I really liked this feature!
Of course, I was thrilled to see just how clean my floors and carpets were by using the Eureka! AirSpeed Pet.  Just look at the two pictures above.  The first one shows the large clump of pet hair that was picked up in just my living room and the second one shows all of the tiny tufts that were picked up in just my kitchen.  Now to me that's amazing!  I've used several bagless vacuum varieties in the past, but have never seen this much hair and dust sucked up before.  After closely inspecting my carpets, I couldn't find any pet hair whatsoever.  But don't worry...my dog Noel got right back to the job of shedding everywhere again!  :)
Since both my daughter and my husband have allergies, I was so excited to use a vacuum cleaner that contains a HEPA filter as well as a dust cup filter.  Eureka! vacuums will not only clean your floors, but also help keep dust, pet dander, allergens, mold and bacteria from being released into the air as well.  Because their filters can capture 99.97% of dust and allergens, you can be sure that family members with allergies will breathe easier after cleaning with the Eureka! AirSpeed Pet.
I am so happy to finally own a bagless upright like the Eureka! AirSpeed Pet.  This vacuum has an extremely powerful suction due to its AirSpeed Technology, whirlwind cyclonic action and 12 Amp motor.  It also cleans well around its edges and has some wonderful onboard attachments.  I'm also happy that the HEPA charcoal filter used inside the Eureka! AirSpeed Pet will help my husband and daughter breathe a little easier too.  If you are looking for a top-notch, pet-friendly vacuum that won't break the bank, then I highly recommend the Eureka! AirSpeed Pet!
Disclosure:  I received the AirSpeed Pet Vacuum from Eureka! in order to facilitate my review. No other compensation was received. This product review is based on my own personal experiences with this item and is completely honest and objective.
I'm a former 7th grade Science teacher turned stay-at-home mom that lives in Houston, Texas. I am married to my college sweetheart and have a beautiful daughter named Riley, who definitely keeps me on my toes! I am also involved in starting a small business which would both manufacture and sell an invention that I've patented, called Toothpaste 2 Go. I love interacting with my readers and hope to learn as much about you as you learn about me!
Melissa @ Mommy Living the Life of Riley!