I love interior decorating and revamping our home has been a labor of love for the last four years for me.  If there's one thing I've learned from decorating our home, it's that the ceiling fan you choose can completely set the tone for the entire room.  Unfortunately, when we bought our house, someone had "set the tone" with tacky gold-lacquered ceiling fans.
I have been amazed at how different and updated a room can look just by changing out these fans.  My husband and I are finally ready to begin decorating our living room and have already had this room painted, the mantel decorated, as well as new fixtures and drapes hung.  We still need to replace our gold-lacquered ceiling fan as well as purchase some new furniture, for we are still using the mismatched pieces we've had since college.
Since the look that we are trying to achieve is one of a traditional, old-world style, cozy, living room, we were having a hard time finding just the right ceiling fan.  We wanted something that would be very unique and would definitely make a statement when you walked in the room.  Thankfully, I discovered Fanimation, a company that specializes in creating high-quality, stunningly beautiful ceiling fans.  I was fortunate enough to have the opportunity to review the LB270VZ from the Lauren Brooks The Bayhill Collection.  Keep reading to find out more!
I reviewed the Lauren Brooks The Bayhill Collection (LB270VZ)Ceiling Fan from Fanimation, which retails for $628.95.
Fanimation has been creating gorgeous ceiling fans since 1984 and I even remember seeing their company featured on ABC's Extreme Makeover Home Edition.  That show specializes in doing some amazing transformations to people's homes, and so I was hoping that the LB270VZ ceiling fan from Lauren Brooks The Bayhill Collection could do one to our living room too!
The hardest part of this review though, had to be actually selecting the fan itself.  Fanimation has 60 different collections to choose from, with most collections having 3 or 4 different fans in them.  That's a lot of variety!  Finally, I saw the Lauren Brooks The Bayhill Collection and immediately fell in love with the details and old-world charm of the LB270VZ.  Isn't it beautiful?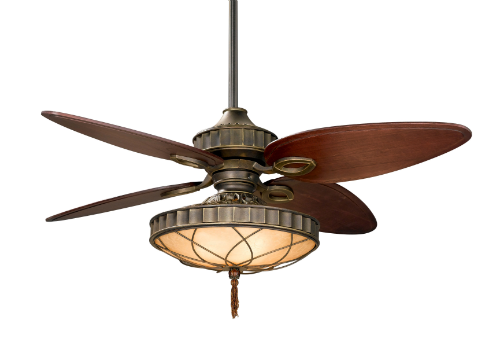 I was thrilled when this fan arrived and was eager to get it up and running!  As you can see from the pictures below, the box was well packed and all pieces arrived safely and in perfect condition.  The LB270VZ is a 56" sweep fan and comes complete with a 6" downrod, wall control, 188 x 25 motor, four Cairo purple wood blades and is in a Venetian Bronze finish.
The first step in assembling our Bayhill Collection fan was to assemble the upper assembly or motor of the ceiling fan.  This involved attaching the downrod to the hanger ball and installing the canopy over the motor.  This part went fairly quickly and we were ready to move on to the next step in no time.  As you can see in the bottom right picture, we then had to securely hang the hanger bracket, which would support the entire weight of this ceiling fan.
This part actually took a long time for us to do, simply because whoever had built our house had not done a very good job of installing our current ceiling fan.  Once we took it down, we discovered that the whole time it had only been hanging by ONE screw into a 2" x 4".  This was very unsafe and it could have fallen on us at any time.  Thank goodness we got rid of that dangerous fan!  Because the LB270VZ weighs 47 lbs. when hanging, we had to search and search to find good studs with which to properly anchor our new fan.
As you can see from the bottom left picture, we scraped our ceiling up pretty good, but had finally safely and securely anchored the hanger bracket to the ceiling.  Next, it was time to attach the upper assembly to the hanger bracket.  This was extremely easy to do, since Fanimation fans use the hanger ball which just slides into the hanger bracket itself.
We did run into a few snags while trying to install the Bayhill Collection fan from Fanimation and those snags occurred mainly for two reasons.  First, the instructions for this fan were a little vague and incomplete in a few areas.  I had to basically guess on how to install the wall control for the wires inside our walls didn't match the colors or the diagram shown in the instructions.  Also, it took us forever to figure out how to install the housing switch cup and light kit because the directions weren't very clear, in my opinion.
I also was dealing with two men (my husband and father) who, once the instructions got a little murky, didn't want to look at them any more and wanted to figure it out for themselves!  What's the deal with men not wanting to read instructions???  :) Finally though, we were ready to install the fan blades onto the blade holders and attach the light kit onto the bottom of the fan.
Once this was done, our installation was complete!  Just look at the difference the Fanimation LB270VZ ceiling fan makes in our living room.  I absolutely love how unique, timeless and sophisticated this fan looks!  There are so many interesting details which continually catch your eye and keep you looking upward.  This fan is also easily controlled by the included wall unit and doesn't wobble or move at all.  The motor is almost completely silent too!
If it wasn't for the sound of the blades cutting through the air, you wouldn't hear a thing!  Of course, the best thing is how well this fan cools our living room.  Most of the time, we keep it running on level 3 (out of 4 speeds).  This keeps a very comfortable circulation going through the room and easily drops the air temperature several degrees.  On the highest speed, this fan REALLY COOLS!  I like using this setting after we've come in from a walk in the summer sun and need to cool down fast.  It's also a great speed for when I'm working out in the living room.
One feature that isn't evident right away is the detailed scrolling located above the light kit itself.  I think this is beautiful and at night, even displays a pretty pattern on our ceiling.  There just are so many features of this Lauren Brooks The Bayhill Collection ceiling fan from Fanimation that are of the highest quality and so well designed!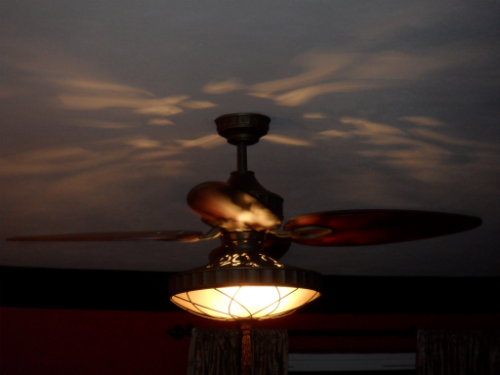 Fanimation has really outdone themselves with the LB270VZ ceiling fan!  This well-made and completely original fan makes such a statement in our living room and is a definite attention grabber.  If you are looking for a stunning ceiling fan to immediately update the look of any room in your home, then I highly recommend Fanimation.  With 60 different collections to choose from, you will have more than enough variety to select the perfect fan for any decor!
Disclosure:  I received the Lauren Brooks The Bayhill Collection LB270VZ Ceiling Fan from Fanimation in order to facilitate my review. No other compensation was received. This product review is based on my own personal experiences with this item and is completely honest and objective.
I'm a former 7th grade Science teacher turned stay-at-home mom that lives in Houston, Texas. I am married to my college sweetheart and have a beautiful daughter named Riley, who definitely keeps me on my toes! I am also involved in starting a small business which would both manufacture and sell an invention that I've patented, called Toothpaste 2 Go. I love interacting with my readers and hope to learn as much about you as you learn about me!
Melissa @ Mommy Living the Life of Riley!