*** WARNING *** DO NOT do business with this company. There are numerous complaints about their abhorrent level of customer service and they have absolutely refused to fulfill the prize that should have been awarded to the winner of THIS giveaway! See these posts for more information:
http://www.mommylivingthelifeofriley.com/tips-techniques-how-to-advice/warning-fill-blankie-business-why/
http://www.bbb.org/dallas/business-reviews/services-general/sonya-bebeblankee-in-dallas-tx-90022957
Babies are so delightful and signify the beginning of an entirely new life into a very old world.  Many items we purchase for our little ones, such as baby blankets, silver spoons and engraved birth certificate holders, serve as lifelong keepsakes of this new beginning.
Fill in the Blankie takes personalization to an entirely new level with their series of Ultra Personalized Baby Blankets.  They offer a whole host of high-quality blankets which include four sides of personalization as well as many specialized extras.  Keep reading to learn more and see the wonderful blanket I got to make for Riley!
I reviewed the Pharaoh's Finest Ultra Personalized Baby Blanket from Fill in the Blankie, which retails for $145.00.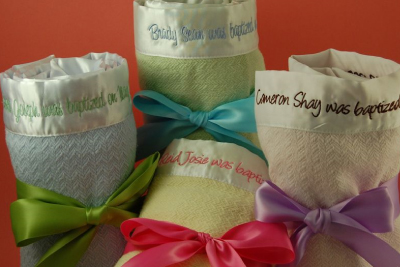 Having a new baby is a special time.  You can share in this joy by giving a baby gift that parents will long remember, babies will love and later will serve as a cherished keepsake:  a silky-soft cotton baby blanket embroidered with your warmest wishes woven around all 4 satin edges.
Parents will remember you each time they wrap their baby in your personalized baby blanket.  It's a true personalized baby gift from the heart, that makes you look "so thoughtful and resourceful" and can be completely customized and ordered in less than 5 minutes.
The baby blankets from Fill in the Blankie are made of 100% cotton with satin edges.  They sell the same baby blankets produced for and sold by many other luxury/high-end retailers, which means you are giving a gift of the highest quality - personalized and professionally embroidered for a fraction of the cost of what the blanket would cost in the store, without personalization.
Riley is a little like Linus from Peanuts in that her baby blanket is still very precious to her.  Now she doesn't take it everywhere she goes, like Linus does, but she also can't go to sleep without her trusty blanket by her side.  I knew that she would enjoy the soft and snuggly blankets from Fill in the Blankie, and because she loves to cuddle so, I wanted to get her the absolute finest in snuggly softness.  That led me to the Pharaoh's Finest blanket:
New for this winter: an incredibly soft 100% Egyptian cotton coverlet backed with 400 thread count sheeting.  The white coverlet is quilted with a classic Greek tile pattern while the ivory coverlet has a beautifully soft waffle weave texture. Both are trimmed in Sonya's best satin trim.  The end result -- a baby blanket truly fit for a king...or queen!
9.5
10
Med
32" X 32"
Cuddle Factor (1-10, 10 being softest)
Quality of material and construction
Weight (light, medium, heavy)
Size (Overall dimensions)
32" x 32" oversized blankie with 50 characters of personalization per side
Shopping at Fill in the Blankie was so much fun, because they make selecting the perfect baby gift an absolute breeze.  I tried to reflect back to the time when Riley was still so small and new and I used to spend hours every day singing and rocking her in my arms.
That's when I knew exactly what I should personalize her special blanket with...the lyrics of a song I used to sing to her all the time...You are the Sunshine of My Life by Stevie Wonder.  The top of this blanket has her full name and the bottom of the blanket has the title of the song embroidered on it.  On each side, I chose the first two lyrics of the song, which also happen to my favorite two lyrics:  "I feel like this is the beginning", "Though I've loved you for a million years".
What's more, I also had the option to add some extras to make this blanket even more amazing.  I decided to pay a little extra and have the super-cute sun graphic embroidered on each side of the message occurring on all four sides.  I couldn't be happier with the way this blanket turned out...it was absolutely perfect!  Riley also loved this blanket and immediately tried to take a nap on the floor with it as soon as she got her hands on it.  She now sleeps with her new blanket...right alongside her original, trusty blanket, every night.
When Riley gets a little older, she will have a permanent reminder of the love we shared back when she was so brand new...and of the love we'll continue to share for the rest of our lives.  A blanket that can do all that AND keep your baby warm and toasty at all times is one amazing baby blanket!
Disclosure: I received the Pharaoh's Finest Ultra Personalized Baby Blanket from Fill in the Blankie in order to facilitate my review. No other compensation was received. This product review is based on my own personal experiences with this item and is completely honest and objective.
I'm a former 7th grade Science teacher turned stay-at-home mom that lives in Houston, Texas. I am married to my college sweetheart and have a beautiful daughter named Riley, who definitely keeps me on my toes! I am also involved in starting a small business which would both manufacture and sell an invention that I've patented, called Toothpaste 2 Go. I love interacting with my readers and hope to learn as much about you as you learn about me!
Melissa @ Mommy Living the Life of Riley!